May 18, 2011 — by Eric Brown — from the LinuxDevices Archive — 5 views
Intel announced it will roll out a 22-nanometer (nm) version of the Atom processor in 2013 codenamed "Silvermont," followed by a 14nm "Airmont" Atom in 2014. The company also promised 10 Intel-based tablets for the upcoming Computex show, and showed off a concept smartphone running on its 32nm Medfield Atom — but also warned that phones based on its processors will be delayed until next year.
At Intel's annual shareholder conference May 17, Intel confirmed reports of a 22nm Silvermont Atom processor, also surprising its audience with a 14nm Airmont version that will follow close after, according to sources including EETimes and AnandTech. Meanwhile, Intel CEO Paul Otellini announced that Intel architecture smartphones won't arrive until 2012 (see farther below).
In December, Intel tipped a 32nm Atom processor for smartphones code-named "Medfield". Last month, the chipmaker said it had begun sampling a different 32nm Atom platform code-named "Cedar Trail". The latter features further improvements in power consumption, Blu-ray 2.0 support, a dedicated media engine "for full 1080p playback," plus additional video options, said Intel. Also tipped in April was a similar 32nm "Cloverview" Atom.
Last week, word of a Silvermont Atom chip using an even smaller 22nm fabrication process was leaked by several sources. Intel has now confirmed Silvermont for a 2013 release, and gone one step further by announcing a 14nm Airmont model to follow in 2014.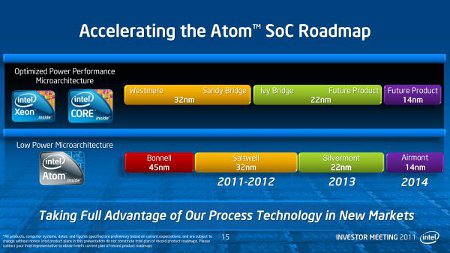 Atom SoC roadmap with Silvermont and Airmont
Source: AnandTech; Intel Corp.
(Click to enlarge)
Intel offered few details on Silvermonth and Airmont, but the aggressive timetable itself is newsworthy, as it represents an acceleration of Intel Atom development. In fact, by the time Airmont airs in 2014, it will have likely caught up with Intel's Core processors on fabrication process technology

EETimes quotes Intel's Otellini (pictured) as saying at the conference, "We decided our roadmap is inadequate, and we needed to change the center point." Otellini also said the company's schedule "doubles the pace of Moore's Law."
Neither report noted any mention of the recently announced, power-saving Tri-Gate 3-D transistor technology that Intel says will appear in its upcoming 22nm "Ivy Bridge" Core processors, but it seems pretty certain 3-D will be part of Silvermont and Airmont too. Intel has already announced the Tri-Gate technology will be used in future Atom processors and SoCs (systems on chip), resulting in devices that will require less than 1mW of idle power.
According to the EETimes story by Rick Merritt, Intel also said that starting with the 22nm CPUs, presumably including the Ivy Bridge chips, the company will shift the focus of its notebook designs to a 15 Watt power target down from 40 Watts today. In addition, its SoC designs will cover chips that range from less than a Watt to nearly 10 Watts, says the story.
10 tablets on tap for Computex
Otellini said that Intel now has 2,000 design wins for Atom, 21 percent of them conversions from other architectures, mainly ARM, reports EETimes. Intel was also said to have shown a few tablets and netbooks from companies including Fujitsu and Viewsonic using its Pine Trail and Oak Trail processors, part of a group of as many as 35 tablet design wins for Atom.
According to the Wall Street Journal, meanwhile, Intel said it will showcase 10 Intel Architecture tablets at the Computex trade show in Taipei, Taiwan at the end of the month. The company did not offer any more details on screen sizes or manufacturers, however.
As for operating system support on the tablets, eWEEK's Chris Preimesberger quotes Otellini as saying, "We're tracking 35 designs on multiple operating systems. Some are shipping now with Windows. We're demonstrating some Android devices now."
Last month, Intel was rumored to be planning a $10-per-device subsidy to encourage the creation of Android tablets using its "Oak Trail" Atom processor. Another report at the same time said that Google and Intel are collaborating to port Android 3.x to Oak Trail. Bill Kircos, general manager of marketing at Intel's netbook and tablet group, was quoted as saying that the Honeycomb port will be available later this year, though release of actual products will depend on the device makers.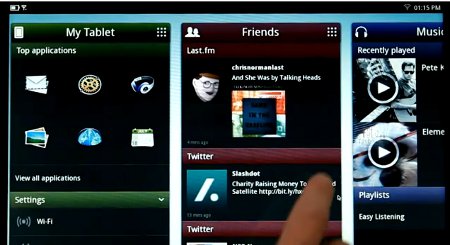 MeeGo Tablet UX prototype
Earlier this year,
Intel said
that a number of MeeGo tablets would ship this year. Last month, the open source Linux MeeGo project released a
pre-alpha tablet platform
, and a more fully formed platform is expected at next week's MeeGo conference, to be held May 23-25 in San Francisco. MeeGo tablets may be announced then, along with MeeGo 1.2, prior to a Computex roll-out.
"The tablet race is nowhere near finished," eWEEK quotes Otellini as saying. "No one really knows the size of this market, but it's real clear that everyone's putting energy into it. It's not just about tablets; it's about variants, like convertibles. There's going to be a tremendous amount of experimentation here."
According to EETimes, meanwhile, Otellini also promised that within the next 24 months, tablet-like ultrathin consumer PCs running multiple OSes and supporting all-day battery life would become available.
Medfield phone unveiled, but phones won't ship until 2012

Dadi Perlmutter (right), Intel's executive vice president and general manager of the Intel Architecture Group, also briefly showed off a concept phone based on the 32nm Medfield Atom processor. With Medfield, Intel is trying to accomplish what it could not manage with its Moorestown Atom processor: taking on ARM in the smartphone market.
Perlmutter, shown above with the smartphone prototype in an EETimes shot, showed a slide intended to indicate Medfield's competitiveness with ARM on power consumption (see below). However, as noted by AnandTech's Ryan Smith, the comparison is with ARM's existing 4x-nm processors, not the chips that should be available when Medfield is ready to go.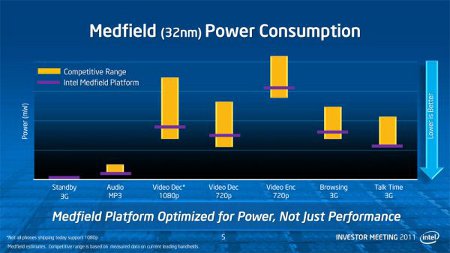 Medfield power consumption vs ARM


Source: AnandTech; Intel Corp.
(Click to enlarge)
The bad news is that the Medfield phones will be delayed until 2012, instead of later this year, as
Intel projected last year
. "I'm going to disappoint some of you; we're not going to have a big announcement on smartphones for smartphone customers today," Otellini was quoted as saying by
eWEEK
.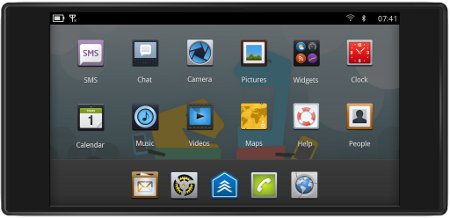 MeeGo for Handsets
Otellini seemed to peg much of the delay on
Nokia breaking off its MeeGo partnership
with Intel in favor of a partnership with Microsoft on Windows Phone.
"You all know about the disappointment we had with Nokia in the February time frame, when they decided to go a different route," said Otellini. "We didn't sit down and mope after that. We took [back] the product that we had been working on with Nokia very deeply for several years almost exclusively — to the extent we didn't work with a lot of other customers."
Now Intel has freed up resources devoted to Nokia MeeGo phones, "and turned that design into a form factor/reference design," added Otellini. "We're shopping that now to a number of manufacturers … and we've had good success. You'll see the first Intel-based phones [using new Medfield chips] in the market the first part of next year."
Added Otellini, "In hindsight, Nokia was the wrong partner to have picked."
According to eWEEK, Otellini also nixed any speculation that Intel might ever act upon its ARM license. "We have no intention to use our license again to build an ARM [processor]," he told the audience.
---
This article was originally published on LinuxDevices.com and has been donated to the open source community by QuinStreet Inc. Please visit LinuxToday.com for up-to-date news and articles about Linux and open source.