Dec 15, 2011 — by Eric Brown — from the LinuxDevices Archive — 5 views
Via Technologies demonstrated Android 2.2 on an Em-ITX single board computer (SBC) equipped with a 1.2GHz dual-core Nano X2 E processor. Running Android on an x86 platform offers increased I/O, performance, and cost-saving advantages for embedded applications such as in-vehicle infotainment (IVI) and interactive kiosks, Via claims.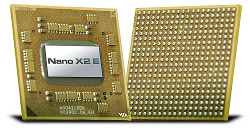 With Intel announcing OEM availability of Android 4.0 ("Ice Cream Sandwich") source code, and a third-party group releasing its own early ICS-on-x86 port targeting AMD processors, the long-awaited Android-on-x86 experiment appears ready to begin in earnest.
The first company to announce Android support on one of its shipping x86 products, however, is not Intel or AMD, but Via Technologies.
The Taiwan-based company released a YouTube demo of Android 2.2 running on its recently announced EITX-3002 SBC, pictured below. It also announced that Android support will be offered on other Via boards in the future.
The EITX-3002 adopts the Em-ITX form-factor and runs Via's most powerful processor: the 1.2GHz, dual-core Nano X2 E (pictured earlier above).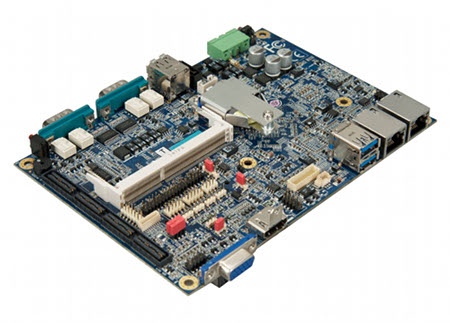 Via EITX-3002

The EITX-3002 offers a wide range of I/O, including HDMI, VGA, and LVDS video outputs, gigabit Ethernet, a touchscreen interface, and a CFast expansion slot. Like most of Via's embedded products, it also runs Linux and a variety of Windows operating systems.
The Android demo video (see farther below) shows Android 2.2 running on the platform using a touchscreen monitor driven by the EITX-3002, and also demonstrates HD video playback. Although the demo showed the board running a Nano X2 E CPU, the board also supports the lower-power Eden X2, which is billed, without statistics to back it up, as "the world's most power-efficient dual-core processor." (Presumably, the company is referring to x86-based dual core processors.)
Both of these 40nm-fabricated, 64-bit processors are paired with Via's VX900H, a variation on its VX900 multimedia chipset. This offers hardware acceleration for HD video formats including MPEG-2, H.264, VC-1, and WMV9, and also offers dual independent display support, says the company. (For more on the EITX-3002 and Via's processors, see our previous EITX-3002 coverage.)
Smart ETK for Android offers peripheral control
In the video, Via demonstrates the system activating a fan and an LED lamp via USB and a newly announced Smart ETK (Embedded Tool Kit). Smart ETK allows monitoring and control of peripheral devices via Android, enabling greater environmental control of kiosks and other installed environments, says the company.
Few details were supplied, but the technology sounds somewhat similar to the Android Open Accessories platform found in Android 3.1, used to connect Arduino-based gadgets via USB.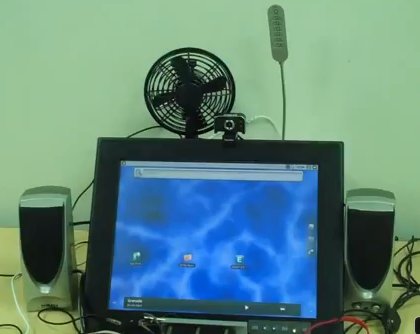 EITX-3002 and Android controlling fan and light in background via Smart ETK
According to Via, Android-on-x86 offers special advantages to Android developers, especially for those adapting Android to kiosk, digital signage, or in-vehicle infotainment (IVI) applications. In the case of the EITX-3002, these are said to include richer I/O flexibility, lower cost, greater CPU performance, and higher display resolutions of up to 1920 x 1080 pixels.
No claims were made for better power efficiency, of course. Even a low-power x86 CPU like the Eden X2 cannot compete on power efficiency with a typical ARM Cortex processor.
For x86 developers, meanwhile, Android offers the advantage of a rich set of touchscreen and multimedia features, notes Via. The company also mentions the main draw for Android: thousands of apps.
Although familiar to regular readers of LinuxDevices, Via is largely unknown to the broader tech community, as the Taiwan-based company trails far behind Intel and number-two x86 semiconductor vendor AMD. The company has a much larger relative presence in embedded boards and computers, however, mainly targeting industrial, kiosk, and digital signage applications. With its embedded products, Via is by far the largest customer for its own processors.
Intel, AMD make Android moves
Earlier this year, Intel announced a pact with Google to officially port Android to the Intel Atom, following up on its earlier, somewhat limited port of Android to Google TV devices running Intel's Atom CE4100 SoC (system on chip). Intel said it would offer Android 2.3x ("Gingerbread") support on another Atom processor, the E6xx, starting in January 2012. Intel also demonstrated a prototype smartphone running Intel's upcoming "Medfield" Atom chip and what appeared to be Android 2.3, and also briefly showed a Medfield-based tablet prototype running Android 3.x.
On Nov. 30, following the release of Android 4.0, the open source project Android-x86 announced the availability of the first x86-ready Android 4.0 code. Still a work-in-progress, the release was missing support for sound, camera, Ethernet, and Intel hardware acceleration.

An ISO is downloadable for a tablet running one of AMD's Brazos processors. Specifically, the image targets the WindPad 110W tablet (pictured), which runs on an AMD dual-core, 1GHz Z-01 Z-Series processor.
In early December, it was reported that AMD was backing the project with money, equipment, and people. The project reportedly turned to AMD when Intel declined to collaborate.
Around the same time, Intel revealed that its own x86 port for Android 4.0 was ready for OEMs. The build was said to be running on the Medfield Atom.
It's unclear whether Via developed its own Android port or borrowed code from the Android-x86 project, which offers more developed open source x86 builds for earlier Android versions. No Via-based products are listed among the project's supported products, however.
Stated Epan Wu, head of the Via Embedded Platform Division, Via Technologies, "The addition of Android OS support to our embedded x86 boards adds increased flexibility and further broadens our ability to meet their needs."
Demo of Android 2.2 running on an EITX-3002 board on YouTube


Source: Via Technologies
(Click to play)
---
This article was originally published on LinuxDevices.com and has been donated to the open source community by QuinStreet Inc. Please visit LinuxToday.com for up-to-date news and articles about Linux and open source.