Mar 21, 2011 — by LinuxDevices Staff — from the LinuxDevices Archive — 11 views
Intel announced today that Anand Chandrasekher, senior vice president and general manager of its Ultra Mobility Group (UMG), will be leaving the company. While a reason for the resignation was not cited, it could be related to the chip giant's failure to obtain smartphone design wins for its Atom processor.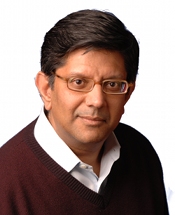 Chandrasekher (right) is a 24-year Intel veteran most recently in charge of UMG, the Intel group responsible for the company's low power Intel Architecture products, ultra-mobile PCs, mobile internet devices, smart mobile, and hand-held market segments. According to his corporate bio, he headed the team "responsible for developing the technologies behind the Intel Atom processor."
Though associated with many successes including the 2003 introduction of Intel's Centrino processor family, Chandrasekher has become most strongly identified in recent years with the chip giant's protracted attempts to establish itself in the smartphone market, as we review further below. However, today's announcement stated only that "he will be leaving Intel to pursue other interests."
David Perlmutter, executive vice president and Intel Architecture Group general manager, stated, "We continue to make the investments needed to ensure that the best user experience on smartphones and handhelds runs on Intel Architecture, and to ship a phone this year." Mike Bell and Dave Whalen, both vice presidents in the IAG (Intel Architecture Group), will co-manage UMG, according to Intel.
"Son, I want you to be in smartphones when you grow up"
Chandrasekher was on the scene for a conference call last August when Intel announced its $1.4 billion acquisition of Infineon Technologies' wireless solutions (WLS) division. At the time, he stated, "If we slowed down with our investments in this area, we'd lose touch with where the market is going."
The purchase came four years after Intel sold its ARM-based XScale application processor business to Marvell Technology Group. According to Endpoint Technologies Associates Roger Kay, it was an admission on Intel's part that Atom chips aren't ready to be significant. "
Even at 32 nanometers, [the Atom] "wasn't cool enough to really do the battery life needed in that space," Kay was quoted by eWEEK as saying. "They've been aiming for this space and didn't quite hit it, and the next round [of Atom development] is two years away."
Meanwhile, Chandrasekher had consistently stuck his neck out to promote the Atom in the smartphone space. In a April 2009 IDF (Intel Developer Forum) keynote, for example, he revealed updated Zxx Atoms aimed at MIDs (mobile internet devices) and also promoted the then-unannounced "Moorestown" Atom, as shown below.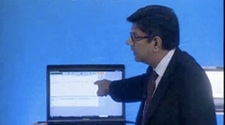 Intel's Chandrasekher demonstrated Moorestown power savings
(Click either image to enlarge)
Intel had long promised that Moorestown will have an idle power consumption just 1/10th of today's Atoms. "We're delivering exactly against our goals," said Chandrasekher, providing what was billed as the world's first on-stage demonstration of actual Moorestown silicon. Comparing an instrumented Moorestown device to the previous "Menlow" platform (above left), he displayed a real-time graph (above right) apparently showing that Moorestown's power consumption is even lower than expected.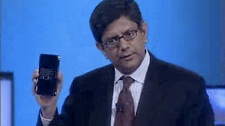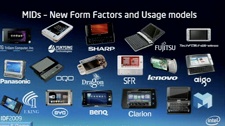 Chandrasekher showed off BYD's "Mars" phone and a bevy of MIDs
(Click either image to enlarge)
Adding that "I thought I'd have to wait until Moorestown to get a phone utilizing our technology," he brandished a prototype phone from
BYD Electronics
code-named "Mars." Apparently at the time using a Z5xx Atom, the Mars phone (above left) was touted by Chandrasekher as providing "Windows XP in your pocket," he added.
Naturally, Chandrasekher was also on hand for the eventual launch of Moorestown as the Atom Z5xx SoC (system on chip) in May 2010. According to Intel, the Z6xx has 1/50th the idle power consumption of its earlier Z5xx, 1/20th the power consumption for audio playback, and uses about half the power for web browsing or video playback.
Again touting potential smartphone usage, Chandrasekher declined to name any customer wins at the Moorestown launch. He was quoted as saying, "The customers in this [smartphone] domain are much more secretive about what they're doing with the product and about their product timelines, and we'll respect that."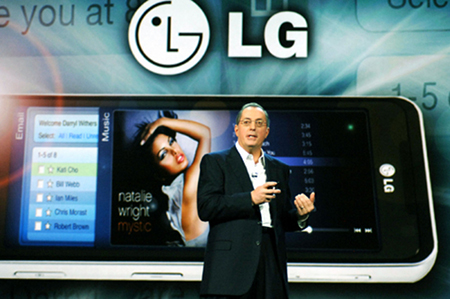 LW's Atom-based GW990 was shown off at a CES keynote, but never produced
(Click to enlarge)
Unfortunately for Intel, it was probably a good idea not to name names. Even at the time, rumors were circulating that LW had decided not to produce its GW990, a Moblin-based smartphone that was demonstrated by Intel CEO Paul Otellini (above) at the January 2010 Consumer Electronics Show (CES).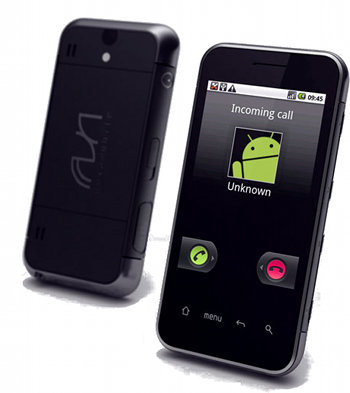 Aava's Moorestown-based phone
(Click to enlarge)
Another phone touted by Intel at the Moorestown launch came from the Finnish startup Aava Mobile. Said at the time to run Moblin on a 1.5GHz Atom Z6xx CPU, this one still exists as a reference design, but hasn't been turned into a shipping product.
Intel is now saying smartphones will be the province of yet another Atom variant that still isn't on the market, and which is still known only by its "Medfield" code name. According to information that was accidentally leaked in August and to further details provided at a December conference for investors, Medfield will be an all-in-one SoC (system on chip) that moves from the 45nm production employed by Moorestown to a 32nm process.
Taking up half the board space of Moorestown, Medfield will also offer a further (unspecified) reduction in power, Intel has suggested. It will reportedly also have twice the graphics performance of Moorestown, which was already claimed to double that of the original Z5xx Atom.
At last month's Mobile World Congress, Intel said Medfield was sampling with key customers and will be released later this year. It will "extend the performance benefits of Intel architecture into low-power solution specifically designed for the smart phone market segment," the company promised.
Jonathan Angel can be followed at www.twitter.com/gadgetsense.
---
This article was originally published on LinuxDevices.com and has been donated to the open source community by QuinStreet Inc. Please visit LinuxToday.com for up-to-date news and articles about Linux and open source.