Sep 24, 2009 — by LinuxDevices Staff — from the LinuxDevices Archive — 23 views
Intel has announced an Atom-based SoC (system-on-chip) aimed at consumer devices such as digital TVs, set-top boxes (STBs), and Internet-enabled Blu-ray players. The 1.2GHz CE4100 uses only seven to nine Watts, can decode two simultaneous 1080p video streams, provides seven-channel audio output, and will be able to accelerate Adobe Flash-based content, the company says.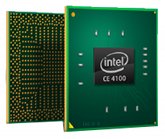 According to Intel, its new CE4100 (previously code-named "Sodaville") is a successor to the Pentium M-based CE3100 SoC released in 2008, and will be backwards-compatible with that device. The 45nm-manufactured chip (right) measures 27 x 27mm, and includes an Atom processor core clocked at up to 1.2GHz. Other ingredients include a NAND controller, a video display controller, a graphics processor, dual DSPs (digital signal processors) for audio decoding, transport/security processors, and general-purpose I/O, Intel says.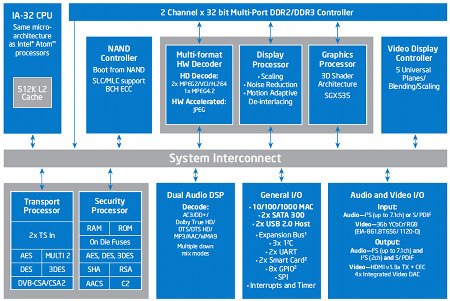 A block diagram of Intel's CE4100
(Click to enlarge)
Particularly worthy of note, the CE4100's graphics processor is based on Imagination Technologies' Powervr SGX535, which provides 2D/3D graphics acceleration and makes the SoC compatible with Open GL ES 2.0, says Intel. Compared to the CE3100 — which used the same SGX535 graphics core, but clocked it only at 200MHz — the CE4100 employs either 200MHz or 400MHz versions, and now provides hardware acceleration for both JPEG and MPEG-4.2 decoding, the company adds.
According to Intel, the CE4100 is capable of decoding dual 1080p HD video streams at up to 60 frames per second, or a single 1080p stream at twice that rate, the company says. In addition, the chipmaker says, it is working with Adobe to adapt the latter's Flash Player 10 for the CE4100, optimizing the playing of Flash graphics and H.264 video on forthcoming STBs and other devices. The Flash port should be available for the CE4100 during the first half of 2010, says Intel.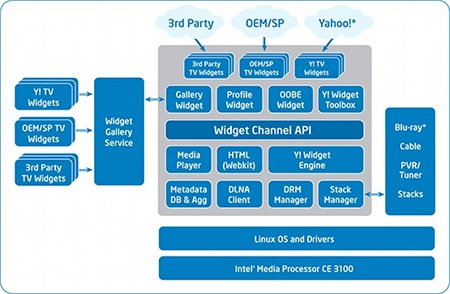 Widget Channel architecture
(Click to enlarge)
Intel also says that, along with the CE3100, the CE4100 will support a "full-featured software framework" called Widget Channel, intended to support Internet applications known as TV widgets. Developed in conjunction with Yahoo!, the Widget Channel architecture (above) appears to be Linux-based. At its Intel Developer Forum event introducing the new SoC, the company showed off TV widgets designed by partners including Accedo Broadband, The Associated Press, Bigstar.tv, CBS, CinemaNow, Dailymotion, Immediatek, Mediafly, MyVideo, Netflix, PlayJam, RadioTime, RallyPoint, ShowTime Networks, Tagesschau, and WhereverTV.
Eric Kim, SVP and GM, of Intel's digital home group, stated, "Traditional broadcast networks are quickly shifting from a linear model to a multi-stream, Internet-optimized model to offer consumers digital entertainment that complements the TV. At the center of the TV evolution is the CE4100 media processor, a new architecture that meets the critical requirements for connected CE devices."
George Schweitzer, president of CBS Marketing, stated, "Intel's CE technology and our new TV Widget platform are designed to help people find the shows they want and discover new programs that are relevant to their interests. What's more, the TV Widget gives us another platform to connect and interact with our audience while delivering an exciting new television experience."
Features and specifications listed for the CE4100 by Intel include the following:
Processor — Intel Atom clocked at up to 1.2GHz, with 512K second-level cache
Memory controller:

2 2-bit DDR2 and DDR3 memory channel; up to 800MHz (DDR2) or 1333MHz (DDR3)
NAND/NOR flash including boot

Graphics:

Programmable 2D/3D Intel Graphics Media Accelerator 500 (based on Powervr SGX535) running at 200MHz (CE4100, CE4130) or 400MHz (CE4150)
Dual universal scalable shader engines with up to 16 threads per core, providing pixel and vertex shader functionality
OpenGL ES 1.1, OpenGL ES 2.0 and OpenVG 1.0 support
Multi-stream and simultaneous decode for VC1/WM9, H.264 and MPEG2 up to 2HD
Single-stream decode of MPEG4.2
MPEG-2 [email protected] or [email protected], VC1– [email protected], H.264–[email protected]
Hardware JPEG decode acceleration
Simultaneous HD and SD display
HDMI/DVI 1.3a (CEC) compliant output with support for [email protected] with deep color in RGB/YUV, [email protected] film format

Audio:

Dual DSP core with special audio instructions
Audio decode (MPEG1/3, AC3, Dolby Digital Plus, DTS-HD/Master Audio & High Res, Dolby True HD/MLP, DTS LBR, AAC plus V2, WMA)
Audio encode (AC3, DTS)
Audio effects, resampling, mixing
24-bit 192KHz support
Audio interfaces:

HDMI audio support including high-bit rate (HBR) audio
One stereo and one 7.1 channel output
One S/PDIF output
Simultaneous audio on each output
One audio input up to 7.1 channels or S/PDIF

Transport processing:

Programmable transport demux
2 serial transport stream interfaces

Security features:

2 smart card (ISO 7816) interfaces
HDCP content protection for HDMI
ROVI*4 (v7.1.L1) and CGMS-A protection on analog video
DES, 3DES, AES, MULTI2 and DVB-CSA transport stream descrambling
Dedicated security processor with hardware acceleration
Support for security access schemes
Secure boot

Peripherals and expansion:

2 USB 2.0 host ports
Single-port or dual-port SATA-300
Ethernet 802.3 10/100/1000 MAC
2 x UARTs
2 x Smart Card
3 x I2C
1 x GPIO
SPI

Physical specifications — 425 signal pins in a 27 x 27mm lead-free FCBGA (951 ball) package
Power consumption — 7 to 9 Watts
Availability
Intel did not cite pricing or availability for the CE4100, but the SoC appears to be available now. More information on the device may be found on the company's website, here, and in the data sheet, here [PDF link].
Further information on Intel's Widget Channel architecture and WDK (widget development kit) may be found on the company's website, here.
---
This article was originally published on LinuxDevices.com and has been donated to the open source community by QuinStreet Inc. Please visit LinuxToday.com for up-to-date news and articles about Linux and open source.