Mar 15, 2010 — by Eric Brown — from the LinuxDevices Archive — 13 views
STMicroelectronics announced a design win for its new ARM-based SPEAr 300 SoC, which it says drives the Linux-based Snom 870 VoIP phone. The Snom 870 offers a 4.3-inch color touchscreen, gigabit Ethernet and USB connectivity, plus an integrated XML browser, says Snom.

Berlin-based Snom has been selling Linux-based IP phones for some eight years now, starting with its Snom 100, and more recently with models such as the the circa-2008 M3 phone (pictured at right). The Snom 870, which shipped last September, is based on ST's SPEAr300, one of four "SPEAr" SoCs (system-on-chips), based on similar ARM926EJ-S cores. The Snom 870 also uses ST's STM8 8-bit microcontroller to manage its touchscreen display, keyboard, and receiver, says ST.
The SPEAr300 microprocessor runs the phone's Linux operating system, GUI, and computing-intensive tasks including Ethernet, real-time voice coding/decoding, telephone conferencing, and echo compensation, says ST. Announced last month for HMI, VoiP, and security applications, the SPEAr300 is equipped with an ARM926EJ-S core that can clock from 333MHz to 400MHz.
Key ingredients of the SPEAr300 include a camera interface, an LCD controller (resolutions up to 1024 x 768 pixels), a 9 x 9 keyboard controller, a TDM bus with 512 slots, and a cryptographic (DES/3DES/AES/SHA1) accelerator, says ST. The SoC supplies a fast Ethernet port, USB 2.0 (2 hosts, 1 device), and interfaces including SDIO/MMC, SPI, I2C, I2S, UART, and fast IrDA, says the company.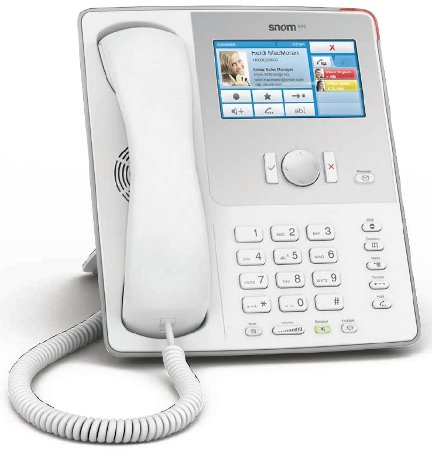 Snom 870
(Click to enlarge)
Compared to the previous Snom 820 model, the Snom 870 offers a larger, higher resolution 4.3-inch, 480 x 272 touchscreen, and a new GUI to run on it, says Snom. The SIP RFC3261-compatible phone offers wideband audio with silence suppression and voice activity detection, says the company. Codecs are said to include G.711, G.729A, G.723.1, G.726, GSM 6.10 (full rate), G.722, iLBC, and silence suppression/Voice Activity Detection (VAD).
Other Snom 870 features include a gigabit Ethernet switch with dual ports, dual USB 2.0 Type A ports with a Host interface, supporting WLAN dongles, as well as one Type B USB port, says Snom. Handset and headset RJ-4P4C connections are also supplied, along with a 29-key keypad, five LEDs, 12 programmable virtual keys, 12 variable function keys, and a dual-angled foot stand, says the company.
The Snom 870's 5V DC power supply can draw power from a wall socket, Power over Ethernet (PoE), or USB, says Snom. Power consumption is said to range from four to seven Watts without attached USB peripherals.
The Snom 870's Linux-based firmware offers calling features such as call blocking, swapping, and URL dialing, says Sbin. The phone can handle complex applications like swapping of calls, or establishing conference calls for up to five participants via drag-and-drop, says the company The address book, meanwhile, is touted as supporting active call handling, "so that the right contact is selected even in multiple call scenarios."
The Snom 870 provides an integrated HTTP/HTTPS server, as well as an XML browser that is said to support applications ranging from controlling an external monitoring camera to accessing stock data. In addition, the Snom 870 provides a secure connection via VPN, TLS, and SRTP, which is said to prevent the recording of data. Security features are said to be compliant with IEC 60950-1:2001.
Stated Christian Stredicke, CEO, Snom Technology, "The SPEAr provides us with an open, future-proof hardware and software platform that covers our complete IP phone product range, from entry-level to high-end models."
Stated Loris Valenti, Group VP and GM, Computer Systems Division, STMicroelectronics, "This cooperation is a great opportunity for ST to contribute to the significant momentum IP telephony is gaining in enterprise communications, with the worldwide number of VoIP phones exceeding that of conventional phone sets."
Availability
The Snom 870 is available at a variety of retail venues, including VoIP Gorilla, which is selling it for $297. More information on the Snom 870 may be found here.
---
This article was originally published on LinuxDevices.com and has been donated to the open source community by QuinStreet Inc. Please visit LinuxToday.com for up-to-date news and articles about Linux and open source.