May 29, 2009 — by Eric Brown — from the LinuxDevices Archive — 3 views
Verizon Wireless announced it will sell the Palm Pre smartphone in about six months, while AT&T has left the door open to the possibility, says Reuters. Meanwhile, Palm has confirmed new features of the Pre, including the ability to sync seamlessly with iTunes, says eWEEK.
(Click for larger view of the Palm Pre)
When Verizon Wireless CEO Lowell McAdam announced on Wednesday that his company plans to offer the Linux-based Palm Pre in "the next six months or so," Palm shares soared by 8.8 percent, said a report in Reuters. The stock jump may also have derived from comments made this week by AT&T CEO Randall Stephenson, according to a separate Reuters story. The story quoted Stephenson as saying "Would I like to see [the Pre] on our network some day? Of course I would." The executive would not go beyond that, however.
The Palm Pre (pictured above) is expected to launch on June 6, priced at $200, but only on the smaller 3G network of Sprint Nextel, with which Palm has signed an exclusive agreement that lasts at least until year's end, according to Reuters. If that report is true, the "six months or so" alluded to by McAdam might actually be at least seven or eight.
Verizon Wireless has so far committed to offering a smartphone based on the LiMo (Linux Mobile) specification this year, and has left itself open to the possibility of fielding an Android phone as well. According to Reuters, McAdam said that Verizon Wireless would also offer new BlackBerry smartphones this year, as well as a new Motorola phone. It was not clear whether the latter would be LiMo- or Android-based. Motorola currently sells LiMo-based phones, but has said it will offer an Android model in the Fall.
AT&T, which is the exclusive carrier for the iPhone, may also be offering an Android phone, according to industry reports earlier this week. The carrier is expected to offer the upcoming HTC "Lancaster" Android phone.
Will Apple let the Pre sync to iTunes?
According to an eWEEK story by Michelle Maisto yesterday, Palm has confirmed that the Pre's MP3 player syncs seamlessly with Apple's iTunes. Although Palm has earlier revealed that sophisticated synchronization software is available in the Pre's Linux-based WebOS stack, it now confirms that an app called Palm Media Sync "synchronizes with iTunes and allow users to transfer DRM-free music, photos and video onto the Palm Pre," writes Maisto.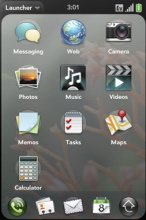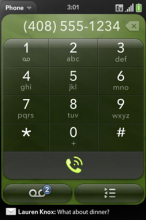 WebOS on Palm Pre: launcher, phone dialer with unobtrusive alert, and "card" view of web
(Click any to enlarge)
The story quotes Ezra Gottheil, an analyst with Technology Business Research, as saying, "I think Apple will fight it, if there's a legal means of fighting it. Apple doesn't want to let competitors leverage its investment in iTunes software and the online iTunes store." Gottheil was said to have added that a legal challenge might not be necessary, as Apple simply has to upgrade the iTunes software to block Pre users.
The sync software also enables the Pre to appear to a USB-connected PC as a hard disk drive, enabling users to drag-and-drop content from the desktop onto the Pre, and vice versa, says the story.
The 3G-enabled Palm Pre may well be the first Linux-based smartphone aside from Android phones from HTC and Samsung to offer an "iPhone"-like smartphone experience. It appears to provide additional UI enhancements compared to Android, but it remains to be seen whether Palm can bring the same army of eager developers to the Pre as Google has managed with Android.
The Pre's Linux-derived WebOS is said by Palm to offer an open development environment. WebOS provides a gesture-based UI that includes a card metaphor for sifting through screens and applications. It also offers unified messaging technology called Synergy, which aims to integrate information from multiple sources such as calendars, contacts, and messaging applications into combined, logical views. In addition to the aforementioned sync features, WebOS is said to offer persistent connections between applications and the web, providing updates in the background.
Availability
The Palm Pre is scheduled to be available in the U.S. exclusively from Sprint on June 6, says Palm. More information may be found in our previous coverage, here.
The eWEEK versions of the two Reuters stories on the Palm Pre plans of Verizon Wireless and AT&T may be found here and here, respectively. The eWEEK story on the Pre's iTunes sync may be found here.
---

This article was originally published on LinuxDevices.com and has been donated to the open source community by QuinStreet Inc. Please visit LinuxToday.com for up-to-date news and articles about Linux and open source.