Feb 5, 2009 — by Eric Brown — from the LinuxDevices Archive — 3 views

Azingo announced a touch-enabled version of its LiMo (Linux Mobile)-compliant Azingo Mobile middleware and browser stack. Destined for use on Vodafone-delivered handsets, Azingo Mobile 2.0 offers a new runtime, homescreen interface, browser, and UI toolkit that together enable a smartphone-ready touchscreen- and… web-widgets interface.
(Click for larger view of Azingo Mobile 2.0 application screen)
Azingo's prior 1.0 release of the Azingo Mobile stack was positioned as a comprehensive software/services offering for mid-tier feature-phones compliant with LiMo requirements. Version 2.0, however, appears to enable touchscreen, Web-widget-driven smartphones on the level of the iPhone or T-Mobile's HTC G1 Android phone.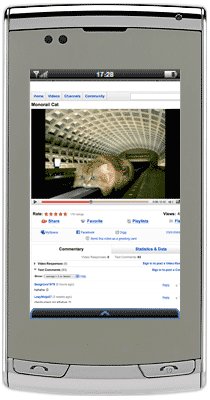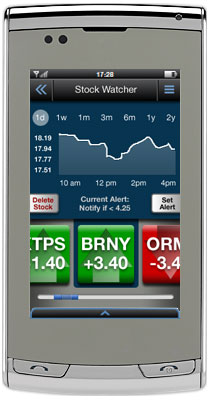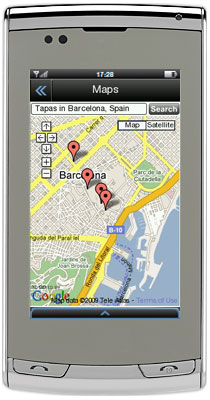 Azingo Mobile 2.0's browser (left), a Flash-based stock app (middle), and a Google Maps widget app
Based on the LiMo Foundation R1 Reference Implementation, Azingo Mobile 2.0 adds improved support for device-specific services like telephony, messaging, multimedia, and location based services (LBS). These are largely driven by a new Azingo Web Runtime, and revealed to the user in a new Azingo Active Homescreen and an upgraded Azingo Browser. The company has also upgraded the stack's Azingo Application Suite, it said.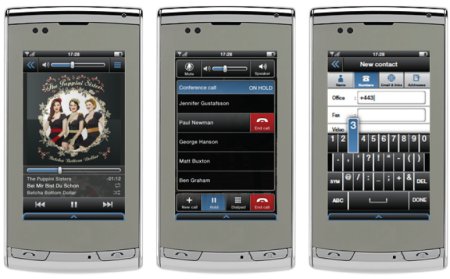 Different views of Azingo Mobile
(Click to enlarge)
Here's a rundown on what's said to be new in each component:
Azingo Web Runtime — The new runtime installs and executes web widget applications on a variety of mobile platforms, says Azingo. It is based on the open-source WebKit browser, which is also used in the Apple iPhone, and Nokia's S60, and which last year was integrated in the Qt framework, offered by Nokia's Qt Software (formerly Trolltech) group. Azingo Web Runtime is said to act as a web content rendering engine with a Javascript one-pass compiler, and enable creation of web applications using technologies including AJAX, HTML, JavaScript, CSS, and Adobe Flash Lite. The resulting widget apps draw upon Azingo's APIs for accessing handset resources, and can "behave like native applications and deliver Web 2.0 experiences," says the company. The runtime is said to handle the process of discovering, downloading, unpacking, installing, and executing web widgets.


Active Homescreen views


Azingo's Active Homescreen — The new main-screen application interface is intended to bring more of a computer desktop feel to LiMo phones. The Active Homescreen is said to let users add and organize selected real-time information from both the phone and the Internet. Improvements include a wider, scrolling homescreen area, drag and drop, shortcuts, folders, and widgets. The latter can be set up to provide one-touch access to handset content including native, Web, or Flash Lite applications, as well as contacts, photos, music, videos, and messages, says Azingo.
Azingo Browser — As with the original Azingo Browser, the new version is based on the open-source WebKit, but supports both open and proprietary mobile platforms. The new browser is said to offer features including:

Webcore-based
DHTML v3.0 rendering
HTTP v4.0, HTTPS v1.4
CSS v v2.x and v3.0
JavaScript v1.5
AJAX support for Web 2.0 experiences
Tabbed browsing with multiple tabs/windows
URL support
Page navigation
Cookies
SVG
Cookie and certificate management
Flash Lite v3.1 integration
History and bookmark support
Off-line viewing
Multimedia plug-ins
Download audio/video files with auto-play
Single Screen Rendering (SSR) user-settable
Zoom (full, specific percentage, fit width)


PIM application in
Azingo Mobile Productivity
(Click to enlarge)

Azingo Applications Suite — The upgraded user-level applications include the following:

Azingo Mobile Entertainment — music and video players, camera, and photo gallery
Azingo Mobile Productivity — PIM applications, including contacts, calendar, tasks, notes, calculator, and alarm
Azingo Mobile Communications — telephony, call log, SMS, MMS, and email
Azingo Mobile System Applications — Systems controls including idle screen, main menu, panel, phone settings, application and connectivity managers, and a file browser
Azingo Mobile 2.0 ships with an Eclipse-based integrated development environment (IDE) and software development kit (SDK) for mobile application development, says the company. The 2.0 platform is said to support ARM9, ARM11, and ARM Cortex processors in designs including dual chip; single chip, dual-core, or single-core with virtualization.
The stack also incorporates a number of underlying frameworks that control basic functions. The UI framework, for example, is said to support keypad, keyboard, and touch input, as well as touch-based widgets and virtual keyboards, among other features. An applications services framework provides for functions including lifecycle management, dynamic loading, service discovery, and package management. The telephony framework includes support for "3GPP, R99, 3G, UMTS" radios, and a security framework provides features such as anti-virus controls, secure filesystem, and DRM support, says the company.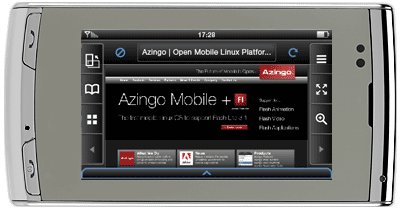 Browser in landscape mode
Stated Mahesh Veerina, CEO of Azingo, "We are excited to bring a full touch and web-enabled open mobile OS to market."
Stated Morgan Gillis, executive director of the LiMo Foundation, "The rich Web Runtime environment and SDK of Azingo Mobile 2.0 will be instrumental in enabling the LiMo developer ecosystem."
Major Azingo customer win
As reported yesterday, Azingo Mobile will be used to develop applications for upcoming LiMo-compliant phones to be offered by Vodafone, which claims to be the world's largest wireless carrier by sales. The deal was a major boost not only for Azingo, but for the LiMo Foundation, which in recent months has seen the focus on Linux mobile phones drift to Google's Android and new entry's like Palm's WebOS platform, which is aimed at its Palm Pre phone. (For more on the Vodafone deal, and an analysis of LiMo's and Azingo's histories and latest moves, please yesterday's coverage.)
Azingo, formerly Celunite, launched Azingo Mobile a year ago, and contributed some high-level tools to LiMo's common integration environment (CIE). In September, Azingo added Flash to the phone stack.
Availability
Azingo did not reveal the pricing or final availability of Azingo Mobile 2.0, but will demonstrate the software at the Mobile World Congress in Barcelona (booths 2.1D53 and 8B135), on Feb. 16-19. More information may be found here.
---

This article was originally published on LinuxDevices.com and has been donated to the open source community by QuinStreet Inc. Please visit LinuxToday.com for up-to-date news and articles about Linux and open source.