Jun 13, 2011 — by Eric Brown — from the LinuxDevices Archive — 7 views
MimoMonitors.com announced a Linux-based, Marvell SheevaPlug mini-PC, now usable as a desktop PC via one of the company's USB touchscreen displays. The compact, 1.2GHz MimoPlug features 512MB of RAM, 512MB of flash storage, an SD slot, gigabit Ethernet, plus a USB port, and comes with screens from seven to 10 inches in bundles ranging from $380 to $500, says the company.
Most of the early devices based on Marvell's open source Linux SheevaPlug Plug Computer mini-PC design have been focused on network attached storage (NAS) and remote access features. These include the popular Cloud Engines PogoPlug, which has inspired its own spinoffs. Yet now, with the MimoPlug as well as Globalscale Technologies' DreamPlug, we're seeing Plug Computers with a broader focus.
While the DreamPlug is billed as a jack of all trades, MimoMonitors.com's MimoPlug is aimed primarily at the consumer market as a modest touch-based cloud computing device. As far as we know, this is the first touch-enabled Plug Computer.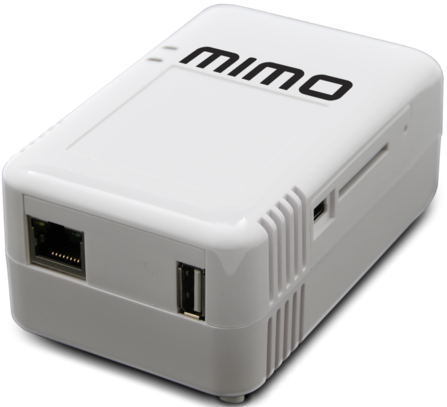 MimoPlug
The MimoPlug is sold only with MimoMonitors' line of seven- to 10-inch USB touchscreen monitors. The 4.33 x 2.74 x 1.9-inch device is "specially configured" with Linux touchscreen drivers to work with the monitors.
The MimoPlug is "arguably the smallest, most portable, and most energy efficient Linux computer system available anywhere," claims the company. In addition to home desktop and kitchen computer scenarios, applications can include retail kiosks, hotel guest services, multi-site network monitoring, on-site employment application stations, manufacturing control panels, and video-conference room controls, says MimoMonitors.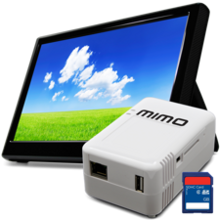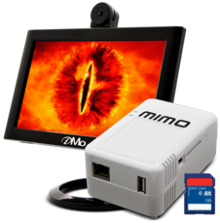 MimoPlug with 10.1-inch Monster (left) and webcam-equipped eye 9 monitor
The MimoPlug closely resembles the original plug-in Plug Compuer design, and offers an ARM-derived, 1.2GHz Sheeva Kirkwood CPU with 512MB of DDR2 and 512MB internal flash memory. There's a choice of 4GB, 8GB, or 16GB of flash memory provided on SDHC cards. The cards offer 30MB/s throughput, thanks to the MimoPlug's high-speed, long-endurance Single Layer Cell (SLC) chipset, claims MimoMonitors.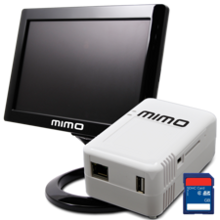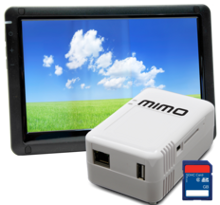 MimoPlug with the portrait/landscape-switchable Touch2 (left) and the VESA-mountable 720F
The device is further equipped with a gigabit Ethernet port and USB 2.0 port. The latter plugs into one of MimoMonitors' seven- or nine-inch inch touchscreen monitors via a separately available USB hub or directly into the multi-USB port 10-inch "Monster" model.
A separately available model called the Mimo eSata Plug adds an eSATA type II port for an extra $10, says the company. Both devices are said to operate at temperatures ranging from -13 to 185 deg. F (-25 to 85 deg. C). They also feature low, 5V/3.0A media consumption, and ship with a power adapter, says the company.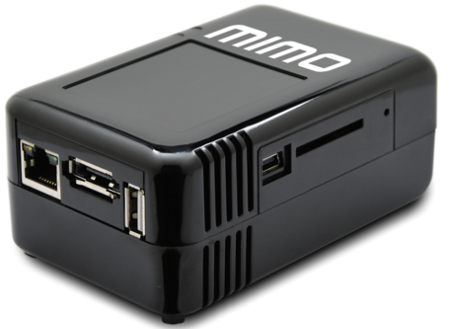 Mimo eSata Plug
The MimoPlug is configured to boot the latest
Debian Linux 6.0
("Squeeze") distribution, along with GNOME Desktop, from either the internal NAND flash memory or an SD card. When booting from a UBIFS file system on the internal flash, boot time is around 25 seconds, claims the company.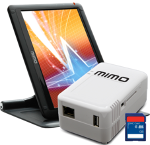 The pre-installed software supports peer-to-peer connectivity, as well as Universal Plug and Play (UPnP) for device discovery and media sharing, says MimoMonitors. JTAG access to the device is said to be available via USB, says the company.
The bundles all incorporate resistive, USB-connected touchscreen monitors. The bundles are said to include the following:
Plug + 10" Monster ($460 to $500) — 10.1-inch, 1024 x 600 with three USB 2.0 ports
Plug + eye9 ($430 to $470) — nine-inch 1024 x 600 with support for landscape/portrait, and a detachable 1.3-megapixel rotating webcam, stylus, and optional flex-arm mount
Plug + Touch2 ($430 to $470) — seven-inch, 800 x 480 display with removable, dual-hinged folding stand and support for landscape/portrait use (pictured at right).
Plug + 720S ($400 to $440) — seven-inch, 800 x 480 display, under one pound, with foldable slide-down design for portability, plus support for landscape/portrait (pictured above, right)
Plug + 720F ($400 to $440) — seven-inch, 800 x 480 display with VESA mounting
Availability
The MimoPlug is available now in the bundles listed directly above, says MimoMonitors.com. The MiMo eSata Plug is available with the same bundles, but at $10 more per bundle. More information may be found at MimoMonitors.com.
---
This article was originally published on LinuxDevices.com and has been donated to the open source community by QuinStreet Inc. Please visit LinuxToday.com for up-to-date news and articles about Linux and open source.