Jun 25, 2009 — by Eric Brown — from the LinuxDevices Archive — 27 views

Marvell announced that four vendors of networked-attached storage (NAS) devices — Buffalo, D-Link, LaCie, and Seagate — plan to launch retail versions of its SheevaPlug Plug Computer reference design. The company also said that its Linux-based SheevaPlug development kits are now available for European customers.
The European-destined SheevaPlug kits are outfitted for regional electrical specifications, says Marvell. They will be made available on Marvell's Plugcomputer.org site from Ionics EMS and Globalscale Technologies, says the company.
Earlier hardware licensees of the SheevaPlug design include Ctera Networks for its CloudPlug NAS device, and CloudEngines for its Pogoplug, which enables remote viewing of external storage devices via a web browser. New ecosystem partners Buffalo, D-Link, LaCie, and Seagate, all sell Linux-based NAS devices equipped with Marvell's Orion system-on-chips (SoCs), The companies will all provide Plug Computer-based devices for the consumer market, says Marvell, although it does not say when the devices will arrive.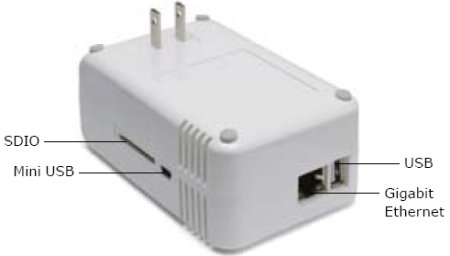 Marvell SheevaPlug Plug Computer
Marvell's
SheevaPlug
hardware/software development kit can be used as the basis for a variety of always-on home automation devices and service gateways, says Marvell. Resembling a "wall-wart" power adapter, the SheevaPlug draws 5 Watts, runs on embedded Linux, and boasts completely open hardware and software designs, says the company.
The $100 SheevaPlug platform and Plug Computer designs are built around the Marvell 88F6000, or "Kirkwood" SoC . The Plug Computer is based on the high-end 88F6281 version of the Kirkwood, with a Sheeva CPU core clocked to 1.2GHz. The Sheeva core combines elements of Marvell's earlier Feroceon (used by Orion) and XScale (Marvell's PXA SoCs) architectures, both of which implemented ARM Ltd.'s ARMv5 architecture, similar to ARM Ltd.'s own "ARM9" cores.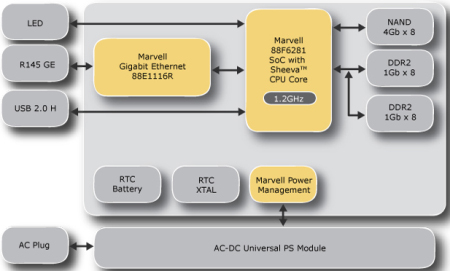 SheevaPlug block diagram
(Click to enlarge)
The SheevaPlug Plug Computer is further equipped with 512MB of DRAM and 512MB of flash. The tiny embedded PC also includes gigabit Ethernet and USB 2.0 ports. The SheevaPlug development kit supports standard Linux 2.6 kernel distributions, including specific support for ARM ports of Fedora, Ubuntu, Debian, and Gentoo, says the company.
The SheevaPlug and Pogoplug have both received extensive press coverage, with the latter already receiving a number of favorable reviews. The New York Times took note of the Pogoplug as part of an interview with Marvell CEO Sehat Sutardja. In the interview, Sutardja was quoted as saying that within two years, SheevaPlug Plug Computer devices should be available for $40, opening up even more potential applications.
"Eventually you won't see the plug," Sutardja was quoted as saying. "We want this device to be in your TV, your stereo system, your DVD player."
Earlier this week, another former Orion-based NAS customer, Synology, came out with a "DS409" NAS device based on the 88F6281 SoC. However, it is a full-sized device, and not based on the SheevaPlug.
Stated Rob Enderle, Principal Analyst for the Enderle Group, "The Plug Computer is one of the more amazing technologies that have come out this decade and it has the potential to change the world. The open plug platform gives European developers the opportunity to create applications, services, and solutions that are only limited by their imaginations."
Stated Dr. Simon Milner, VP and GM of the Enterprise Business Unit, Consumer and Communications Business Group at Marvell Semiconductor, "We are thrilled to introduce SheevaPlug to the European developer community and look forward to seeing many new applications and new consumer product ideas developed and brought to market. Moreover, Marvell is delighted to collaborate with retail partners such as BUFFALO INC., D-Link, LaCie and Seagate on delivering new levels of user experience to consumers."
Availability
More information on the European version of the SheevaPlug Plug Computer development kit should be available here.
---

This article was originally published on LinuxDevices.com and has been donated to the open source community by QuinStreet Inc. Please visit LinuxToday.com for up-to-date news and articles about Linux and open source.