Oct 17, 2006 — by LinuxDevices Staff — from the LinuxDevices Archive — 111 views

FSMLabs reports that its real-time Linux distribution was used by Blue Mountain Avionics to build an electronic flight information system (EFIS) or "glass cockpit" for experimental aircraft. The EFIS/One offers dozens of solid-state instruments, digital autopilot, an air data computer, and a built-in flight recorder.
Blue Mountain claims that its EFIS/One will replace "nearly every instrument on the panel" in experimental aircraft designs, while reducing weight and current draw. The system is also said to reduce noise, compared to gyroscope-based systems.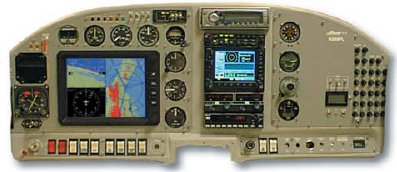 EFIS/One installed
The EFIS/One can only be used as backup instrumentation in "certified" aircraft, and while it provides all instruments required for experimental aircraft, Blue Mountain recommends using it in conjunction with backup instruments. Currently, EFIS/One is being used in planes ranging from "RVs and turbine Lancairs to L39s," according to the company.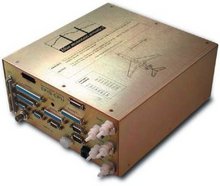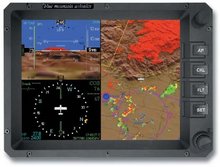 The EFIS/One's embedded computer and 10.4-inch display
(Click each image to enlarge)
The EFIS/One is based on a compact (9 x 10 x 4.6-inch) embedded computer (pictured above), powered by a Geode processor. The processor boots from an unspecified amount of flash memory. Additionally, the EFIS/One comprises a 10.4-inch transflective LCD sunlight readable display, an external 12-channel GPS receiver and antenna, a magnetometer, autopilot servos, and up to 32 engine sensors (sold separately).
Solid state instruments provided by the EFIS/One include:
Airspeed
Altitude
Vertical/horizontal speed indicators (VSI/HSI)
Magnetically slaved all-attitude compass
Altitude heading reference system (AHRS)
12 channel GPS navigation engine
Claimed "highest resolution 3D terrain available"





Terrain at or near the plane's altitude is shown in red
(Click each image to enlarge)
There's also a built-in digital autopilot with altitude hold and instrument landing system (ILS) capture, a full air data computer with fuel burn and fuel totalizing functions, a flight planning system, and digital monitoring of up to 32 engine gauges, according to Blue Mountain.
Additional touted features include:
Terrain at or near the plane's altitude shown in red, to reduce the chances of CFIT (controlled flight into terrain)
Easy to install
Plug in a PC keyboard to customize
State or trend-based engine alarms
Self-calibrating autopilot has "altitude hold, indicated airspeed hold, indicated vertical speed hold, as well as the ability to track your heading bug, GPS flight plan, external VOR or GPS flight plan and capture the LOC/GS for flying the ILS," Blue Mountain says
Angle-of-attack indicator
Air data computer monitors fuel flow, outside air temperature, pressure altitude, speed, and flight plan data
Moving map offers multiple display options, including virtual flight rules (VFR), low altitude en route, or high altitude en route
Flight data recorder can capture all data for later analysis on a PC
Sold as a subscription service with additional features through software upgrades
Support from Blue Mountain and/or an online user community forum
About RTLinux
FSMLabs's RTLinux distribution includes the company's proprietary RTCore real-time POSIX kernel, along with a "ruggedized" embedded Linux or BSD client OS. The combination is said to provide the real-time determinism needed for tasks such as motor control, data acquisition, and real-time networking, while also letting users take advantage of the enterprise software platform provided by Linux.
Blue Mountain President Greg Richter stated, "The reliability and power of RTLinux and the absolutely premium support we received from FSMLabs are keys to us getting this product out to our customers."
Cort Dougan, CTO of FSMLabs, stated, "Our goal is to allow device developers to focus on their products instead of on the operating system, bootloaders, and filesystem. Blue Mountain's rapid adjustment to their first Linux product was another validation of our architecture."
One L39 pilot states, "Once you fly with an EFIS/One, you'll wonder how you ever flew without it."
Availability
The EFIS/One is available now, priced at $15,000, including everything except engine sensors. RTLinux is available now, along with GNU- and Eclipse-based tools, for a variety of embedded processors and architectures.
---

This article was originally published on LinuxDevices.com and has been donated to the open source community by QuinStreet Inc. Please visit LinuxToday.com for up-to-date news and articles about Linux and open source.