Jul 9, 2010 — by Eric Brown — from the LinuxDevices Archive — 11 views
Emerson Network Power is shipping what it claims are the first COM Express modules based on Freescale Semiconductor's multicore, PowerPC-based QorIQ processors. The COMX-P2020 and COMX-P4080 employ dual-core QorIQ P2020 and eight-core QorIQ P4080 system-on-chips, respectively, offering both a wide variety of interfaces and Linux BSPs, says the company.
Emerson Network Power's "first" claim appears to be legit. In mid June, Eurotech announced it was planning on releasing an as-yet-unnamed COM Express module based on Freescale's QorIQ family of multicore, 45nm-fabricated Power Architecture system-on-chips (SoCs), but did not offer a timetable for delivery. (In February, meanwhile, Emerson announced COM Express modules and other products based on Intel's Core i5 and Core i7 processors.)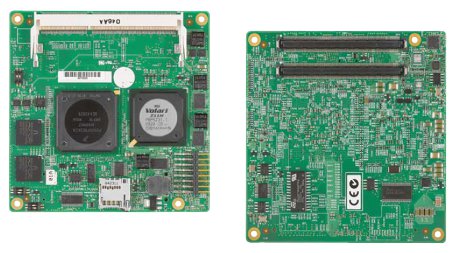 COMX-P2020, front and back
(Click to enlarge)
Typical applications for the COMX-P2020 include programmable automation controllers, security gateways, civil aeronautics, and renewable energy, says Emerson Network Power. The more powerful COMX-4080 can be used in storage servers, enterprise routers, enterprise VPN gateways, and railway signaling/control equipment, the company adds.
COMX-P2020
The COMX-P2020 is based on the QorIQ P2020 SoC, which is equipped with dual e500 PowerPC cores clocked to 1.2 GHz. Measuring 95 by 95 millimeters (3.74 x 3.74 inches), the COMX-P2020 module supports up to 2GB DDR3-800 ECC memory, and provides both 4GB of flash storage and a microSD slot, says Emerson.
A XGI Z11M graphics controller has been added to the COMX-P2020 module to enable an LCD connection through either a local LVDS or a VGA port, says Emerson. The controller is said to support up to 1280 x 1024 resolution.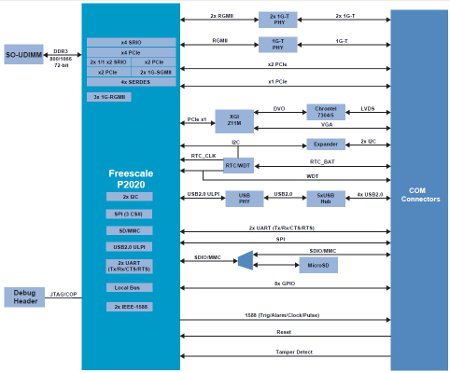 COMX-P2020 block diagram


(Click to enlarge)
The COMX-P2020 ships with three gigabit Ethernet interfaces, four USB 2.0 interfaces, and PCI Express (PCIe) x2 and x1 interfaces, says the company. Other I/O is said to include GPIO, SPI, I2C, SD/MMC, UARTs, and dual IEEE 1588 control interfaces for clock signaling.
Supported with an optional 12V (5V standby) power supply, the module is said to typically consume 12 Watts, with a maximum of 15 Watts. JTAG debugging is also said to be available.
COMX-P4080
The COMX-P4080 builds upon the QorIQ P4080, which offers eight cores operating at 1.5GHz. Currently the top-of-the-line member of the fast-growing QorIQ family, the P4080 adds features not found on the other QorIQs, including private backside cache per core, tri-level cache hierarchy, datapath acceleration, and a Virtutech-based hypervisor. There is also said to be a CoreNet "coherency fabric" inter-core interconnect.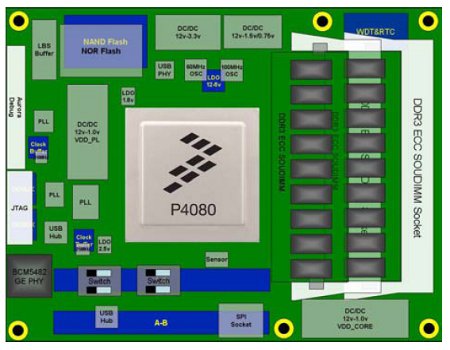 Mock-up of COMX-P4080 module


(Click to enlarge)
Thanks to the P4080's special features, the COMX-P4080 is suitable for combined control, datapath, and application layer processing, says Emerson. Although larger along one dimension than the COMX-P2020, at 95 by 125mm (3.74 x 4.92 inches), the module still fits the COM Express format, says the company.
The COMX-P4080 supports up to 4GB of DDR3-1333 ECC memory via dual channels, and also offers 1GB of flash storage, says Emerson. The module is said to supply 12 configurable SERDES (serializer/deserializer) lanes that support interfaces including up to:
1 x 10-gigabit Ethernet XAUI (3.125Gbps)
4 x gigabit Ethernet SGMII (1.25Gbps)
3 x PCIe (x4) (2.5Gbps or 5Gbps)
2 x SRIO (4x) (2.5Gbps or 3.125Gbps)
Standard I/O, meanwhile, includes an additional gigabit Ethernet interface and four USB 2.0 interfaces, says the company. Additional I/O is said to include GPIO, SPI, I2C, SD/MMC, UARTs, and dual IEEE 1588 interfaces.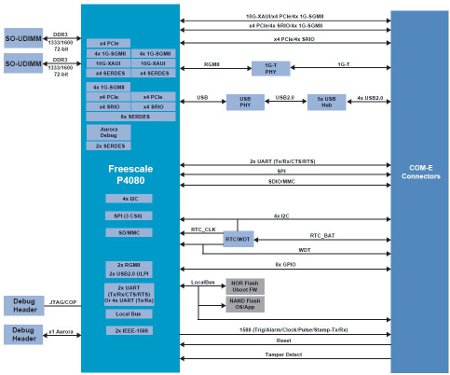 COMX-P4080 block diagram


(Click to enlarge)
The COMX-P4080 offers the same power supply option as the COMX-P2020, but power consumption was not stated. (The QorIQ P4080 itself is said to run on 30 Watts). JTAG debugging is also said to be available.
BSPs offered for Linux
The COMX-P2020 and COMX-P4080 modules are available with hardware/software development kits, including the module, memory, heat sink, carrier board, and board support packages (BSPs), says Emerson. A carrier designer's guide and other resources are also said to be supplied.
The new modules are supported on Linux via Mentor Graphics' Linux distribution for QorIQ processors. Other support is offered for Lynuxworks, QNX, and Green Hills' Integrity real-time operating systems (RTOSes), says the company. Wind River is also listed as a development partner, although only for VxWorks.
The COMX-P2020 and COMX-P4080 CPU modules are said to be the first in a series of computer modules resulting from the collaboration announced in March between Emerson Network Power and Freescale. The partners say they're working with the PCI Industrial Computer Manufacturers Group (PICMG) to develop an open industry standard for SoC architectures, including QorIQ, on modular COM Express modules.
Meanwhile, Freescale recently announced several next-generation QorIQ models due to ship next year, including a dual-core QorIQ P5020 equipped with a new 64-bit e5500 core that clocks to 2.2GHz.
Availability
Development kits for the COMX-P2020 and COMX-P4080 modules are shipping now, although pricing was not detailed. More information on the COMX-P2020 may be found here, and more on the COMX-P4080 may be found here.
---
This article was originally published on LinuxDevices.com and has been donated to the open source community by QuinStreet Inc. Please visit LinuxToday.com for up-to-date news and articles about Linux and open source.