Jun 8, 2011 — by Eric Brown — from the LinuxDevices Archive — 2 views
Timesys announced LinuxLink support for Freescale Semiconductor's i.MX53 family of Cortex-A8 system on chips (SoCs), as well as support for Freescale's $149 i.MX53 Quick Start Board. The LinuxLink package includes Timesys' Rich MUI development suite for multimedia and graphics design, says the company.
The LinuxLink development subscription for the i.MX53 follows up on last year's Timesys announcement of LinuxLink upport for Freescale's i.MX51 SoC. The i.MX51 forms the foundation for the similarly Cortex-A8-based i.MX53 processor announced in May 2010.
The initial i.MX53 model was the consumer-oriented i.MX535, which boosted video decode performance to multi-format 1080p HD and improved peripheral support, including new DDR3, SATA, and LVDS interfaces. The i.MX535 offers 32KB each of L1 instruction and data cache, and 256KB of L2 cache, says Freescale. The SoC also offers 720p video encode, with integrated HD duplex video support said to support videoconferencing.
The i.MX535 was originally said to run at up to 1GHz, but when Intrinsyc announced a tablet-oriented software reference platform for the SoC in December, the company noted that the processor had moved up to 1.2GHz. Since then, Freescale has said the i.MX535 can be cranked up to 1.3GHz.
In October, Freescale announced two 800MHz automotive versions of the i.MX53 family. The i.MX534 includes dual graphics processors for 2D/3D video acceleration, while the i.MX536 adds an enhanced video processor. These were followed in February of this year by the industrial-focused, 800MHz i.MX37 and the consumer-oriented, 1GHz i.MX538.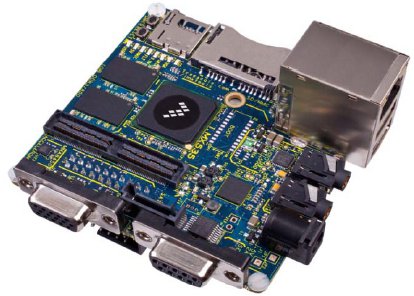 Freescale's i.MX535 "Quick Start" development board
Also in February, Freescale unveiled a "Quick Start" development board (pictured above) for the original i.MX535 SoC that is now being directly supported by LinuxLink. At the same time, Freescale announced a 10.1-inch, $1,499 "SABRE" tablet reference design. Both are compatible with Android, Linux, and Windows Embedded Compact 7.
The $149 Quick Start board is far more affordable than Freescale's typical product development kits (PDKs), and appears to be tailored on DigiKey's TI OMAP-based, open platform BeagleBoard. The board is supported by Freescale's existing imxcommunity.org development community site.
The board measures just 3.0 x 3.0 inches on an eight-layer PCB, matches a 1GHz i.MX535 CPU with a Dialog DA9053 PMIC chip and 1GB of DDR3 memory, says Freescale. Both a full-size SD/MMC and a microSD slot are provided, as is a SATA connector, says the company.
The Quick Start board is further equipped with VGA and LVDS ports, a 10/100 Ethernet port, and three USB ports. An expansion connector is said to open up additional I/O ranging from HDMI to camera interfaces to I2C.
Timesys offers "Rich MUI" for multimedia development
The LinuxLink i.MX53 subscription is supported by Timesys' new Rich Multimedia User Interface (Rich MUI) application, in addition to its standard LinuxLink development environment. This is said to enable the development of faster 2D and 3D graphics, advanced user interfaces, sophisticated video processing, and dual display functionality.
The Rich MUI offering builds upon Timesys' mainstream LinuxLink service, which is billed as a low-cost, automated set of development tools and services for embedded Linux developers. LinuxLink combines online and desktop tools, including an automated "Factory" build system, with repositories of updated, open source components.
The free LinuxLink Web Edition allows developers to mix and match kernel, toolchain, packages, and bootloaders to develop embedded projects, says Timesys. The more comprehensive and flexible LinuxLink Desktop Edition allows developers to integrate their own applications, modify the Linux kernel, and incorporate their own proprietary packages. The Desktop Edition also comes with live online support.
The initial LinuxLink release for the i.MX53 is based on the 2.6.35 Linux kernel. It integrates drivers for the Quick Start reference board peripherals, says Timesys.
Stated Ken Obuszewski, director of Product Management for Freescale's Multimedia Applications Division, "Timesys' flexible LinuxLink embedded Linux build system enables our mutual customers to take full advantage of the i.MX53 processor family's performance, optimal system integration and processing power to help bring high-end, embedded products to market faster."
Availability
The LinuxLink release for the Freescale i.MX53 and Quick Start board is available now. More information may be found at Timesys' Freescale page.
As part of its new Timesys University program, Timesys will offer a free, embedded Linux training program for the Freescale i.MX53 entitled "Building a rich user interface based medical device with the Freescale i.MX53 using LinuxLink" in mid-June.
---
This article was originally published on LinuxDevices.com and has been donated to the open source community by QuinStreet Inc. Please visit LinuxToday.com for up-to-date news and articles about Linux and open source.