Apr 1, 2010 — by Eric Brown — from the LinuxDevices Archive — 1 views
The MeeGo community has "opened the repositories" on early code for the open source mobile Linux operating system, which combines the Intel-backed Moblin and Nokia's Maemo platforms. Images are now publicly available for the MeeGo distribution infrastructure and OS base "from the Linux kernel to the OS infrastructure up to the middleware layer," says the community.
A blog posting by Imad Sousou, director of Intel's Open Source Technology Center and co-chair of the MeeGo Technical Steering Group, calls the early code release "the latest step in the full merger of Maemo and Moblin." The MeeGo community is releasing components that include MeeGo's "various key subsystems," writes Sousou. These are said to include the "core operating system libraries, the comms and telephony services, internet and social networking services, visual services, media services, data management, device services, and personal services."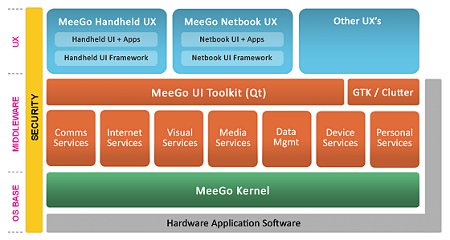 MeeGo architecture
The MeeGo images can boot from a USB stick or can be directly flashed on the device from a Linux PC, says Sousou. For now, they will boot directly into terminal mode, and are designed for use only by advanced users.
"MeeGo User Experiences," offering usage models for various device types ranging from smartphones to netbooks will be released at a later date, says the project. Meanwhile, the first official release of MeeGo as an entire open source OS, presumably in alpha form, will occur in May, says the Intel- and Nokia-based MeeGo project.

The release of early MeeGo builds was tipped several weeks ago by project leaders, which revealed that the Maemo-based Nokia N900 smartphone (pictured at right) would be one of the first targets. Indeed, as the MeeGo community has now revealed, available images are available for the ARM Cortex-A8-based Nokia N900, Intel Atom-based netbooks, and an Intel Atom-based handset based on the upcoming "Moorestown" successor to the Atom.
Somewhat surprisingly, the Moorestown phone target is not the LG GW990, which was announced by LG and Intel with great fanfare in January, but rather the Moblin-based Aava phone reference design. Developed by a Finnish start-up called Aava Mobile, which also announced plans to support MeeGo, the Aava design (pictured below) currently runs Moblin 2.1 for Handhelds, but will also run Android and MeeGo by the time Aava phones reach market by the end of the year, according to the company.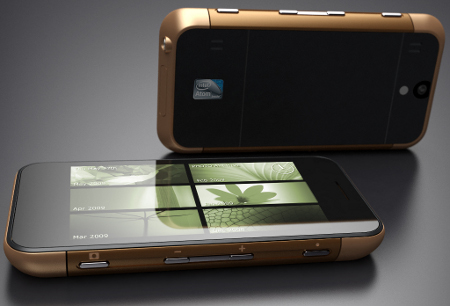 Aava phone design
The Aava design offers a 3.8-inch, 864 x 480 TFT capacitive touchscreen with haptic feedback, as well as an "extended" mode, which is said to touch-enable the front cover. Other features are said to include a microSD slot, GSM and WCDMA with 3G support, as well as WiFi, Bluetooth, GPS, and a micro-USB port with on-the-go (OTG) capabilities.
The Aava phone is said to offer full HD video playback, and offers both a five-megapixel still camera, and a two-megapixel videoconferencing webcam. Videoconferencing, as well as voice support, also seems to be the aim of the dual microphones with echo cancellation. The phone also provides accelerometers and other sensors, says the company.

LG GW990
MeeGo's selection of the Aava design as a reference platform raises the intriguing possibility that Aava's Finnish neighbor Nokia may adopt the design for a next-generation version of the N900. In the tablet world, meanwhile, OpenPeak has said it will offer a Moorestown-based version of its
OpenTablet
tablet, which is likely to end up running MeeGo, as well.
Linpus joins Linux Foundation, vows MeeGo support

No specific netbook models were mentioned as MeeGo targets, so it appears that the goal is to target a generic Intel Atom-based model. Today, the Linux Foundation (LF) announced that it has signed up a new member in Linpus Technologies, which developed one of the first netbook distributions — Linpus Lite — on Acer Aspire One netbooks (pictured at right). Taiwan-based Linpus later introduced a Moblin version of Linpus Lite, followed by a Moblin v2.0 version.
Linpus hopes to "play an ongoing role in the MeeGo project and other community initiatives," says the non-profit LF. Linpus will also participate in the LF's Collaboration Summit two weeks from now in San Francisco. This year's event features a full-day workgroup on MeeGo.
Intel and Nokia announced the MeeGo platform at Mobile World Congress in Barcelona in February. Hosted by the Linux Foundation, the MeeGo project combines two open source Linux projects: the Intel-backed Moblin and Nokia's Maemo distribution. Aimed at mobile devices ranging from handhelds to netbooks, MeeGo incorporates Nokia's Qt application framework.
In early March, Intel and France Telecom-owned European mobile operator Orange announced a partnership to provide a common software framework across multiple MeeGo devices to be sold by Orange, ranging from smartphones and tablets to netbooks. In addition, Intel said it would provide MeeGo support for Orange Signature Services, including Orange TV and Orange Maps.
Intel expands app store to Linux
In related Intel news, the company last week announced a Moblin Linux version of its netbook-focused beta-phase "AppUp" applications store. While previously available only for Windows, the store now supports Moblin up through the latest v.2.1 release.
Intel announced the AppUp store as part of its Intel Atom Developer Program in September, along with Windows and Moblin SDKs, tech support, and other developer programs. More information on the program was revealed when Intel released a beta version of the SDKs for Moblin and Windows in early December.
Aimed at independent software vendors (ISVs) and developers, the AppUp store is a key part of the development program, which is touted as a framework for developers to create and sell software for Atom-based netbooks. Support for handhelds, smartphones, and set-top boxes (STBs) is said to be planned for the future.
The program, which counts Acer, Asustek, and Dell among its members, aims to help netbook developers move from application creation through testing and marketing. Currently, AppUp is available only in the U.S., but Intel soon plans to expand to Europe on both Linux and Windows platforms.
Availability
Early MeeGo images can be downloaded here, says the MeeGo community. Corresponding package (RPM) repositories may be found here, and the git source repositories are available here. Meanwhile, Bugzilla may be found here.
The Intel AppUp Center may be found here.
---
This article was originally published on LinuxDevices.com and has been donated to the open source community by QuinStreet Inc. Please visit LinuxToday.com for up-to-date news and articles about Linux and open source.