Mar 10, 2010 — by Eric Brown — from the LinuxDevices Archive — 2 views
VoX Communications announced it will resell Nokia's Maemo Linux-based N900 smartphone with a mobile VoIP plan offering unlimited data and voice service. Meanwhile, Nokia confirmed that the N900 will be the first smartphone to run the Moblin/Maemo mashup, MeeGo, when a preliminary version of the operating system debuts at the end of the month.
A subsidiary of Pervasip that calls itself a "Linux shop," White Plain, New York based VoX Communications is now selling the N900 with a service plan. VoX is reselling an unlocked Nokia N900, along with a VoX Mobile VoIP plan that costs $70 per month, without an annual contract, says the company. The service is said to offer unlimited US, Canada, and Puerto Rico calling, as well as unlimited texting, email, and Internet access.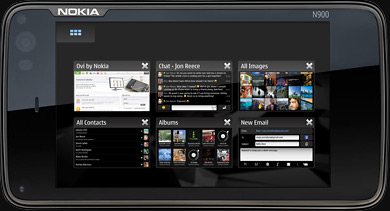 Nokia N900
In addition, the company says it will soon release an N900-ready software download of its VoIP software, enabling existing N900 users to subscribe to the VoX Mobile VoIP plan. The software and service builds upon the N900's built-in Skype connection and a nationwide 3G and 3.5G cellular network, while also supporting WiFi. VoX suggests that it will eventually support "the future ability for a Skype video call via the front facing camera."
Meanwhile, as far as we're aware, the GSM network whose nationwide service is being resold by VoX has not been identified. (Presumably, however, it would have to be either AT&T or T-Mobile.) Pervasip and VoX first announced their VoIP-based offering last December, when it was said to rely on a customized version of HTC's Windows Mobile-based TouchPro2.
Stated Pervasip CIO Mark Richards, "We are very excited to be a voice and data service provider for this mobile computer. In our opinion, there has never been a more responsive and intuitive device. The Linux development community will certainly embrace the open source initiative that Nokia has created and their OVI App store will undoubtedly grow very rapidly because of this appealing technical and philosophical commercial strategy."
Review picks N900 over iPhone
VoX points to a StarryHope review that picks the N900 as a winner in a head-on comparison with the Apple iPhone 3GS (see link at bottom). The review notes that although the iPhone is $260 cheaper, it requires a two-year contract with AT&T at about $150 a month. By comparison, StarryHope claims that N900 users could opt for an unlimited T-Mobile plan costing $80 a month, which would save users $1,420 over the two year period. (The VoX plan appears as if it would be even less expensive.)
Other advantages for the N900 over the iPhone cited by the review include the flexibility of an unlocked phone for world travel, the built-in keyboard, the dual, high-quality cameras, the FM radio, plus the built-in Skype, Google Talk, and SIP support. In addition, the review notes the N900's higher resolution 800 x 480-pixel display, and claims that the N900 offers better multitasking and media codec support. The open source Maemo Linux OS is also cited for its greater flexibility.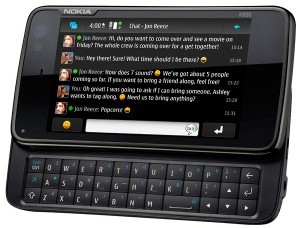 N900, showing slide-out keyboard
The iPhone receives props for its far larger, 100,000-app online library (compared to few hundred for the N900), and especially the far larger numbers of quality games. It is also cited for being smaller, as well as offering multi-touch capability, which is missing on the N900. In the end, however,
StarryHope
picks the N900 as "a better phone and Internet device than the iPhone."
It should be noted that other reviews have not always been so friendly. Engadget, for example has called the N900 "half-baked." While it offers praise for the N900's overall potential, as well as features such as Skype, it concludes that the phone suffers due to the immaturity of Maemo. This view has been reflected in some other reviews of the N900, which appear to run the gamut from praise to pummeling, but typically fall somewhere in between, enthusing over the potential of the device while criticizing the rough edges.
For another rave review that's even more in-depth than Engadget's thorough run-through, check out the TechRadar link farther below. Giving the phone four out of five stars, the review says that despite the bulky, blocky design, this "hackers delight" could be one of the "phones of the year."
MeeGo code to appear by month's end, targeting N900
The N900 may run Maemo now, but in just a few weeks, it may also be able to run early code for the new Maemo/Moblin combination MeeGo, according to a MeeGo.com posting last week by Valtteri Halla ("Valhalla") of Nokia. Halla, who currently serves as one of the MeeGo' project's two-person Technical Steering Group (TSG), reported that Nokia and Intel, which jointly announced the MeeGo platform last month, have set the target to open the MeeGo repository by the end of this month.
This early debut will comprise the "first and very raw baseline to a source and binary repository to build MeeGo trunk on Intel Atom boards and Nokia N900," Halla writes in his posting. In other words, the N900 will likely be the first device to run MeeGo.
Intel and Nokia announced the MeeGo platform at Mobile World Congress in Barcelona last month. Hosted by the Linux Foundation, the MeeGo project combines two open source Linux projects: the Intel-backed Moblin and Nokia's Maemo distribution. Aimed at mobile devices ranging from handhelds to netbooks, MeeGo incorporates Nokia's Qt application framework.
So far, two companies have announced upcoming products based on MeeGo: LG's previously Moblin-based GW-990 phone (pictured below), as well as a reference design from Aava Mobile (see image below). Both are built around Intel's next generation of the Atom, code-named Moorestown, whereas the N900 uses a Texas Instruments ARM Cortex A8-based OMAP3x processor.
LG GW990, a Moblin "Moorestown" phone that will support MeeGo
As we reported earlier, many of MeeGo's core selections from the two platforms have been settled. Further selection questions remain, writes Halla, but he writes that elements like X, Connman, oFono, Gstreamer, and Dbus, "can be considered as working assumptions for MeeGo 1 release."
Halla also hints that there has already been some friction between the communities and/or various elements within both Intel and Nokia as they merge the two projects. "MeeGo is supposed to go beyond its parents in openness," writes Halla, adding that "MeeGo operations are expected and designed to be completely transparent." As he notes, however, "This is still a baffling proposition to many."
Halla continues, "Some do not want to do it, some do not dare, many do not know how to. We still have a trainload of openness virgins here! Herding the teams to go public will be a big task."
Symbian leader sees Linux role for "high end risky products"
Part of the inherent conflict in merging Moblin and Maemo lies in the different processor orientation of the two distributions, as well as the companies behind them. Already, Intel is pushing forward via a deal with Orange focusing on Intel Atom-based MeeGo devices, yet it now appears MeeGo platform will debut on the ARM-based N900.
In addition, Nokia in particular has a conflict with operating systems. The company has been careful not to refer to the N900 as a smartphone, so as not to conflict with the Symbian community. Various Nokia execs have finessed this ambiguous message since the N900 appeared. Now, Symbian Foundation's executive director Lee Williams has joined in with his own version in an interview with Silicon.com's Natasha Lomas, called "Mobile OS wars: What does MeeGo mean for Symbian?"
Not surprisingly, Williams rejects Lomas' notion that MeeGo might possibly usurp the newly open source Symbian as Nokia's operating system of choice. Noting the common Qt framework between the two platforms, he was said to have told Lomas, "I don't view [MeeGo] as competition for us by any stretch of the imagination. In fact you're more likely than not to hear things in the future about how Linux.org and Symbian will work together."
Williams was said to have gone on to differentiate the platforms in this way: S30 for devices in emerging markets, S40 for mid-tier devices, Symbian for more mass market mid-tier devices and some higher-end smartphones, and MeeGo for "the most high-end or risky product segments." He goes on to note that "the types of product risk scenarios that MeeGo would own" would not "realize the returns on investment they've [Nokia, etc.] made in Symbian."
Availability
The Nokia N900 with VoX Mobile service is available now at $70 per month, without an annual contract, says VoX Communications. More information may be found here.
More information on the N900 may be found at this Nokia online store page, which sells the phone for $550 unlocked, here. The phone can be found for $530 at Amazon.com, here.
The StarryHope comparison of the N900 and the iPhone may be found here. The Engadget review of the N900 may be found here, and the TechRadar review may be found here.
The MeeGo blog by Nokia's Valtteri Halla should be here, and the Silicon.com interview with Symbian Foundation executive director Lee Williams may be found here.
---
This article was originally published on LinuxDevices.com and has been donated to the open source community by QuinStreet Inc. Please visit LinuxToday.com for up-to-date news and articles about Linux and open source.