Aug 22, 2007 — by LinuxDevices Staff — from the LinuxDevices Archive — 42 views

A board vendor in China/Taiwan is touting a mini-ITX system based on Freescale's fastest PowerQUICC II processor. Micetek, which specializes in 8- and 32-bit processor development boards, said its MPC8349E-mITX system comes with Linux, and can be used to build networking, communications, and "pervasive computing"… equipment.
Micetek's mini-ITX system is based on its MPC8349E-mITX board, which it appears to have originally developed for Freescale. Freescale resells the board as its MPC8349E-mITXE reference platform, and will feature the board in this fall's 23-city MontaVista/Freescale roadshow. The board gained a MontaVista Linux Professional Edition 5.0 BSP earlier this year, and has already seen use in at least two Linux-based reference designs, including an Axentra/Freescale Digital Home Center and a Freescale home NAS (network-attached storage) appliance.



Micetek's MPC8349E-mITX system appears to use a low-cost Morex mini-ITX case
Micetek's MPC8349E-mITX board is based on Freescale's MPC8349E, the fastest of Freescale's PowerQUICC II line when clocked at 667MHz (it also supports 333MHz clocking). The board also supports the Freescale's MPC8349, which can be clocked at 266MHz or 533MHz. Both processors integrate PowerPC e300 cores, DDR/DDR2 memory controllers, PCI, high-speed USB 2.0 (480Mbps), a pair of gigabit Ethernet ports, and cryptographic acceleration.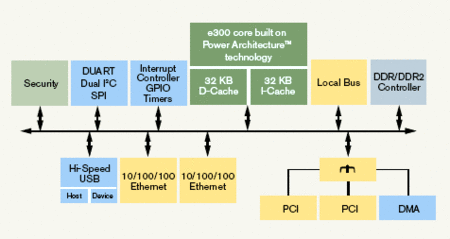 Freescale MPC8349E function block diagram
The MPC8349E-mITX board supports DIMM (dual in-line memory modules) between 256MB and 1GB. It comes standard wtih 16MB of flash memory, in the form of two Macronix MX29LV640BT chips soldered onboard. Storage is expandable via a CompactFlash connector.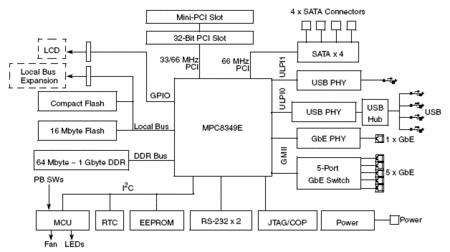 Micetek MPC8349E-mITX diagram
(Click to enlarge)
Two I/O options are available. An available cost-sensitive MPC8349E-mITX-GP version has an undisclosed subset of the full MPC8349E-mITX version's I/O, which includes:
LAN/TSEC 2, GMII interface: 5 x 10/100/1000 BaseT RJ-45, with Vitesse VSC7385 SparX-G5 5 1 Port Gigabit Ethernet Integrated PHY Switch
WAN/TSEC1, GMII interface: 1 x 10/100/1000 BaseT with RJ-45 interface, using Vitesse VSC8201 single port 10/100/1000 BaseT PHY
USB 2.0 high-speed (480Mbps, OTG and HUB)

USB1, ULPI interface: 4 x USB2.0 Type A receptable connector, with Genesys Logic GL850A 4-PORT USB 2.0 HUB Controller
USB2, ULPI interface: 1 x USB2.0 Type Mini-AB Receptable connector, with SMSC USB3300 Hi-Speed USB Host/Device/OTG PHY

Serial ATA controller
Dual PCI

1x 32-bit 3.3V PCI slot, connected to PCI-2
1x 32-bit 3.3V miniPCI slot, connected to PCI-2
On the software side, the MPC8349E-mITX comes with:
Open source U-Boot 1.1.3 bootloader (said to support Ethernet booting)
Linux 2.6.13 kernel
Drivers for PCI, USB2.0, GbEthernet, 10/100 Ethernet, and ATA controller
Toolchain comprised of gcc-4.0.3, glibc-2.3.2/uclibc0.9.29, and binutils-2.6.1
Root file system
In addition to Freescale, Micetek's other semiconductor customers reportedly include Winbond, Philips, Motorola (Freescale), and Infineon. In addition to development boards, the company offers ICEs (in-circuit emulators), IDEs (integrated development environments), compilers, and other embedded development tools. It spun out of Microtek, a large Taiwan-based vendor of computer peripherals such as scanners, LCD monitors, projectsors, MP3 players, and digital cameras, among other consumer electronics devices.
Availability
The MPC8349E-mITX appears to be available for manufacture in quantity from Micetek. Pricing and minimum volume were not disclosed.
---

This article was originally published on LinuxDevices.com and has been donated to the open source community by QuinStreet Inc. Please visit LinuxToday.com for up-to-date news and articles about Linux and open source.