Feb 10, 2009 — by Eric Brown — from the LinuxDevices Archive — 7 views
Access China and NEC Electronics are developing a "price sensitive" smartphone reference design incorporating the "new" Mini version of the Access Linux Platform (ALP) mobile stack. The touch- and 3G-enabled design will use NEC's ARM9-based MP201 system-on-chip (SoC), and a future design may use NEC's new ARM11-based Emma Mobile 1.
Targeting Asian and emerging markets, the unnamed NEC/Access reference phone design will support 2.5G, 2.75G, and 3G CDMA2000 networks, say the companies. It will also offer touch-panel access to functions including web browsing, and ship with "a complete set of development tools," add the partners.
The NEC/Access design will use the ALP Mini stack, described as a stripped down version of the LiMo-compliant ALP Linux mobile stack. In actuality, ALP Mini evolved from one of the first commercial Linux stacks to target mobile devices. It was originally developed by China Mobile Soft, a start-up founded by John Ostrem and Jiping Wang in 2002, and acquired by Access in 2005. (Ostrem and Wang contributed a wonderful paper to LinuxDevices detailing the advantages of Linux in the 2002 Chinese embedded Linux market.)
ALP Mini is expected to reach a new Version 3.0 release this month. The stack is said to offer a development platform and application suite designed for feature phones, low-end smartphones, portable navigation devices (PNDs), portable media players (PMPs), and set-top boxes (STBs). ALP Mini is targeted at "emerging markets," and is being deployed in China and Taiwan on the Haier Super Smart Phone N60, which was announced in 2006, as well as on a PND device from Shanghai Novarobo Technology.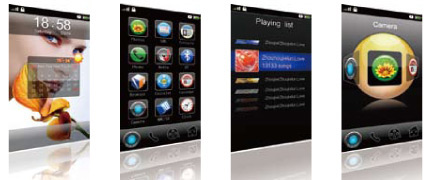 ALP mini application screens
Whereas the full ALP 3.0 stack targets smartphones and other multitasking devices with 128MB or more each of RAM and Flash, ALP Mini gives the company a product offering for less sophisticated, single-function devices with as little as 32MB each of flash and RAM. In place of the LiMO-mandated GTK+ GUI toolkit, Mini uses a lightweight, custom "NGUI" toolkit (see screenshots above). Minimum processor requirements are said to be a 200MHz ARM9 processor.
NEC MP201
The first NEC/Access phone design will use NEC's MP201 SIP (system-in-package). Announced in July 2006, the NEC MP201 is aimed at portable devices that require video and audio processing, says NEC. The SIP packages an ARM9-based applications processor together with a DSP and an LSI (large-scale integration) for power management, thus replacing as many as three discrete chips in a low power, single 12- or 14-millimeter (mm) square package.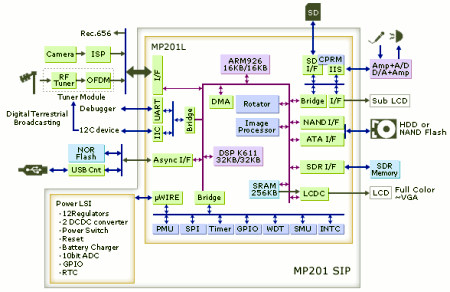 NEC MP201 block diagram
(Click to enlarge)
The MP201 is built around an ARM926EJ-STM core, clockable to 250MHz, with 256KB internal SRAM, as well as support for SDRAM. The MP201 also includes a multifunction image processor, as well as a digital signal processor (DSP) with H.264 decoding and MPEG-4 encoding and decoding, says the company. Interfaces are said to include serial, USB 2.0, SD card, ATA, cameras, LCD, and OFDM (Orthogonal Frequency Division Multiplexing) for terrestrial video support.
The MP201 is capable of displaying 30fps of QVGA video compressed with H.264, and about 30fps of 480 x 480 video with MPEG-4, says NEC. As a result, the SoC is said to support both the latest digital music formats, as well as terrestrial digital video.
NEC's new Emma Mobile 1 SoC
Access and NEC also plan to explore future reference designs based on NEC's newer, ARM11-based Emma Mobile 1 SoC, say the companies. Announced last month, the Emma Mobile 1 supports large LCD displays, and is billed as being a "system LSI chip for portable devices." As the diagram below shows, it integrates several multimedia and display processors, a DSP, and even on-chip RAM. It reportedly supports playback of MP3, AAC, MPEG-4, and VC-1 files, and can play H.264 video on a D1 size (720 x 480) screen at 30fps, claims NEC.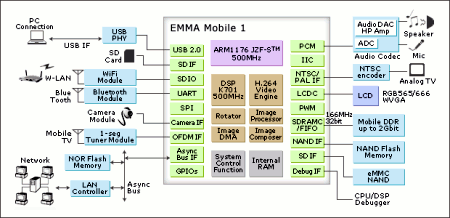 Emma Mobile 1 block diagram
(Click to enlarge)
The Emma SoC builds upon the MP201 design with an ARM1176JZF-S, clockable to 500MHz, plus additional multimedia processors, including a dedicated H.264 video engine. A separate 500MHz K701 DSP is said to handle MPEG-4 and other media processing tasks. The integrated LCD controller supports up to WVGA (800 x 480 dot) LCD panels, "making it possible to resize D1 size digital content on a WVGA LCD panel," says the company.
Stated Katsu Itagaki, GM, SoC Systems Division, NEC Electronics, "ACCESS China is a leader in advanced mobile software technologies with strong technical expertise and an established track record of providing support for major operators."
Stated Pierre Suhandinata, Chairman and CEO of Access China, "With its rich entertainment and strong web browsing functionality, we believe this reference design will further enable manufacturers to deliver highly differentiated products in today's demanding mobile market."
Availability
NEC Electronics and Access China did not provide a timetable for the release of the MP201-based phone design or any upcoming Emma Mobile 1-based designs.
The MP201 is shipping now in mass production, and the Emma Mobile 1 is sampling now at $30 per unit. The Emma is expected to ship in mass production in August, says NEC.
Access, which recently announced several senior management changes, will demonstrate ALP Mini, ALP 3.0, NetFront Widgets, and other technologies at the Mobile World Congress 2009 next week in Barcelona. The Access booth is located in the Courtyard Area CY10 of the show.
---

This article was originally published on LinuxDevices.com and has been donated to the open source community by QuinStreet Inc. Please visit LinuxToday.com for up-to-date news and articles about Linux and open source.