Jun 12, 2008 — by LinuxDevices Staff — from the LinuxDevices Archive — 1 views

Mozilla Labs has posted a video preview, source code, and an online demo of its forthcoming mobile web browser. Code-named "Fennec" for now, Firefox Mobile features an innovative full-screen, finger-friendly interface with iPhone-like "kinetic" scrolling, and a Mac-like "expose" feature for tabs.
(Click here for a larger view of Mozilla's "Fennec")
Fennec, which will run on Linux, has been under development since last year, employing the same codebase as the about-to-be-released Firefox 3 browser for desktop computers. "Bringing a true web experience to mobile phones and other non-PC devices," it may include a "bridge," allowing users to migrate cookies, bookmarks, history, form-fill data, and other information from their desktop browsers to their mobiles, says Mozilla Labs.
While the underlying code for Fennec is apparently solid, and has been sped up over 600 percent in recent builds, developers continue to tweak its user interface. (For a look at some proposed designs, see our earlier coverage, here and here.)
Aza Raskin, head of user experience at Mozilla Labs, blogged this week, "Every bit of interaction and pixel of presentation counts when typing is laborious and screen sizes are minuscule. Many of the standard interaction models, like menus, always-present chrome, and having a cursor, don't necessarily make sense on mobile."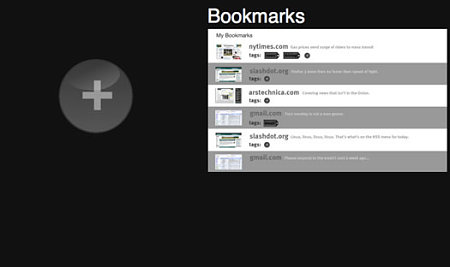 Mozilla's Fennec opens to a mostly blank page
As shown above, the browser opens to a blank workspace, with bookmarks on the right, and a plus sign on the left that can be used to open a new tab. Clicking on the list of bookmarks zooms the browser to the relevant page.
Pages can be scrolled by flicking fingers on the screen or using them to drag the page in any direction, according to Raskin. Meanwhile, pages can be zoomed out by dragging them past their borders in any direction. "One of the cool things about this is that the gesture for zooming out to the home screen is simply throwing the page in any direction. It's singularly therapeutic," quips Raskin.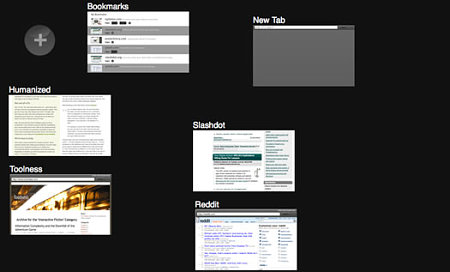 Fennec places a new tab in its overall spatial workspace
Creating a new tab is done by clicking on the plus sign, at which point the browser finds an open spot for the page in its overall workspace (see above). This zoomed-out "spatial" view is reminiscent of the Expose function in Apple's OS X operating system. Unlike Expose, however, it allows pages to be fixed to any desired position by the user, according to Raskin.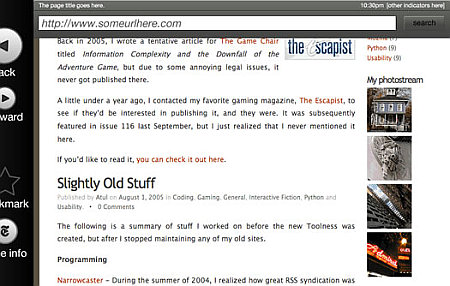 Fennec's controls appear when a page is nosed to the right
As for standard controls such as back and forward buttons and a URL bar, these fade in (see above) when a page is dragged slightly to the right. Regardless of the size of a web page, this can always be done rapidly, claims Raskin, because Fennec will include a physics engine with "kinetic" scrolling.


A video preview of Mozilla's "Fennec"
Source: Mozilla Labs
(click to play)
Further information
In addition to the above video preview, Mozilla Labs has released source code for the demo, plus a simulation that runs — with many rough edges — within a desktop version of Firefox. The concept may also be developed into a Firefox extension, Raskin adds.
To access the source code, go here. To run the simulation, go here.
In related news, Mozilla Labs announced yesterday that, after three months of development and three Release Candidates, the Firefox 3 desktop edition will be formally launched next Tuesday, Jun. 17. For more information, see the Mozilla developer blog, here.
---

This article was originally published on LinuxDevices.com and has been donated to the open source community by QuinStreet Inc. Please visit LinuxToday.com for up-to-date news and articles about Linux and open source.