Sep 10, 2010 — by Eric Brown — from the LinuxDevices Archive — 42 views
Qnap Systems announced four new Business Series Turbo NAS (network attached storage) servers for SMB and corporate users, built around Intel's dual-core, 1.8GHz Atom D525 processor. The two-drive TS-259 Pro+ (4TB), four-drive TS-459 Pro+ (8TB), five-drive TS-559 Pro+ (10TB), and six-drive TS-659 Pro+ (12TB) all ship with 1GB RAM, RAID 0, 1, 5, 6, iSCSI support, and newly updated Linux-based firmware.
The Turbo NAS Pro+ "Fall 2010 refresh" updates improve upon somewhat similar Qnap systems with the same names, minus the + sign. We have not covered these, but last year we did report on a six-bay TS-639 Pro that runs on an Intel Atom N270 and appears to aim at a similar SMB/enterprise market as the TS-659 Pro+.
This February we covered the SMB-focused, two-drive, 4TB TS-239 Pro II and four-drive, 8TB TS-439 Pro II, both running the Intel Atom D410 "Pineview" processor. In March, Qnap announced the SMP/enterprise targeted TS-459U-RP and TS-459U-SP, both running on dual-core Intel Atom D510 processors.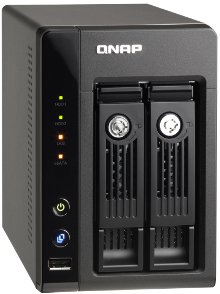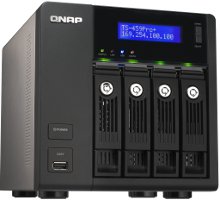 Qnap's TS259 Pro+ (left) and TS459 Pro+
(Click on either to enlarge)
The Turbo NAS Pro+ systems use the dual-core Intel Atom
D525
, which was announced last month (along with its single-core sibling the Atom D425). The processors are based on the same Pineview architecture as the D510, but they are clocked at 1.8GHz compared to 1.66MHz, and are aimed squarely at the NAS market.
According to Intel, the Atom D425 and D525 include on-board GMA3150 graphics (as do the other Pine Trail CPUs) and support either DDR3 memory at 800MHz, or 800/667MHz DDR2 memory.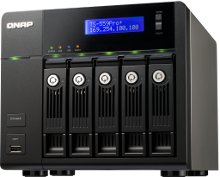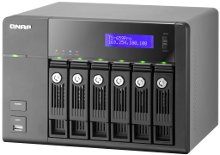 Qnap's TS559 Pro+ (left) and TS659 Pro+


(Click on either to enlarge)
All four of the new Turbo NAS Pro+ systems ship with 1GB DDR2 DRAM, plus 512MB of flash. The NAS boxes can achieve up to 116MB/s transfer rates (FTP/Samba reads), claims Qnap. The systems are able to meet those speeds while maintaining the power consumption levels listed below, which range from 35 Watts to 44 Watts, depending on the model, says the company.
All four models offer dual gigabit Ethernet ports, five USB 2.0 ports (one front-facing), and two back-facing eSATA ports. Other standard hardware features are said to include LCD panels, selection buttons, LED indicators, and an alarm buzzer. The operating temperature ranges from 32 to 104 deg. F (0 to 40 deg. C).
Each system supports 2TB hard disk drives (HDDs), including both 2.5-inch and 3.5-inch HDDs, housed in lockable, hot-swappable drive carriers, says Qnap. Each is said to support RAID 0, 1, 5, 6, 5+ hot spare, and 6+ hot spare (5-drive and higher models) storage modes. In addition, online RAID capacity expansion, online RAID level migration, and RAID recovery are said to be available.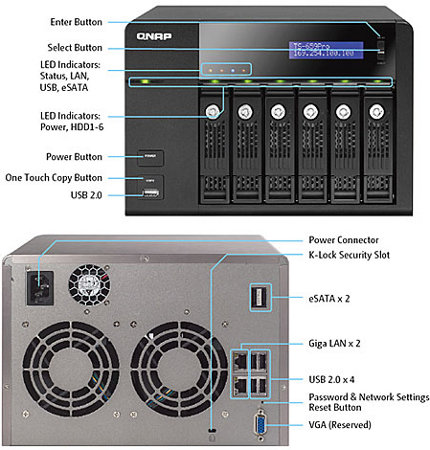 Port detail for the TS-659 Pro+
The systems vary in capacity, weight, dimensions, and power consumption, as follows:
TS-259 Pro+ — Supporting dual drives (4TB), the TS-259 Pro+ measures a compact 8.5 x 5.91 x 4.02 x inches (216 x 150 x 102mm) and weighs 3.84 pounds (1.74 k), says Qnap. Power consumption is rated at 25 W in operation and 16 W in sleep mode.
TS-459 Pro+ — This four-bay model supports up to 8TB. The mini-tower measures 9.25 x 7.09 x 6.97 inches (235 x 180 x 177mm) and weighs 8.04 pounds (3.65 k). Power consumption is claimed to be 35 W in operation and 19 W in sleep mode.
TS-559 Pro+ — The five-bay TS-559 Pro+ holds up to 10TB. The system measures 9.27 x 8.29 x 7.28 inches (235.4 x 210.6 x 185mm) and weighs 11.24 pounds (5.1 k). The unit is said to draw 44 W in operation and 22 W during standby.
TS-659 Pro+ — The top-of-the-line six-bay model holds 12TB. The TS-659 Pro+ measures 10.12 x 9.25 x 6.89 (257 x 235 x 175mm) and weighs 11.46 pounds (5.2 k). The system consumes 43 W in operation and 22 W during standby, says Qnap.
All the systems are VMware and Citrix ready, as well as Windows Server 2008 Hyper-V clusters compliant, says Qnap. They all offer iSCSI support for virtualized server clustering and virtualized environments, including support for MC/S, MPIO, SPC-3, and thin provisioning, says the company.
With the systems' built-in iSCSI initiators and target services, network storage can be virtually expanded by adding additional Turbo NAS units to the network, says Qnap. The technology also lets users add up to eight virtual volumes per device, Data security features including volume-level AES 256-bit encryption are said to be standard.
The Turbo NAS Pro+ series ships with a new version 3.3 of Qnap's NAS management software embedded as Linux firmware. The software includes centralized backup, website hosting, printer sharing, and file server/sharing.
Other features are said to include video surveillance and recording using networked cameras. "QPKG" open source business applications are also available, including a SQL database management, ecommerce, and Customer Relationship Management (CRM) apps.
Stated Laurent Cheng, Product Manager for Qnap Systems, "No other NAS manufacturer equips their NAS offerings with the performance and business-critical features of Qnap units. The new Turbo NAS Pro+ models continue that tradition of excellence."
Availability
Qnap's Business Series Turbo NAS Pro+ servers will be available starting this month through popular commercial distributors, resellers, and retailers globally, says the company.
More information, including datsheets may be found on the systems' respective web pages for the TS-259 Pro+, here, the TS-459 Pro+, here, the TS-559 Pro+, here, and the TS-659 Pro+, here.
More information on version 3.3 of the Qnap Turbo NAS Firmware may be found here.
---
This article was originally published on LinuxDevices.com and has been donated to the open source community by QuinStreet Inc. Please visit LinuxToday.com for up-to-date news and articles about Linux and open source.