Feb 1, 2010 — by Eric Brown — from the LinuxDevices Archive — 5 views
Qnap Systems has upgraded two of its Linux-based, SMB-focused network-attached storage (NAS) systems to incorporate Intel's D410 Atom processors. The two-drive, 4TB TS-239 Pro II and the four-drive, 8TB TS-439 Pro II also feature Qnap NAS 3.2 management software, with new iSCSI and virtualization features, plus support for VMware's vSphere4.
The new TS-439 Pro II and TS-239 Pro II systems take a step up from the TS-439 Pro and TS-239 Pro, respectively, both of which were released early last year. The Pro II systems offer the same hardware design as their respective predecessors, and share many of the same features, including a foundation in embedded Linux. However, they graduate from the Intel Atom N270 to the new D410 Atom models.
The D410 was launched in December along with Intel's other "Pineview" processors: the netbook-focused N450 and the dual-core version of the D410, the D510. The D410 and the other Pineview processors are equipped with a 1.66GHz CPU that is only slightly faster than the 1.60GHz N270, but they bring their memory controller and graphics core on-die, thereby reducing total chipset footprint and power consumption, says Intel.
The two Pro II Qnap devices also move up to a new version 3.2 of the Linux-based Qnap NAS management software, adding improved support for iSCSI and support for VMware's vSphere4 virtualization environment (see farther below for software details).
TS-439 Pro II
Like the TS-439 Pro, the Pro II version matches its Atom processor with 1GB DDRII memory, but the 128MB "disk-on-module" (DOM) has now grown to 512MB on the new D410-based model. The device still offers four trays, but now each bay can hold up to 2TB drives (2.5- or 3.5-inch) instead of 1.5GB, for a total of 8TB of hot-swappable storage.
Like the previous version, the TS-439 Pro II provides five USB 2.0 ports, two eSATA ports, and two dual gigabit Ethernet ports. The latter can be configured as failover, load balancing, or serving two different subnets, says the company.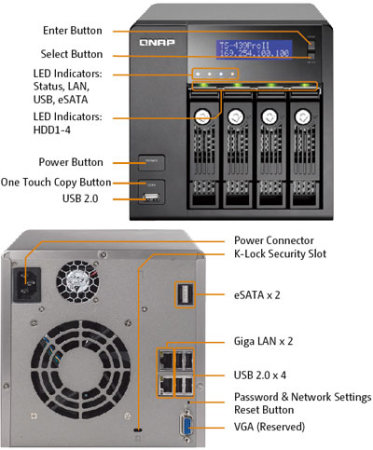 TS-439 Pro II port detail
Thanks in large part to the D410's greater integration, the system offers lower power consumption than the previous model, with a claimed 19 Watts (down from 28.8 W) in sleep mode, and 33 Watts (down from 38.85 W) during operation. The device is said to measure 7.0 x 7.0 x 9.3 inches (177 x 180 x 235mm) and has a net weight of about eight pounds (3.65 k). The single fan-cooled device can operate at temperatures ranging from 32 to 104 deg. F (0 to 40 deg. C), and operates at 36.8 dB with four 500GB hard drives installed, says Qnap.
TS-239 Pro II
The Pro II version of the two-bay TS-239 also moves up from an N270 to a D410 Atom, and maintains its 1GB DDRII memory allotment. Like the TS-439 Pro II, the TS-239 Pro II also quadruples the size of its DOM module to 512MB. As was previously the case, each bay can hold up to 2TB drives (2.5- or 3.5-inch) for up to 4TB of hot-swappable storage.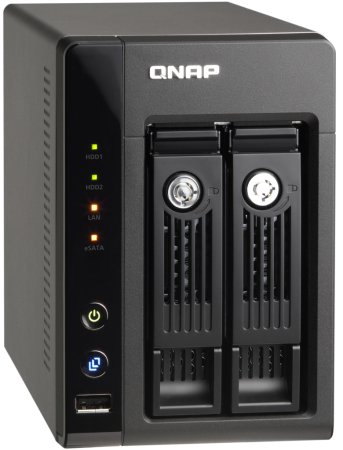 TS-239 Pro II
(Click to enlarge)
The Pro II adds two more USB 2.0 ports for a total of five, but maintains the same dual eSATA ports and dual gigabit Ethernet ports, says Qnap. As with the TS-439 Pro II, the gigabit Ethernet ports can be configured as failover, load balancing, or serving two different subnets.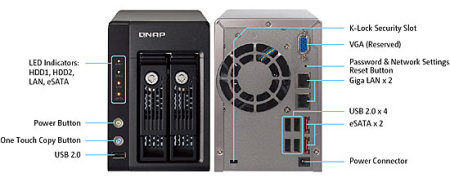 TS-239 Pro II port detail
(Click to enlarge)
Power consumption improvements are less dramatic than with the TS-439 Pro II, with sleep mode decreasing to 15 Watts touted consumption (compared to 20W previously) and 22 W in operating mode (compared to 24W previously). The 5.9 x 4.0 x 8.5-inch inch mini-tower is said to have a net weight of 3.8 pounds (1.74 k), and offers the same temperature range as the TS-439 Pro II.
Qnap NAS 3.2 and vSphere4 support
The Pro II NAS systems ship with a new version 3.2 of the Qnap NAS management software, offering several new features, most notably including improved iSCSI service. Previously, the software enabled the NAS devices to act as both a NAS and an iSCSI target server simultaneously. Now, Qnap has added virtualization and SAN support.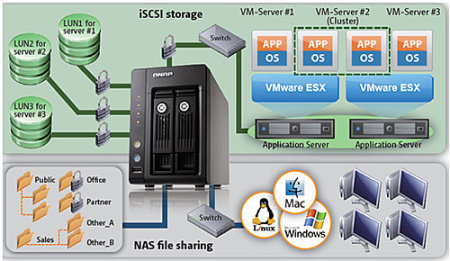 A typical Qnap NAS 3.2 hybrid iSCSI and NAS file sharing environment


(Click to enlarge)
The new iSCSI module offers the following major enhancements, says Qnap:
Multiple LUNs management — The NAS software now supports multiple LUNs (Logical Unit Numbers) and iSCSI targets, and the LUNs can be flexibly mapped to, unmapped from, and switched among different iSCSI targets, says Qnap.
Secure IP SAN deployment — Version 3.2's iSCSI support is designed to support storage area networks (SANs) with CHAP authentication and LUN masking support, and the advanced ACL (Access Control List) is said to let users block unauthorized access from initiators.
Virtualized and clustered environments — The new iSCSI features support both virtualized and clustered environments, such as VMware and Microsoft Windows Failover Cluster. This is said to make Qnap products competitive with much more expensive Fibre Channel SANs.
The new software also adds compatibility with VMware's vSphere4 (ESX 4.0) virtualization platform, says Qnap. Announced last April, and billed by VMware as a cloud operating system, vSphere4 is used for departmental file sharing, storage, and various server applications, says Qnap.
Other new features in Qnap NAS 3.2 include "SPC-3 Persistent Reservation" for clustering in VMware and Windows Server 2008, as well as support for MPIO and MC/S, says Qnap. In addition, version 3.2 adds iPv6 support, DFS support (for folder aggregation), import of user-list, and customizable Daylight Saving Time support, says the company.
Qnap's new Web File Manager 2 sports a redesigned user interface, and offers enhanced file sharing and management features, says Qnap. Meanwhile, WebDAV is said to be available for users to collaboratively share, access, and edit files over HTTP and HTTPS, and Apple Time Machine backups are now supported.
Previously available Qnap software features that can be found on the two Pro II models include RAID 0-6, and support for a wide array of servers, including FTP, file, printer, backup, web, and surveillance station servers. The software is said to be fully compatible with Windows, Macintosh, Linux, and UNIX networks. (For more details on software features, see the links to datasheets farther below, as well as our own coverage of the six-bay TS-639 Pro, here.)
Stated Laurent Cheng, product manager of Qnap Systems, "These two new models offer the horsepower of the single-core Intel Atom D410 CPU with all the business applications found in our Business Series at price points that are attractive to SMB and corporate customers."
Availability
The TS-239 Pro II and TS-439 Pro II NAS devices are currently available through Qnap global commercial distributors, resellers, and retailers, says the company.
More information on the TS-239 Pro II may be found here. More on the TS-439 Pro II should be here. Both pages offer extensive overviews of the new Qnap NAS 3.2 software features.
---
This article was originally published on LinuxDevices.com and has been donated to the open source community by QuinStreet Inc. Please visit LinuxToday.com for up-to-date news and articles about Linux and open source.