Sep 8, 2011 — by LinuxDevices Staff — from the LinuxDevices Archive — views
Nvidia CEO Jen-Hsun Huang announced that mobile devices powered by his company's quad-core Tegra 3 processors will start hitting the market before the holiday season. Huang said the quad-core market will be dominated by Nvidia and Qualcomm, which is prepping its own "Krait" quad-core processors for release in 2012.
Nvidia officials say that the first mobile devices using its quad-core Tegra 3 chip should start shipping by the fourth quarter, in time for the all-important holiday season. Nvidia announced its quad-core system on chip (SoC) — codenamed Kal-El — in February, and demonstrated it at the Computex show in late May. Now the company has begun shipping the SoC and expects the devices to hit the market later this year.
The Tegra 3 will feature a twelve-core GeForce GPU (graphics processing unit), and will enable mobile devices to provide 1440p (2560 x 1440 pixel) resolution, according to Nvidia when it announced the Kal-El line in February. The processors will also be more energy efficient than the Tegra 2, according to the company.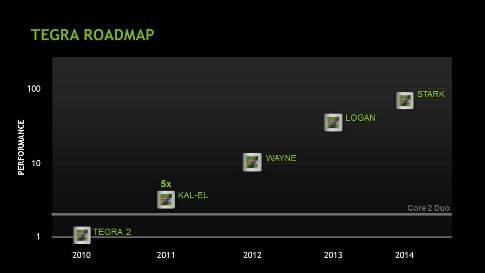 Nvidia's Tegra roadmap
In May, Nvidia President and CEO Jen-Hsun
Huang claimed
his company was building quad-core Tegra 3 processors for new Nexus tablets or smartphones running the upcoming Android "Ice Cream Sandwich" operating system, which many expect to be called Android 4.0. However, in August it was
revealed via leaked documents
that the Samsung-built Nexus Prime phone, at the very least, will instead run Ice Cream Sandwich on a dual-core Cortex-A9 Texas Instruments OMAP4460.
A Sept. 8 report from the Inquirer quotes Google executive chairman Eric Schmidt as saying Ice Cream Sandwich will arrive in October or November.
Nvidia's Tegra 3 update came during a financial update given by Nvidia executives Sept. 6, during which they touted not only their traditional graphics business, but also their growing mobile computing technology. For its fiscal year 2013 — which begins Jan. 30, 2012 — Nvidia expects revenues of $4.7 billion to $5 billion, more than the $4.45 billion expected by analysts.
Huang attributed the strong outlook to the rapidly growing mobile computing space. "We see growth across our entire GPU and mobile-processor business," stated the Nvidia CEO. "The future for computing is visual and mobile, and we are well positioned to lead in this new era."
Nvidia has been a major player in the graphics space for years. More recently, the company, using designs from ARM Holdings, has moved aggressively into the mobile chip market, and has gotten a number of design wins thanks to its Tegra line of products. Tegra chips drive the vast majority of Android 3.x ("Honeycomb") tablets, not to mention numerous high-end Android smartphones.
The mobile chip strategy has placed it into competition with a number of other chip makers, including Qualcomm, Texas Instruments, and Samsung, which also rely on ARM Cortex-A9 designs.
However, Huang told the Wall Street Journal that at this point, the only real competition Nvidia has in the mobile chip space is Qualcomm. "Aside from the two of us, there's really not too many people actively on the dance floor," he told the newspaper. "It's mostly us and Qualcomm competing for most of the slots."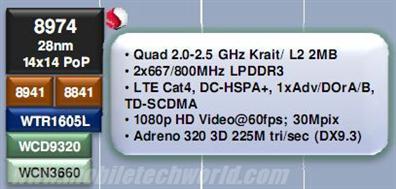 Qualcomm's quad-core MSM8974
Source: MobileTechWorld
Qualcomm announced its plans to
offer a quad-core Snapdragon
back in February featuring new "Krait" cores, and more details about a
quad-core, 2.5GHz MSM8974 Snapdragon
(pictured above) emerged in July. The SoCs will also integrate a quad-core Adreno 320 GPU that performs 15 times faster than the original Adreno, according to Qualcomm in February.

The MSM8974, however, is not set to sample until early 2012, putting it significantly behind Nvidia. In much the same way, the dual-core Qualcomm Snapdragon is only now beginning to supplant the Tegra 2 in Honeycomb tablets such as the new HTC Jetstream (pictured).
Both the Tegra 3 and Qualcomm's Krait-based processors are Cortex-A9 implementations. (Actually, Qualcomm calls its cores compatible with Cortex-A9, but says they are even more powerful.).
Texas Instruments has already announced OMAP5 SoCs based on ARM's next-generation, multicore Cortex-A15 architecture. ST-Ericsson followed up by announcing an ARM Cortex-A15 Nova A9600. Initial models on the TI and ST-Ericsson SoCs will be limited to two cores, however.
The Cortex-A15 architecture features an out-of-order superscalar pipeline that can dispatch up to three instructions per cycle, according to ARM. In addition, it provides an improved instruction set, hardware support for virtualization, and the ability to utilize up to 1TB of memory.
Huang: Android to own half the tablet market by 2015
During a roundtable discussion with reporters, Huang reportedly said that he expects Android-based tablets to make up 50 percent of the market by 2015, and that Nvidia's Tegra 1 or 2 chips are already installed in half of the high-end Android smartphones and 70 percent of Android tablets.
Apple still dominates the overall tablet space with its iPad and is a significant figure in smartphones with its iPhone portfolio. Apple uses its own ARM-derived chips for those products.
Nvidia also expects to begin leveraging the wireless baseband technology it acquired through its $367 million acquisition in May of Icera. Huang said the company will start sampling chips that integrate the technology into its Tegra products, which he said will help drive down costs.
All this will mean big business for Nvidia's mobile chip business, which Nvidia officials expect will grow to $20 billion by 2015. Meanwhile, its PC GPU business will see revenues grow to $7 billion in four years, according to the company.
Nvidia and others also must keep an eye on x86-based chip makers Intel and Advanced Micro Devices, both of which are looking to muscle their way into the tablet and ultra-portable PC spaces. In addition, Intel expects to become a significant player in the smartphone market as well.
Huang appeared to dismiss the threat from Intel and AMD, saying they are too late to the market. "If you don't have a mobile strategy, you're in deep turd," Huang reportedly said. "If you're not in mobile processors now, you're seven years too late."
Microsoft's decision to enable its upcoming Windows 8 operating system to support SoC architectures — most notably including ARM — will give a significant boost to Nvidia's business as well as other ARM partners, Huang was quoted as saying.
Darryl Taft is a writer for eWEEK. Eric Brown also contributed to this report.
---
This article was originally published on LinuxDevices.com and has been donated to the open source community by QuinStreet Inc. Please visit LinuxToday.com for up-to-date news and articles about Linux and open source.