Mar 3, 2008 — by Eric Brown — from the LinuxDevices Archive — views

[Updated Mar. 4] — Intel has branded its next-generation mobile device chips, previously codenamed "Silverthorne" and "Menlow." Built on 45 nanometer process technology, the Atom processor uses a new single-issue x86-compatible micro-architecture designed to compete with ARM in mobile designs, while mating with… "Centrino Atom" chipsets (formerly codenamed "Menlow").
(Click for larger view of the Atom die litho)
The Intel Atom (formerly Silverthorne) is a low-power mobile device processor that can scale to 1.8GHz speeds, says Intel. Like the ARM architecture, Atom is based on an in-order micro-architecture optimized for low power rather than performance, so a 1.8GHz Atom chip is not expected to perform as fast as a Core 2 or even a Pentium chip at the same clock-speed.
On the upside, power is expected to be much, much lower. The x86-compatible Atom chips will use a tenth the power of its mobile Core2 Duo "ULV" chips, Intel says, with a thermal design power (TDP) specification between 0.6-2.5 watts, compared to 35 watts for Core2 Duo.
And of course, Atom is expected to support the vast body of open source and commercial software already ported to and widely tested on the x86 architecture so widely used in desktop and server applications. Intel hopes this advantage will prove important, given that feature proliferation and rising user expectations are fast making software the greater integration challenge for embedded device designers. There are many more developers familiar with x86 development, and most use development hosts that are also x86 based.
Over the last three-to-four years, ARM has surpassed x86 as the most popular embedded architecture, according to LinuxDevices.com's annual reader survey. More power-efficient x86 chips could help Intel stay relevant, as spending on mobile devices begins to overtake spending on traditional servers and desktops in the years to come.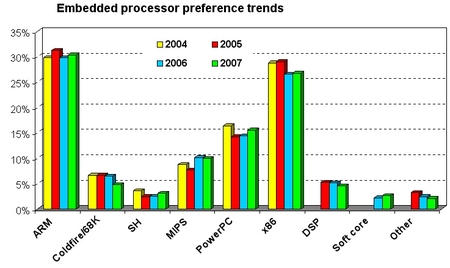 What CPU(s) have been/will be in your (company's) embedded designs during the past/next 2 years?
(Click to enlarge)
Atom chips will be quite small, Intel says. With a die area of 25mm across, Atom dies could conceivably be packaged for use in mobile phones, as well as typical embedded boards and MIDs. Eleven Atom dies fit within the area of a penny, Intel boasts.
Atom is among a select number of products based on Intel's 45nm silicon process and "High-K" metal gate transistor technologies. This ultra small-scale process technology crams some 47 million transistors onto the diminutive, rectangular die, leaving room for generous caches in the first parts (see litho above). Over time, there may also prove to be enough space for more vertical market hardware like codec engines and multimedia accelerators, cryptographic parsers, network packet processors, and so on.
Atom's molecular bindings
The centerpiece of the Intel Centrino Atom chipset (formerly codenamed "Menlow") is a "Poulsbo" companion chip that integrates northbridge and southbridge onto a single chip. Thus, like AMD's LXx00 and Transmeta's erstwhile TMxx families of power-efficient x86-compatible parts, Atom will likely be available only as part of the Centrino Atom chipset.
Also expected to be available as optional parts of the Centrino Atom chipset are a range of WiFi, WiMax, and other peripheral chips. There's also an interesting optional penny-sized Z-P140 solid-state disk scaling up to 16GB.
Both the Atom and Centrino Atom are designed primarily for the MID device market that Intel introduced last April. In its branding announcement, Intel also said the chips are well-suited for lightweight, Internet-centric "netbook" laptops and "nettop" desktops. Rather than the Silverthorne part, the latter category of devices will likely use an Atom family processor formerly code-named "Diamondville." See eWEEK coverage here for more details about Diamondville.
Stated Sean Maloney, Intel EVP of Sales and Marketing, "[Atom] is small yet powerful enough to enable a big Internet experience on these new devices."
Availability
The Intel Atom and Intel Centrino Atom will appear in products later this year, says Intel. Recently, Lippert announced what it claims is the first Menlow/Centrino Atom-based product, called the CoreExpress-Menlow module.
---

This article was originally published on LinuxDevices.com and has been donated to the open source community by QuinStreet Inc. Please visit LinuxToday.com for up-to-date news and articles about Linux and open source.