Dec 10, 2010 — by Eric Brown — from the LinuxDevices Archive — 2 views
Notion Ink is taking pre-orders for its 10.1-inch, WSVGA "Adam" Android tablet, with prices ranging from $375 for the LCD/Wi-Fi version to $550 with 3G and a Pixel Qi transflective display. The Adam is built on an Nvidia Tegra 2 processor, offers GPS, Bluetooth, and a 3.2-megapixel swivel camera, and features a tablet-optimized version of Android called "Eden."
India-based Notion Ink wowed the Android world last January when it showed off its 10.1-inch Adam tablet at the Consumer Electronics Show (CES) in Las Vegas. The Adam prototype was notable not only for its dual-core, Cortex-A9 Nvidia Tegra 250 (Tegra 2) system-on-chip (SoC), but also for its Pixel Qi dual-mode display — which enables users to switch from full-color mode to a low-power, monochrome ePaper mode with the push of a button. (See farther below for background.)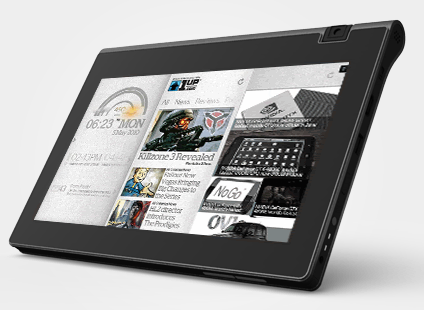 Notion Ink's Adam
The Adam was promised for April, but due in part to delays with the Pixel Qi technology, the ship date was steadily pushed back. Throughout the year, Notion Ink has teased with more details, including background on its custom Eden version of Android 2.2 ("Froyo"). Unlike Froyo, Eden is tailored for the Adam's 10.1-inch screen size and 1024 x 640 resolution (see farther below).
Meanwhile, several other Android tablets have since shipped with the Tegra 2. Yet no tablets, as far we know, have shipped with the Pixel Qi display, so the Adam may still end up being the first in that category.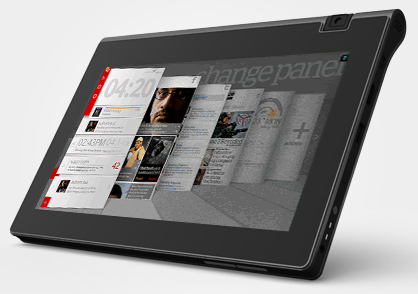 Adam showing Eden UI's panel interface
This week, followers who happened to respond to a blog entry with a comment were first eligible to sign up for pre-orders. Notion Ink then opened up pre-orders for everyone. Shipments are promised in six to eight weeks, says the company.
Pricing for the tablet seems reasonable considering the Tegra 2 processor, 10.1-inch, WSVGA touchscreen, and full slate of wireless features, at least for the special pre-order prices available now.
The Wi-Fi-only version sells for approximately $375, while a model that adds 3G boosts that to approximately $425. The Pixel Qi transflective display version with Wi-Fi only starts at about $500, while adding 3G brings it up to $550, says Notion Ink.
For the first time, Notion Ink has posted full specs for the Adam — except, that is, for a "mystery feature" (which the company does allow is not an NFC reader — that may come in a later version).
Notion Ink does not list the clock rate of the Tegra 2, but its dual Cortex-A9 cores are typically clocked to 1GHz. The SoC is joined with 1GB DDR2 RAM, 1GB internal flash, and a microSD slot pre-installed with an 8GB card, says the company. The tablet ships with a full gamut of wireless features including, Wi-Fi, Bluetooth, and GPS, although as noted, the 3G radio adds $50 to the price.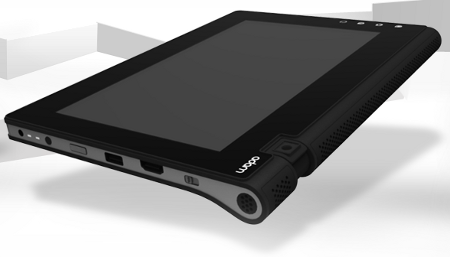 Adam render with some port detail
A 3.2-megapixel camera is said to be swivel-mounted, automatically rotating to keep a level line of sight as one moves the tablet around, thereby supplying both a front or a rear-facing camera. The tablet design also features a curved hinge to house the camera (and spare batteries), as well as to provide a better grip, says Notion Ink.
An HDMI port is also supplied, delivering 1080p output, says the company. Other features are said to include several USB ports, audio I/O, as well as an accelerometer, light sensor, and a digital compass.
Specifications listed for the Adam include:
Processor — Nvidia Tegra 250
Memory:

1GB DDR2 RAM
1GB internal SLC flash
8GB flash card
MicroSD slot

Display — 10.1.inch 1024 x 600 LCD (or optional Pixel Qi transflective) multitouch display; matte finish; anti-glare; scratch/fingerprint resistant
Wireless:

802.11b/g/n
Bluetooth 2.1 + EDR
GPS
3G HSPA (optional)
SIM Card slot

I/O:

2 x USB 2.0 Host
Mini-USB
HDMI

Audio — 3.5mm headphone jack; mic; stereo speakers
Camera — 3.2-megapixel auto-focus, 185-deg. swivel
Other features — 3-axis accelerometer; ambient light sensor; digital compass; six color choices
Battery — 3-cell, 24.6 Whr battery
Weight– 1.6 pounds
Dimensions — 10.6 x 7.5 x 0.55 inches (269 x 191 x 14mm)
Pixel Qi background
The optional Pixel Qi (pronounced "Pixel Chee") transflective technology aims to combine the power-savings of a monochrome screen. such as the E Ink displays found in most e-readers. with the color and multimedia capabilities of standard LCD screens.
The Pixel Qi technology allows a portable computer's screen to be switched from a standard, backlit color mode to a reflective mode, saving power and allowing the device to be used even in direct, strong sunlight. The monochrome mode is said to use up to 80 percent less power than an ordinary display.
After many delays, Pixel Qi began shipping its 10.1-inch screen in July, and announced in September that a seven-inch version would ship by year's end.
Eden: A big-screen Android with a panel UI
Like many Android tablet vendors, Notion Ink has chosen to add extensions to Android 2.2 to make up for Froyo's lack of support for larger screen resolutions. Yet Notion Ink's ambitious "Eden" version of Android may be more than just a place-holder waiting for Android 3.0 ("Honeycomb") to resolve the issue next year.
Notion Ink's blog is somewhat vague about what version of Android the shipping Eden will be based on, but it appears as if it could still be the current Android 2.2 instead of the recently released Android 2.3 ("Gingerbread"). There is no word yet as if it will support Android Market access, although few tablets yet do.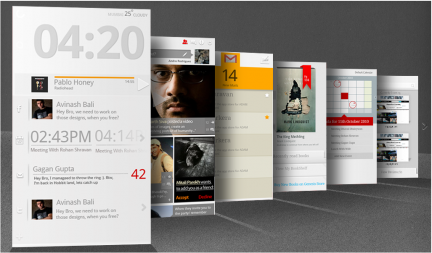 Eden's panel UI
According to the blog, Eden will offer features that lie somewhere in between Android 2.3 and Android 3.0. These not only include support for higher screen resolutions, but also the SIP-based VoIP features found in Gingerbread.
For example, Eden features an allegedly Honeycomb-like panel interface (above). The panel system allows for "hundreds of panel instances, which are views within views," says Notion Ink. These are further defined as "independent windows on-screen." In addition, memory management is also said to mirror similar improvements expected in Honeycomb.

Eden's multitouch virtual keyboard
Other touted Eden features include an improved multitouch virtual keyboard (above), and enhanced OpenGL 2D/3D graphics support to take advantage of the Tegra 2's inherent Open GL goodness. In addition, Eden provides fast tab switching in the browser, and better copy, cut, and paste, says the company.
Availability
The Adam is available now starting at $375.33 (Wi-Fi-only), $425.33 (adding 3G), $499.45 (Wi-Fi-only with Pixel Qi display), or $550 (adding 3G and Pixel Qi), says Notion Ink. A flat $50 shipping rate for any location worldwide will be added to the price, and shipments are due in six to eight weeks, says the company.
The blog announcement of the Adam may be found here, and the order page, with links to specs, may be found here.
---
This article was originally published on LinuxDevices.com and has been donated to the open source community by QuinStreet Inc. Please visit LinuxToday.com for up-to-date news and articles about Linux and open source.