Mar 25, 2011 — by LinuxDevices Staff — from the LinuxDevices Archive — 1 views
Research in Motion will release two app players this summer that allow running Android 2.3 and Blackberry Java apps on its upcoming PlayBook tablet. The 1GHz, seven-inch tablet will run the apps in a secure virtual "sandbox," giving PlayBook users access to a potentially huge number of applications.
On Mar. 24, Research in Motion (RIM) announced that its BlackBerry PlayBook tablet computer will support applications based on Android 2.3 as well as the BlackBerry Java apps available on RIM's BlackBerry phones. The BlackBerry Tablet OS is based on the QNX Neutrino real-time operating system (RTOS).
RIM earlier this week pledged to sell the seven-inch, 1GHz PlayBook April 19 at Best Buy, Office Depot, RadioShack, and Staples, as well as via carriers in the U.S. and Canada. Like Apple's iPad, PlayBook pricing is $499 for a 16GB version, $599 with 32GB, and $699 with 64GB.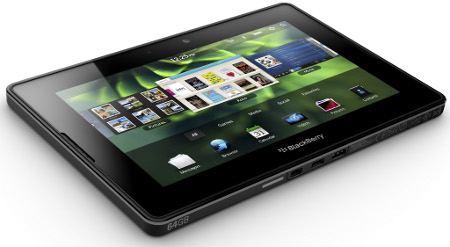 RIM's BlackBerry PlayBook


(Click to enlarge)
Since news of the PlayBook began evolving several months ago,
analysts have expressed concern
that RIM wouldn't be able to cultivate enough application content to tempt users in an already crowded
tablet market
. This issue became especially salient as Apple's iTunes application store swelled to host 350,000 applications.
News trickled out earlier this year that RIM was testing how to run Android apps in the PlayBook, rumors that have now been proven true ahead of the tablet's launch. To address the apparent dearth of apps for users, RIM this summer will release two app players that will enable PlayBook users to install any of 25,000 BlackBerry Java apps, as well as Android 2.3 apps from RIM's BlackBerry App World site.
The upcoming PlayBook app players will be placed in a secure, virtual "sandbox" within the BlackBerry PlayBook OS where the BlackBerry Java or Android apps can be run. This should appease enterprise-minded users with IT security concerns. RIM has promised to preview the BlackBerry Java and Android apps' players at BlackBerry World in Orlando, Fla. May 3-5, prior to a final summer release.

Android Market will not be available, so it is unclear exactly how many Android apps out of the potential 200,000 total will be available, or how optimized they will be for the seven-inch display. Still, it is likely to be far more than those available for current Android 3.0 "Honeycomb" tablets such as the Motorola Xoom (pictured). The Xoom launched last month with only 100 Honeycomb-optimized apps.
The Android apps RIM is making available are based on the Android 2.3 "Gingerbread" OS intended for Android smartphones. Some had expected the seven-inch PlayBook might also support the Honeycomb build Google has optimized for the larger screen sizes that tablets feature.
Most Honeycomb tablets announced to date have been 10.1-inch models like the Xoom, Samsung just announced an 8.9-inch version of its Galaxy Tab line of tablets called the Galaxy Tab 8.9 that supports Honeycomb. Earlier this year, Asus announced a seven-inch Eee Pad Memo Honeycomb tablet.
Meanwhile, most seven-inch tablets have so far stuck with Android 2.x, especially those that don't offer the dual-core Nvidia Tegra 2 processor that is part of the de facto Xoom reference design for Honeycomb. Even recently announced, high-end seven-inch models such as the HTC Flyer and almost identical, Sprint-destined HTC Evo View 4G are at least shipping initially with Android 2.3.
Interestingly, on Mar. 24, Google told eWEEK it has delayed releasing the source code for Honeycomb to the public, claiming it has more refining of the OS to do before it can deliver the code for use in phones and gadgets.
RIM also announced fiscal 4Q 2011 earnings of $5.6 billion, up one percent from the previous quarter. RIM also projected that its earnings would slip in the first quarter to between $1.47 and $1.55 a share.
Clint Boulton is a writer for our sister publication eWEEK.
---
This article was originally published on LinuxDevices.com and has been donated to the open source community by QuinStreet Inc. Please visit LinuxToday.com for up-to-date news and articles about Linux and open source.