Jul 17, 2008 — by Eric Brown — from the LinuxDevices Archive — 1 views

Registration has opened for two robot shows: the Robot Development Conference & Expo '08 (RoboDevelopment) and the Robot Gizmo and Gadget Show (RGG). RoboDevelopment will be held in Santa Clara, Calif. on November 18-19, and RGG is scheduled for June 18-20, 2009 in Las Vegas.
RoboDevelopment is described as a "multifaceted educational forum and trade show dedicated to addressing the technical issues involved with the design and development of commercial robotic products," says EH Publishing's Robotics Trends magazine, which is organizing the event. Last year's event featured a number of Linux-powered robots, including Hanson Robotics's Zeno (pictured below, at right), a robotic boy with two brains, one of which ran Linux. Meanwhile, numerous other Linux-based robots have popped up in recent years, as showcased in our "Linux-powered Robots Quick Reference Guide".


Zeno, the robot boy
with two brains
(Click for details)
Keynotes at the RoboDevelopment Event include:
Making cars drive themselves — Sebastian Thrun, Director, Artificial Intelligence Laboratory, Stanford University
Robots among us? Inventing the future of socially assistive robotics — Maja Mataric, Director, USC Robotics Research Lab
Opportunities at the uptick — Jeanne Dietsch, CEO, MobileRobots Inc
Session topics include Linux, open-source software, and Mini-ITX. The sessions will be divided into the following four tracks:
Systems, design and development

Multi-robot systems
Tool, effector, and manipulator systems
Robot types and form factors
Power systems
Mobility systems
Control systems and control architectures and sensing systems
Robotics engineering design process
Prototyping, simulation, and testing
Human/Machine Interfaces
Standards for the development of robotic systems
Systems engineering
Manufacturing, fabrication, and outsourcing options and machine learning

Tools & platforms

CAD/CAM tools for robotics development
Simulation and testing tools
Materials and frames
Software development kits and modeling tools
Bases, frames, and platforms for professional development
Operating systems: Linux, Windows, MTOS, VxWorks, QNX, others
Robotics kits and component suppliers
PC bots and Mini-ITX solutions
COTS solutions for robotics
Languages, libraries, and open source solutions

Enabling technology

Actuators — motors, gears, hydraulic and pneumatic cylinders, muscle wire
Drive trains — DC motors, servo motors, and stepper motors
Locomotion — wheeled, tracked, and legged systems
Sensors and sensing solutions
Controllers and microcontrollers
Semiconductors and microcomputers
Batteries and power systems
Drive systems
Communication solutions
Manipulators and end effectors
Emerging technology

Achieving autonomy

Localization, navigation and mapping
Data acquisition and sensor fusion
Robot learning
Robot telesupervision
Real-time image processing
Motion planning and scheduling
Obstacle avoidance and path planning
Map building
Power autonomy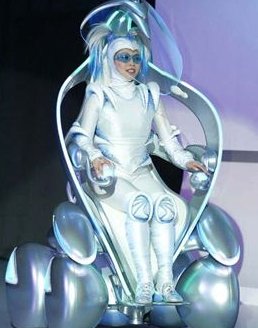 Is it a robot, a gizmo, or a gadget —
or a woman in a futuristic wheelchair?
Robot Gizmo and Gadget Show and World Electronics Expo
Previously held in Orlando, Florida, the Robot Gizmo and Gadget Show show is now collocating with the new World Electronics Expo at the Las Vegas Convention Center. At the June 18-20 event, the RGG portion of the show will be open to the public, whereas the World Electronics Expo will be open to the trade only.
The new World Electronics Expo provides exhibits and sessions in gaming, audio, digital imaging, emerging technology, home theater, home networking, in-vehicle technology, and wireless, say the organizers. The RGG show, meanwhile, aims to give members of the public a chance "to know, to touch, and to feel what their future with machines will be and how will it affect their lives." Exhibits are said to include futuristic cars, personal vehicles, computers, cell phones, and robots.
Availability
RoboDevelopment '08 costs $45 for an expo pass and $800 for the conference ($1,000 after October 24th). Registration is available here. Early registration for the RGG/World Electronics Expo is available at their website.
---

This article was originally published on LinuxDevices.com and has been donated to the open source community by QuinStreet Inc. Please visit LinuxToday.com for up-to-date news and articles about Linux and open source.