Feb 28, 2011 — by LinuxDevices Staff — from the LinuxDevices Archive — 20 views
Accelerated Memory Production (AMP), Apacer, and Diamond Systems unveiled a memory standard that's said to provide a cost-effective way of adding memory to rugged devices. RSODIMM satisfies reliability requirements affordably by simply adding 10mm of height and two mounting holes to the industry-standard SODIMM form factor, the companies say.
Measuring approximately 2.51 x 1.25 inches (64 x 32mm), SODIMM memory modules have become very familiar to hardware manufacturers and consumers alike, thanks to their use in notebook computers, small-footprint desktop PCs, and a multitude of other devices. However, SODIMMS are held in their slots only by two retaining clips, which means they're often avoided by those designing devices for harsh environments.

Not being able to use SODIMMs has meant having to solder memory chips directly onto devices' main board, with all the added cost and lack of flexibility that this implies. As one way around this problem, the Small Form Factor Special Interest Group (SFF-SIG) recently came up with RS-DIMM, a newly designed 67.5 x 33mm module format (right) that supports (only) DDR3 memory. Dual mounting holes and a 240-pin Samtec connector pair make the memory modules stable even in harsh conditions, the organization says.
According to the SFF-SIG, the RS-DIMM pin definition is closely aligned to that of SODIMM, making it easy to adapt existing designs, while modules will be able to support either random access memory or flash. It seems inevitable, however, that unless the spec can break out into the wider consumer market, memory modules will be relatively expensive.
Now, SBC (single board computer) manufacturer Diamond Systems, joined by memory manufacturers Apacer and AMP, has come up with what ought to be a more cost-effective solution. As pictured below, its RSODIMM solution simply adds 10mm of height and two mounting holes to the standard SODIMM form factor.


RSODIMM adds 10mm and two mounting holes to the SODIMM form factor
(Click to enlarge)
Once they've been screwed down, RSODIMM modules become much more secure than SODIMMs. They've already been shown to withstand the 12G shock and vibration requirements of MIL-STD-202G, according to the companies.
As a result, AMP, Apacer, and Diamond say, RSODIMM provides a " cost-effective way to satisfy the reliability requirements of performance-critical embedded computing applications in markets such as transportation, industrial automation, medical, energy, military, and aerospace." In fact, the only "cost" to a board's designer is leaving room for the two holes and the RSODIMM module's extra height, they add.
Boards designed to accept RSODIMM memory modules could, of course, also accept standard SODIMM modules in situations where extra robustness is not required. But Diamond notes that — while the RSODIMM spec doesn't mandate it — RSODIMM modules will likely have the advantage of being rated for -40 to +85 or -20 to +70 deg. C wide temperature operation, in recognition of the harsh environments in which they are likely to be used.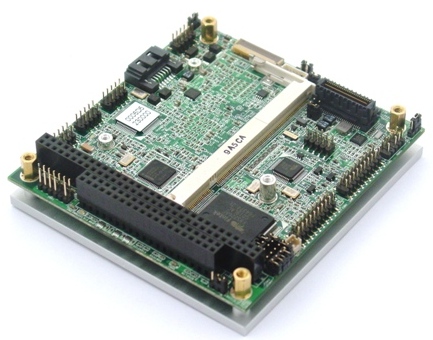 Diamond Systems' Aurora has an RSODIMM memory slot
AMP and Apacer say they are already offering RSODIMM-compliant DDR2 modules in capacities up to 2GB, while DDR3 implementations are under development. As for Diamond, it is already offering one RSODIMM-compatible SBC, the Aurora. As of its Oct. 2010 launch, this device (above) already included room for RSODIMM memory and the relevant mounting holes, though the fact wasn't advertised at the time. (For more details on the Aurora, see our earlier coverage.)
"Jonathan Miller, founder and CEO of Diamond Systems, stated, "The RSODIMM specification is an open standard, available for use without license. By leveraging ordinary SODIMM connectors and signal assignments, RSODIMM memory enhances the shock and vibration characteristics of single board computer designs without burdening system BOM costs."
Further information
More information on RSODIMM may be found on the here.
---
This article was originally published on LinuxDevices.com and has been donated to the open source community by QuinStreet Inc. Please visit LinuxToday.com for up-to-date news and articles about Linux and open source.