Feb 22, 2011 — by Eric Brown — from the LinuxDevices Archive — 16 views
The Small Form Factor Special Interest Group (SFF-SIG) has comes up with a ruggedized alternative to SO-DIMM that offers more flexibility in memory sizes compared to memory soldered to a CPU board. The RS-DIMM Rugged Memory Specification, supported by two upcoming Swissbit and Virtium Technology modules, defines a rugged, DDR3 mezzanine memory module with a pin-and-socket connector optimized for small CPU boards.
The SFF-SIG has set a range of standards for CPUs, serial ports, networking, analog I/O, digital I/O, power supply, mass storage, other I/O, and connectors. Its first and most prominent standard is the circa-2007 SUMIT stackable expansion interface alternative to PC/104. Other standards, which include SUMIT-ISM, Pico-ITXe, Pico-I/O, COMIT, CoreExpress, and MiniBlade, are summed up in last May's coverage of the SFF-SIG's launch of an online database covering the specs.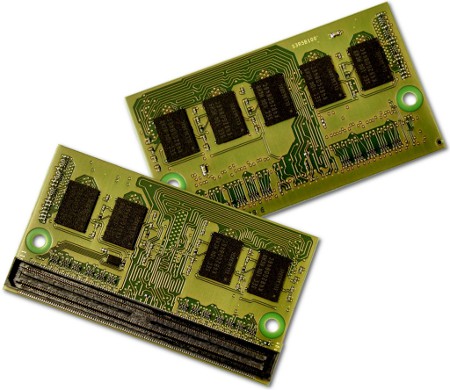 RS-DIMM module, front and back
(Click to enlarge)
For the first time, the SFF-SIG is addressing memory modules. Touted as the first open-standard, off-the-shelf expansion memory module designed specifically for rugged applications, RS-DIMM offers much greater resistance to shock and vibration than commercial grade memory expansion modules such as SO-DIMM, says the SFF-SIG. The spec also offers the advantage of supporting both RAM and flash memory SSD drives on the same module via a SATA-2 interface, says the organization.
The RS-DIMM spec defines a 67.5 x 38mm (about 2.66 x 1.5-inch) module that stacks 7.36mm above the CPU board. The spec supports both unbuffered and registered DDR3 memory implementations at sizes up to 4GB, with optional ECC (error correction circuitry), using either 9-chip or 18-chip designs, says the SFF-SIG. A 240-pin Samtec BTH/BSH connector pair on the memory module and CPU board, along with two mounting holes, is said to help stabilize the module for ruggedized applications.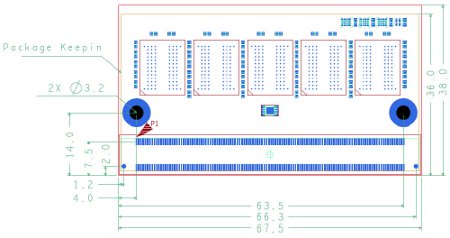 RS-DIMM schematic
(Click to enlarge)
RS-DIMM avoids the SO-DIMM format's socket "wings" that hold the module in place, thereby enabling the modules to fit on a number of small form-factor CPU boards, such as processor AMC modules. RS-DIMM devices are suitable for any CPU having a width of 67.5mm or greater, says the SFF-SIG.
In addition, the RS-DIMM pin definition closely aligns with that of SO-DIMM, making it easy to adapt existing SO-DIMM-based designs to the new standard, says the group. The spec does not support DDR2 memory, however.
Typically, says the SFF-SIG, engineers looking to prepare SO-DIMM modules for rugged applications use one of two solutions, each of which has drawbacks. Some designers apply an add-on retention mechanism using clips, straps, or glue to keep the module from flying out of the socket. However, this approach does nothing about the movement of the expansion memory module within the socket, which can cause intermittent pin connections that can bring a system down.
Another approach has been to solder memory chips directly a CPU board. This addresses the pin-connection issues, but takes up valuable board real-estate. In addition, if multiple memory options will be supported, each configuration needs to be manufactured individually, raising costs, and systems cannot be easily upgraded to higher memory configurations.
Swissbit, Virtium, and Lippert first to tap RS-DIMM
Memory module suppliers Swissbit AG (Bronschhhofen, Switzerland) and Virtium Technology (Rancho Santa Margarita, Calif.) each announced RS-DIMM modules. Both companies are contributing their module designs for use by other SFF-SIG members, says the group.
The Virtium Technology 4GB DDR3 RS-DIMM is available now, says the company. Equipped with 4GB of unbuffered DDR3 memory, the module is said to be ideal for highly rugged, small-space designs. The module is also available with various thermal heat-spreader, thermal sensor, conformal coating, and underfill protection options, says the company.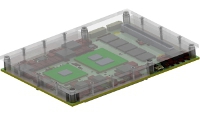 Lippert Toucan-QM57
In addition, a prototype RS-DIMM module has been tested on Lippert's newly announced Intel Core i7 based Toucan-QM57COM Express module, set to ship in the third quarter. The module (pictured above) is said to include up to 8GB DDR3, LVDS support, a gigabit Ethernet port, eight USB 2.0 ports, four SATA ports, and an IDE port. The device offers shock and vibration resistance that exceeds the levels defined in the ANSI/VITA 47-2005 (R2007) specification, says Lippert.
Stated Paul Rosenfeld, president of SFF-SIG, "For years, designers of SFF CPU boards intended for rugged applications have had to choose between limited configurations of soldered memory, or straps or glue to tie down commercial-grade memory."
Stated Ulrich Brandt, general manager of Swissbit, "The new RS-DIMM Specification gives us the first opportunity to meet the requirements of our customers for memory modules specifically designed for rugged applications."
Stated Phan Hoang, vice president of Product Design for Virtium and chairperson of the SFF-SIG Rugged Memory Working Group, "The new RS-DIMM Specification not only gives us an off-the-shelf memory solution for rugged applications, but it gives us an opportunity to showcase our industry-leading SSDDR (Solid State Disk plus DDR memory) combination in a single module."
Availability
The RS-DIMM Specification is available now for free download on the SFF-SIG RS-DIMM page. A reference design for members only will be available in March, says the SFF-SIG.
More information on the Virtium Technology 4GB DDR3 RS-DIMM module, which is available now, may be found in Virtium's 4GB DDR3 RS-DIMM PDF announcement. More on the Swissbit RS-DIMM module, expected to ship in March, should eventually show up on the Swissbit website.
More information on the RS-DIMM-ready Lippert Toucan-QM57 COM Express module, due to ship in the third quarter, may be found at the company's Toucan-QM57 page.
---
This article was originally published on LinuxDevices.com and has been donated to the open source community by QuinStreet Inc. Please visit LinuxToday.com for up-to-date news and articles about Linux and open source.