Jan 24, 2012 — by Eric Brown — from the LinuxDevices Archive — 19 views
Elektrobit (EB) and startup Raptor Identification Systems (Raptor ID) announced two ruggedized biometric devices that run Android 4.0 on TI's dual-core 1.5GHz OMAP4460. Raptor ID's RaptorOne smartphone offers a four-inch touchscreen; the RaptorPad tablet features a seven-inch display; and both offer iris cameras, fingerprint scanners, and CAC/smartcard readers.
Raptor ID's new biometric devices run on the EB-designed Specialized Device Platform, a customizable Android platform designed for vertical and government markets, including public safety and first responder applications (see farther below for details).
The ruggedized Raptor ID devices are said to target the above markets wherever biometric features are required. They support multiple Department of Defense, Department of Homeland Security, and Department of Justice and Law Enforcement mission requirements, Raptor ID says.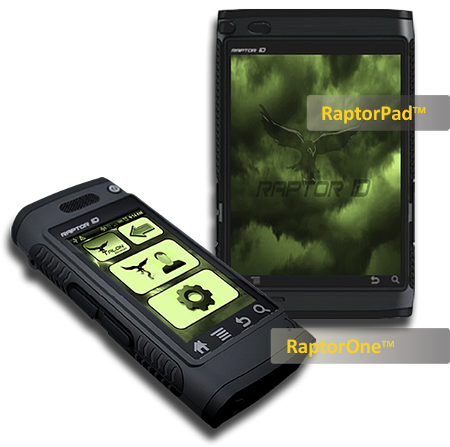 RaptorOne and RaptorPad
(Click to enlarge)
The RaptorOne and RaptorPad provide Raptor ID's Extended Depth of Field (EDOF) iris-capture technology, which can capture one-handed, point-and-shoot iris images "with extraordinary clarity" from a range of five to nine feet away, says the company. This is said to be four to five times the range of typical fixed-focus lenses. Despite this, they still meet or exceed ISO standards for image clarity, claims Raptor ID.
The EDOF camera technology is said to comply with SAP 40 mobile ID standards. Earlier this month, the FBI's Subject Acquisition Profile (SAP) standard was renamed Fingerprint Acquisition Profile (FAP). Both devices also offer Raptor ID's icon-based Talon biometric capture application, says the company.
The devices are also said to incorporate fingerprint scanners with differing capabilities. Whereas the RaptorOne offers multi-biometric screening, the RaptorPad is said to expand upon that to provide biometric enrollment capability. This apparently refers to the tablet offering two fingerprint scanners instead of the smartphone's one, as well as providing larger pads that can support thumbprints.
Whereas most ruggedized, vertical-market Android devices are a step behind the techno-curve, the RaptorOne and RaptorPad feature specs that could be found on the latest high-end Android smartphones and tablets. Both products run Android 4.0 ("Ice Cream Sandwich") on a Texas Instruments (TI) OMAP4460 processor, featuring dual cores clocked to 1.5GHz. This processor, which was previously called the OMAP4440, will be replaced in 2013 with a quad-core OMAP 5 processor, adds Raptor ID.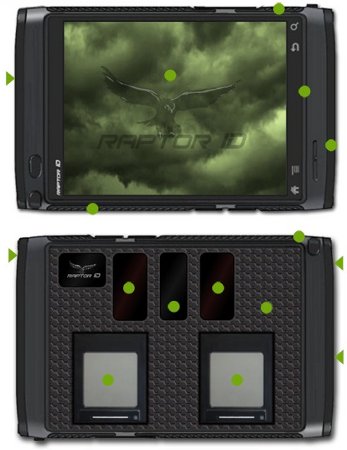 RaptorPad, front (top) and back. The three green dots in the middle of the lower (rear) shot show dual iris lenses with a standard five-megapixel camera in between. The gray fingerprint readers sit below.
Both the RaptorOne and RaptorPad are equipped with 1GB of RAM, as well as 128MB of mass storage, presumably in the form of a solid state drive (SSD). A USB host port, micro-HDMI port, and headphone jack are also standard on both models, says Raptor ID.
Wireless features also appear to be identical on the two products. They both offer 802.11b/g/n, as well as a multifunction GSM radio that supports UMTS/HSPA 3G frequency bands at 850/1900/2100MHz.
Raptor ID says it plans to add 4G LTE at 700MHz in a future version that will support bands 17, 14, and possibly 13. Currently available add-on modules can support customer-specified satellite bands such as Ka/Ku-Band, S-Band, L-Band, and H-Band, while also supporting CDMA2K, tactical radio, and P25/Tetra communications for first responders, says the company.
Designed for field duty, both devices support operating temperatures between -10 and 160 deg. F, claims Raptor ID. They both comply with the MIL-STD 810G standards for shock, vibration, and dust, as well as the IP67 standard for remaining watertight for 30 minutes at a depth of one meter, says the company.
The devices are also said to provide displays with Gorilla Glass "or similar," as well as large, "glove-friendly" volume/zoom and power buttons, and an oversized multifunction shutter and push-to-talk button. There are also said to be protective bumps around the cameras and displays.
RaptorOne
The RaptorOne smartphone is equipped with a four-inch, sunlight-readable touchscreen of unstated resolution. The device offers a 6000mAh hot-swappable battery, along with cold-weather battery options, says Raptor ID.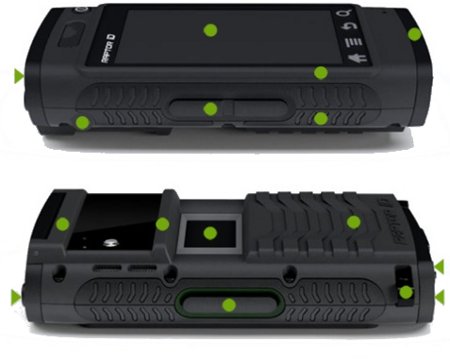 RaptorOne, front (top) and back
Biometrics include the aforementioned SAP (FAP) 40 EDOF iris camera, an integrated CAC/smartcard reader, and a 0.5 x 0.7-inch fingerprint scanner, says Raptor ID. The latter complies with SAP 10, as well as the FBI's PIV-201 standard, which appears to apply to points per inch (ppi) density. The scanner will be upgraded to SAP 30 in a future version, says the company.
RaptorPad
The RaptorPad features a seven-inch touchscreen with a better than average 1024 x 600-pixel resolution. The tablet is further equipped with a massive 10,000mAh hot-swappable battery.
Instead of offering one SAP 40 EDOF iris camera, it has two, which are spaced an inch or two apart "for simultaneous capture," says the company. This may well be used to tap the OMAP4460's built in support for stereoscopic 3D imaging, although the company does not specifically say so. In between the two two iris lenses is a standard five-megapixel camera, a feature that appears to be missing on the RaptorOne.
Instead of one fingerprint scanner, the RaptorPad offers two, presumably enabling the "full enrollment" capability. The 1.5 x 1.6-inch scanners are said to comply with SAP 45, Appendix F. The tablet also doubles up on its CAC/smartcard readers compared to the single-reader RaptorOne.
EB's Specialized Device Platform
Helsinki, Finland based Elektrobit (EB) is known for developing embedded Linux- and Android-based hardware/software reference platforms for the automotive industry and wireless industries. Last June, for example, EB and Luxoft announced a jointly developed, Linux-based reference platform for a DLNA-ready in-car media server called the In-Car Media Server and Internet Hotspot.


EB Specialized Device Platform block diagram
(Click to enlarge)

In August, EB announced the
Specialized Device Platform
(pictured), which forms the basis for the new Raptor ID products. Equipped with a four-inch or 4.3-inch capacitive touchscreen with 800 x 480 WVGA resolution and "superior sunlight readability," the modular platform offers a wide variety of wireless and sensor options. The Specialized Device Platform won the "Technology of the Year Award" by the Wireless Innovation Forum in December, says EB.
Stated Charles Strasburger, chairman and CEO of Raptor ID, "EB's platform is cost-effective and allows fast turnaround, which helps government agencies stay current with their handheld devices."
Availability
No pricing or availability information was provided for the RaptorOne or RaptorPad. More information may be found at Raptor ID's RaptorOne and RaptorPad product pages, respectively. More information about the EB Specialized Terminal Platform may be found here.
Eric Brown can be reached at [email protected].
---
This article was originally published on LinuxDevices.com and has been donated to the open source community by QuinStreet Inc. Please visit LinuxToday.com for up-to-date news and articles about Linux and open source.