Oct 13, 2011 — by Eric Brown — from the LinuxDevices Archive — 4 views
The Sabayon community released version 7.0 of its Linux distribution, equipped with both an "ultra-optimized" version of the Linux 3.0 kernel and an experimental "Fusion Kernel." The Gentoo-based Sabayon 7 distro offers a choice of GNOME 3.2, KDE 4.7, and Xfce 4.8 desktop environments, as well as LibreOffice 3.4.3.2 and native support for the Btrfs filesystem.
Like the recent Fedora 16 and OpenSUSE 12.1 betas, as well as the final Ubuntu 11.10 distro — which hit the web today — Sabayon 7 moves to GNOME 3.2. This is the bug-fixed and slightly modified version of the controversial GNOME 3 desktop that confounded Fedora Linux users earlier this year. Like Fedora and OpenSUSE, Sabayon 7 is placing GNOME 3.2 front and center as the default, rather than offering it as an option, as does Ubuntu.
Sabayon 7 is bidding adios to GNOME 2.32, which was featured in the Sabayon 6 release announced in late June. However, it has promoted Xfce 4.8 from an experimental release to a stable alternative desktop, offering a close approximation of the classic GNOME environment. KDE 4.7 is also said to be available.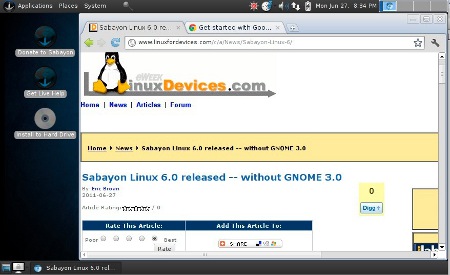 Sabayon Linux 6.0
(Click to enlarge)
As suggested in an
Ostatic write-up
, it appears that the screenshots posted on the Sabayon site may still hail from the previous Sabayon 6. The Sabayon mirrors not being kind to us today, we have also supplied our own snapshot from Sabayon 6, above.
The Sabayon development team "spent a lot of time on integrating GNOME 3.2 the way users might actually start to love it," says the Sabayon announcement. Sabayon does not delineate what these changes entailed, but the GNOME Foundation's underlying GNOME 3.2 release is said to be much more stable, thanks to numerous bug fixes.
In addition, GNOME 3.2 provides a more permanent way to display the workspace switcher in overview mode, and adds a "do not disturb" toggle switch. Status bar notifications are said to be newly available for external storage devices, and status bar messages can now display a counter to show the number of unread emails or new chat messages.
Fusion Kernel rides the edge
Some of Sabayon 7's biggest changes are found at the kernel level. The distribution moves up to Linux 3.0, and offers an "ultra-optimized" version of the kernel. The Sabayon community does not make clear what this optimization entails, but we imagine it's supposed to be faster.
The distro also offers an optional, experimental "Fusion Kernel." Developed in-house, the Fusion Kernel aims to be similar to the Zen Linux kernel sources, says the community Dubbed "Sabayon-flavoured Linux kernel sources on steroids," the Fusion kernel offers an array of cutting-edge components designed to delight geeks with the thrill and danger of living on the edge — no doubt combined with the occasional hassle of a system crash.
According to Michael Larabel, writing in Phoronix, components include the Brain F–k Scheduler (BFS), the BFQ I/O scheduler, and support for the Reiser4 file system. The latest version is said to add experimental Btrfs patches, experimental DRM patches, and new wireless-next drivers.
If that's not enough to get one's juices flowing, Sabayon 7 can run on additional kernels available in Sabayon repositories. These are said to include server-optimized, OpenVZ-enabled, and Vserver-enabled kernels.
Sabayon 7 also provides the standard, stable version of Btrfs filesystem, now supported natively, in addition to Ext4, Aufs, and other file systems. In addition, XBMC 10.0 is available, enabling HTPC features, says the community.
Sabayon offers a rolling release option, and a new semi-automated package update provides "more extreme rolling," says the Sabayon community. There are said to have been 4,000 app updates since Sabayon 6.
New packages include impoved LibreOffice integration, updated to 3.4.3.2, as well as Entropy Framework 1.0_rc59, for improved package management. Additional new features include IME and non-Roman fonts, says the community.
Availability
Sabayon Linux is available for free download now. Links to downloads are available from the Sabayon 7 announcement page.
---
This article was originally published on LinuxDevices.com and has been donated to the open source community by QuinStreet Inc. Please visit LinuxToday.com for up-to-date news and articles about Linux and open source.