Jan 4, 2010 — by LinuxDevices Staff — from the LinuxDevices Archive — 8 views
Samsung announced four netbooks using Intel's new N450 "Pineview" Atom. The N210, N220, N150, and NB30 include 10.1-inch "anti-reflective" displays and up to 12 hours of battery life, and two models run the Linux-based Phoenix HyperSpace fast-boot environment, the company says.
Intel's recently announced Atom N450 processor replaces the chipmaker's earlier N270, and a deluge of netbooks based on the CPU was readily forseeable. Word of "Pineview"-equipped portables from Lenovo (the FL5-B3) and Asus (the Eee PC 1008p) leaked even before the CPU's launch, and last month also saw subsequent announcements from Dell (a refresh of the Ubuntu Linux ready Inspiron Mini 10), Fujitsu (the LifeBook NM10), and MSI (the Wind U130 and U135).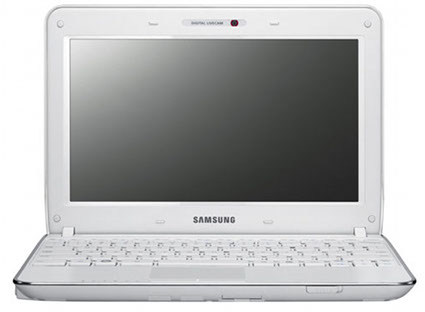 One of Samsung's new N450 netbooks (specific model unspecified)
Intel touts the N450 and its accompanying NM10 I/O controller as saving 60 percent in circuit board space, compared to previous equivalents. While that is a benefit for manufacturers, not consumers, the chipmaker adds that compared to the previous N270/945GCSE/82801GBM combo, power consumption is 20 percent lower. As a result, purchasers of netbooks employing the revised Atom should enjoy longer battery life.
Making its announcement of new devices in advance of the Consumer Electronics Show, which opens this Thursday in Las Vegas, Samsung offered few product details on the new N210, N220, N150, and NB30. Clearly, however, the devices are intended to replace the vendor's previous netbooks, which have included the Ion-equipped N510, the N110, N120, and NC310, and the Via Nano-based NC20.
Samsung does allow that the N210 and N220 deliver up to 12 hours of "connected" battery operation, while the N150 and NB30 keep going for up to 8.5 hours and 11 hours, respectively. The company credits "their energy-efficient LED displays, optimized processing performance, and Samsung's proprietary Enhanced Battery Life solution."
All models are said to include webcams and 10.1-inch displays, and, while native resolution is unspecified, Samsung says an "Easy Resolution Manager" tool can toggle the screens to 1024 x 768 pixels when required. The "ultra-durable" NB30, meanwhile, include seals that protect the system against spilled liquids, plus a sensor that automatically parks the hard disk drives if it senses the system being dropped, the company says.
Presumably, all four netbooks will be offered only with Windows 7, but since Samsung has left this unstated, we're keeping our fingers crossed that OS support is a bit broader. In any case, as with any x86-based system, Linux should be able to run on the netbooks. In fact, a stripped down version of Linux already does run on two of the models. Both the N210 and N220 feature Phoenix's Linux-based HyperSpace environment, which "allows the devices to turn on and immediately go online without waiting for Windows to boot."
According to Samsung, its netbooks also come with trial editions of Phoenix FailSafe software. This theft deterrence product allows tracking the location of a lost or stolen portable, and also allows encrypting, managing, erasing, or retrieving data, the company says.
Seongwoo Nam, a Samsung EVP and head of the company's IT solutions business, stated, "Featuring an elegant choice of designs, the Samsung N210, N220, N150 and NB30 lead the range with a pragmatic approach that takes ultra mobile computing into a whole new dimension. Longer battery life is an important issue for customers, and we are proud to deliver feature-rich netbooks that allow you to get wirelessly connected so easily and for such a long time."
---
This article was originally published on LinuxDevices.com and has been donated to the open source community by QuinStreet Inc. Please visit LinuxToday.com for up-to-date news and articles about Linux and open source.