Sep 6, 2011 — by Eric Brown — from the LinuxDevices Archive — 1 views
Amazon's Android tablet is a seven-inch, Kindle-branded device that will feature a customized operating system and sell for $250, according to a TechCrunch reporter who claims to have spent an hour with the device. In other Android tablet news, Samsung pulled its freshly announced Galaxy Tab 7.7 from the IFA show in Berlin after Apple won a preliminary injunction against the tablet from a German court.
Rumors about Amazon's upcoming Android tablets have been all over the map regarding screen size, processor, and suppliers, but they have all agreed the devices will offer attractive pricing. Now, for the first time we have a hands-on review of a pre-release Android tablet that also adds to the general consensus on price. Amazon is preparing a tablet that will sell for $250, according to MG Siegler of TechCrunch, who claimed to have spent an hour with the device.
Some previous reports projected a nine-inch screen, and others said both seven- and 10-inch models are due in October. The TechCrunch story, however, says that Amazon will launch a seven-inch, capacitive, multitouch device under its well-known Kindle brand in November. Amazon had initially planned to launch both seven- and 10-inch models, but has now decided to follow up with the 10-inch model in the first quarter of 2012, says the story.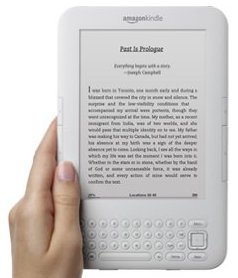 Siegler said he agreed not to photograph the pre-release Android-based Kindle, which he describes as having a rubbery back and an overall appearance similar to that of the Blackberry PlayBook. Unlike the Linux-based Kindle (pictured), the device lacks buttons under the screen, and there's none of the familiar E Ink technology, writes Siegler.
The device provides 6GB of flash storage, and although there were references to SD card expansion, Siegler "couldn't find a slot on the hardware itself." The pre-release version is Wi-Fi only and lacks a camera, says the story. A micro-USB port and speakers are also said to be available.
The larger story here is about software. Amazon has significantly customized an Android 2.x build to reflect Kindle UI traits, according to Siegler. The main screen is said to use a carousel motif that displays books, apps, movies, and other content. "It looks nothing like the Android you're used to seeing," he adds.
Although Google's search is available, and the device uses a modified version of the standard Webkit browser, the other major apps are said to be mostly from Amazon. These include the Kindle app, Amazon's Cloud Player for music, and Amazon's Instant Video player for movies, says the story.
Not surprisingly, Amazon's Android Appstore is provided instead of Android Market. Also available is Amazon Prime, a $79-a-year service that offers unlimited two-day shipping and access to Instant Video titles."
The key point, according to Siegler: "Amazon's content store is always just one click away."
Samsung's Tab 7.7 is blocked in Germany
Last month, a court in Germany granted Apple a preliminary injunction barring distribution of the Samsung Galaxy Tab 10.1, based on IP infringement related to Apple's iPad. On Sept. 2, the same Dusseldorf Regional Court ordered a new preliminary injunction on similar grounds against the newly announced Samsung Galaxy Tab 7.7, according to FOSS Patents and other sources.

Samsung removed the Tab 7.7 (pictured) from its booth at the IFA show in Berlin, and released a statement saying it respected the court's decision, says FOSS Patents. The 7.7-inch, Android 3.2 tablet was one of the highlights of last week's IFA show. The Tab 7.7 runs on a dual-core 1.4GHz processor, offers 1280 x 800 resolution, and is said to be the first tablet to offer Super AMOLED Plus technology.
It is no secret that Apple sees Samsung as one of its biggest threats. In April, Apple sued Samsung over alleged violations on patent and trademark grounds by Samsung's Galaxy S phones and Galaxy Tab tablets. This suit was followed up by the more specific copyright-infringement allegations in Germany against the Tab 10.1 and now the 7.7 tablets.
In late August, a German judge stated in a hearing that Apple was likely to win a full injunction against the Tab 10.1, but that the Dusseldorf Regional Court was unlikely to expand the ban on sales beyond Germany to other European Union countries, as Apple had sought. A final ruling on the Tab 10.1 injunction is due Sept. 9, says the story.
Meanwhile, Samsung has been accused of exaggerating unit sales claims regarding its original, seven-inch Samsung Galaxy Tab. Last week, a Lenovo executive claimed that only 20,000 of the one million Galaxy Tab units that Samsung said it had shipped by the end of 2010 had actually been bought by end users, according to the Guardian. No evidence was offered to back this up, however.
---
This article was originally published on LinuxDevices.com and has been donated to the open source community by QuinStreet Inc. Please visit LinuxToday.com for up-to-date news and articles about Linux and open source.