Nov 19, 2009 — by Eric Brown — from the LinuxDevices Archive — 1 views
LiMo Foundation announced that Korean wireless provider SK Telecom will deploy a Samsung-made "SCH-M510 "phone that complies with the LiMo (Linux Mobile) specification and offers a 3.5-inch AMOLED display. Meanwhile, LG Electronics, Samsung, SK Telecom, and the Korean government have launched the Korea LiMo Ecosystem Association to promote LiMo app development, says the Foundation.
The Samsung SCH-M510 will offer 3.5-inch WVGA AMOLED display and a five-megapixel autofocus camera, along with WiFi, Bluetooth, and multimedia support, says LiMo Foundation. Other SCH-M510 features are said to include proximity, accelerometer, and ambient light sensors.
Beyond that, LiMo Foundation offered no more details, nor did Samsung or SK Telecom appear to have any more information on the phone. According to a spokesperson for the Foundation — a consortium of mobile carriers, handset vendors, and technology companies that have defined an open source Linux mobile specification called LiMo Platform — the SCH-M510 "will be out later this year."

The SCH-M510 will be the first LiMo-compliant handset to be deployed in Korea, and SK Telecom will become the third carrier worldwide to deliver a LiMo handset after LiMo stalwart NTT DoCoMo, and more recently, Vodafone. LiMo Foundation did not say whether the SCH-M510 would adhere to LiMo second-generation R2 spec, as does Vodafone's Samsung-built 360 H1 (pictured at right) and the partners' scaled-down M1, but it did say that the handset would be the 45th LiMo-compliant device to ship (see farther below for more on the Vodafone 360 phones and LiMo).
Korea LiMo Ecosystem Association launched
LiMo Foundation also reported that the South Korean government has announced the formation of the Korea LiMo Ecosystem Association. The group is "designed to facilitate innovation and opportunity in the Korean marketplace for LiMo products and services," says LiMo Foundation.
Initial members include Korea Telecom, LG Electronics, LG Telecom, Samsung Electronics, and SK Telecom, along with the Electronics and Telecommunications Research Institute (ETRI), supported by the Korean government's Ministry of Knowledge Economy (MKE). Activities will include local events and workshops for Korean mobile software developers, as well as "coordinated commercial programs that will help facilitate import and export of LiMo-related products, ideas and services," says LiMo.
According to a statement by Morgan Gillis, executive director of LiMo Foundation, the LiMo spec will play a somewhat similar role to that of WIPI (Wireless Internet Platform for Interoperability) a mobile platform spec standardized by the Mobile Platform Special Subcommittee of the Korea Wireless Internet Standardization Forum (KWISF).
The non-profit, government-funded research organization ETRI has been involved in Linux-related R&D since 2002. Early last year, for example, ETRI demonstrated a prototype mobile Internet device (MID) based on its Qplus embedded Linux distro. This "Mobile Convergence Communicator" (MCC) boasted 802.11b/g and 3.5G cellular networking, along with digital TV reception and Bluetooth. The MCC was designed with ETRI's Esto GUI development software which is built on top of its open source, Red Hat-flavored Qplus distribution.
Other recent LiMo phones
In September, Vodafone and Samsung announced a high-end smartphone called the 360 H1, which offers a 3.5-inch WVGA AMOLED display and a Vodafone-developed, social networking oriented UI layer and web service called 360. The H1 is the first phone to comply with LiMo Foundation's LiMo Release 2 (R2) spec, which offers greatly enhanced multimedia and UI support compared to the R1 spec. R2 also provides new location-based services (LBS), personal information management (PIM), and security features, as well as support for the BONDI web-app interoperability spec.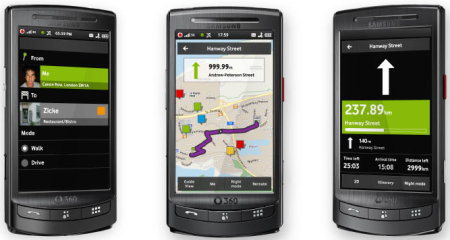 Mapping apps on the 360 H1
Vodafone and Samsung followed up earlier this month with a somewhat scaled-down version of the H1 called the
360 M1
, which also offers LiMo R2 and the 360 UI. The H1 has now begun shipping in Europe, where the M1 will also debut before both are gradually expanded internationally.

Like SK Telecom's SCH-M510, the only other R2 phone announcement was something of a tease. Last month, Access and Emblaze recently showed off a jointly developed "Else" smartphone prototype (pictured at left) and an intriguing "Else Intuition" UI stack that runs on R2. However, the partners did not mention carrier support, and offered few details on the phone.
In February, LiMo announced that it had received carrier commitments from Orange, SK Telecom, Telefonica, Verizon Wireless, and Vodafone to release LiMo phones in 2009. Recently, LiMo indicated those commitments remain in place, but in most cases, they have apparently been postponed into 2010. LiMo now says that all these vendors — plus NTT DoCoMo — will offer phones running R2 or the next-generation R3 release of LiMo sometime in 2009 or 2010.

The next LiMo handset vendor to show its hand may well be LiMo board member and Korea LiMo Ecosystem Association member LG Electronics, which recently announced its first Android phone, the LG Eve, targeting Canada and Europe. Earlier this year, the Korean manufacturing giant showed off a LiMo R2 smartphone prototype (pictured at right).
So far, no one has dared release a LiMo phone into the cut-throat U.S. smartphone marketplace where Apple's iPhone and RIM's BlackBerry hold sway, Android is coming on fast, and other new contenders like the Palm Pre are cutting into the pie. LiMo, which saw its early momentum shaken by the fast rise of Android, may well find its rhythm in Europe, Asia, and elsewhere in the world, where carriers may be more concerned about relinquishing control to a Google or Apple.
Carriers seem to like the open-ended nature of LiMo, which is touted as offering them greater ability to brand the phone, a la Vodafone's 360 stack. On the other hand, they also like winners, so all eyes will be watching the reception of the early R2 phones to see how they compete.
Stated Jong-In Kim, VP of Product Planning Team at Samsung Electronics, "Samsung has now released three LiMo compliant handsets, which demonstrate Samsung's deep commitment to the LiMo Foundation and also to the flexibility of the LiMo Platform."
Stated Sungcheol Hong, SVP and Head of Next Internet Business Group, SK Telecom, "The independent nature of the LiMo Platform makes it an ideal foundation for a customized mobile experience for SK Telecom's customers. We're glad to deliver this initial LiMo handset and will continue to work within the LiMo ecosystem to develop value-added services in 2010."
Stated Lee, Sangjin, deputy director general for Emerging Industries, MKE, "As the LiMo Platform is truly independent in its governance, technology and business frameworks it makes for a natural foundation and springboard for the next generation of Korean mobile innovation."
Availability
The Samsung SCH-M510 will be available on SK Telecom's network in Korea "later this year," according to LiMo Foundation. More information may eventually be found on the Korean LiMo page, here.
---
This article was originally published on LinuxDevices.com and has been donated to the open source community by QuinStreet Inc. Please visit LinuxToday.com for up-to-date news and articles about Linux and open source.