Jun 28, 2011 — by LinuxDevices Staff — from the LinuxDevices Archive — 16 views
The Thunderbolt technology created by Intel and Apple received a stamp of approval from Sony, whose svelte new Vaio Z notebook uses it to add discrete graphics externally. Meanwhile, Apple has begun selling a six-bay RAID system manufactured by Promise, along with a $49 Thunderbolt cable.
In February, Apple and Intel announced Thunderbolt, a rebranded version of the latter's Light Peak technology. Making its debut at the time on three MacBook Pro notebooks, it provides 10Gb/sec. data transfer, the ability to daisy-chain six peripherals, plus both PCI Express and DisplayPort support, according to the companies.
Now, Thunderbolt has attracted some heavyweight third-party support. Or perhaps we should say "lightweight," since the technology has been adopted in a Sony Vaio Z notebook that weighs just 2.64 pounds and is just 0.65 inches thick.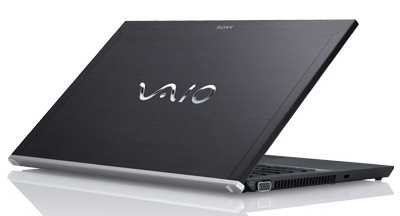 Sony's Vaio Z
According to Sony, the Vaio Z uses an Intel "Sandy Bridge" Core i7-2620M processor, comes with 8GB of memory, and has 256MB of SSD (solid state disk) storage. It also sports a 13.1-inch screen with a resolution of 1600 x 900 pixels, the company adds.
Ironically the Vaio Z is somewhat lighter and thinner than Apple's current MacBook Air, and also offers a backlit keyboard the Apple device lacks. (Persistent rumors say Apple will soon update the Air line with Sandy Bridge CPUs, no doubt adding Thunderbolt at the same time.)
Sony says the Vaio Z's internal lithium-polymer battery can power it for up to seven hours. An additional "sheet battery" may be snapped onto the bottom of the notebook, doubling battery life to 14 hours.

The Vaio Z
Source: Sony
(click to play)
Of course, the Vaio Z also includes other typical features such as a 1.2 megapixel webcam, 802.11a/b/g/n wireless networking, stereo speakers, and a USB port. Its real claim to fame, however, is a USB 3.0 port that doubles as a Thunderbolt (referred to by Sony using only the earlier Light Peak moniker) connector.
Sony's Thunderbolt implementation will require different cables than Apple's, since the latter employs a DisplayPort connector, as we review later in this story. Apparently, however, it's the same electrically.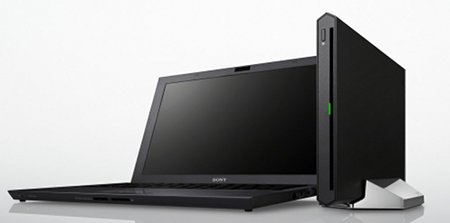 Sony's Vaio Z and its Thunderbolt-based dock
(Click to enlarge)
Sony uses Thunderbolt to provide the Vaio Z with an optional VGP-PRZ20 "Power Media Dock." This 8.66 x 5.82 x 0.65-inch unit provides a Blu-ray or DVD drive, a gigabit Ethernet port, two USB 2.0 ports, a USB 3.0 port, plus both HDMI and VGA video outputs.
Intriguingly, the VGP-PRZ20 also includes 1GB of DDR3 video memory and its own AMD Radeon HD 6650M graphics circuitry. Thus, when it's on the road, the Vaio Z relies on Intel's integrated graphics, but it gains discrete graphics (and cited support for as many as three external monitors) when docked.
Specification listed by Sony for the Vaio Z include:
Processor — Intel Core i7-2620M clocked at 2.7GHz
Chipset — n/s
Memory — 8GB of DDR3 RAM
Storage — 256GB SSD
Display — 13.1-inch screen with 1600 x 900 pixel resolution
Webcam — 1.2 megapixel
Networking:

WLAN — 802.11a/b/g/n
PAN — Bluetooth
WWAN — "3G"

Other I/O:

1 x USB 2.0
1 x USB 3.0/Thunderbolt
HDMI

Battery — lithium-ion battery provides seven hours' operation
Dimensions — 13 x 8.26 x 0.65 inches
Weight — 2.64 pounds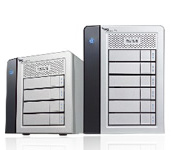 Separately, Promise announced storage devices (pictured) that connect via Thunderbolt and allow the creation of RAID arrays. The Pegasus R4 accepts up to four SATA hard disk drives, while the Pegasus R6 accepts up to six, according to the company.
Promise says the Pegasus devices offer dual 10 Gb/s Thunderbolt ports. Data transfer rates are over 800MB/sec. for the R6 and 500MB/sec. for the R4, the company adds.
Apple is offering the promise devices on its online store, and has also introduced a Thunderbolt cable that costs $50 meters for a two-meter length. This may be used to connect Thunderbolt peripherals to MacBook Pro computers and recent iMacs, and can also connect one Mac to another in Target Disk mode, the company says.
Background
Intel initially showed off its Light Peak interconnect at its September 2009 Intel Developer Forum — where, tellingly, Apple's OS X operating system was used for demonstrations — and said it would become available in PCs during 2011. The technology will eventually scale up to 100Gb/sec. and move to optical cables, but the first implementations would run at 10Gb/sec. over copper, the chipmaker promised.
Light Peak first reached the market on three newly announced MacBook Pro laptops from Apple: a 13-inch model that starts at $1,199; a 15-inch model starting at $1,799, and a 17-inch model that costs $2,499. It can be recognized on all three by a DisplayPort-style interface decorated with a thunderbolt icon (below).

Thunderbolt uses a DisplayPort-style connector
According to Intel, the key to Thunderbolt's abilities is a controller chip (below left) that allows both DisplayPort and PCI Express protocols to be carried over a single cable (below right). This controller offers "low latency with highly accurate time synchronization," and provides for bus-powered devices (up to 10 Watts), the company adds.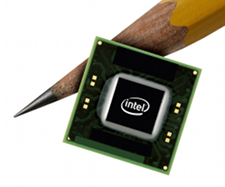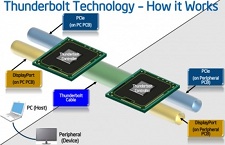 Intel's Thunderbolt controllers (left) are intended for PCs and up to six peripherals (right)
(Click either to enlarge)
Apple's MacBook Pro product page touts Thunderbolt as offering "two 10Gb/sec. data channels," while Intel says it features "dual-channel 10Gbps per port." This means "a full 10 Gb./sec of bandwidth can be provided for the first device, as well as additional downstream devices," the chipmaker added.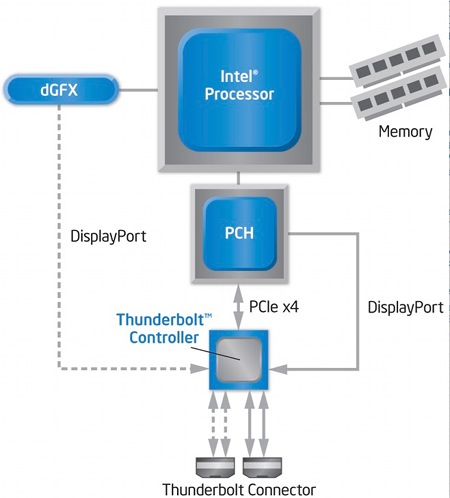 Sample block diagram showing how the Thunderbolt controller may be incorporated into a PC
(Click to enlarge)
Given that it relays both DisplayPort and PCI Express signals, Thunderbolt will make it "simple to create gigabit Ethernet, FireWire, or eSATA adapters using existing PCI Express device drivers," claimed Intel. It's likely third parties will also create USB 3.0 adapters, the chipmaker added in February — and, as we've now seen, Sony's new VGP-PRZ20 dock offers both Ethernet and USB 3.0.
Further information
According to Sony, the Vaio Z will be available in Europe during July. The company is now accepting pre-orders for the notebook on its U.K. website for 2,699 U.K. pounds (approximately $4,310).
More details on Promise's Pegasus storage devices may be found on the company's website.
More information on Thunderbolt itself may be found on Intel's Thunderbolt product page.
Jonathan Angel can be reached at [email protected] and followed at www.twitter.com/gadgetsense.
---
This article was originally published on LinuxDevices.com and has been donated to the open source community by QuinStreet Inc. Please visit LinuxToday.com for up-to-date news and articles about Linux and open source.