Nov 6, 2009 — by Eric Brown — from the LinuxDevices Archive — 3 views
The Moblin project released the first beta version of Moblin 2.1, fixing numerous bugs while adding support for a 3G modem. Other touted improvements to the netbook-focused Linux distro include a faster browser with plugin support, Bluetooth discovery support, higher screen resolution support, and an enhanced connection manager, says the project.
Although Moblin v2.1 was billed as an "incremental" release when the Moblin project first released a preview version in conjunction with the final release of Moblin v2.0 in late September, the beta delivers a lot of key new features.
The numerous bug fixes and new features also highlight why netbook vendors and Linux distro projects, which signed up in droves to back the Intel Atom-focused Linux netbook technology and UI stack earlier this year, have been slow to ship final products based on the release. While it's true that, among others, Fedora, Mandriva, OpenSUSE, and Ubuntu have all been released this fall in versions that support Moblin, not all of these netbook versions support the full v2.0 release or are available in final form.
With Moblin 2.1, however, it seems likely that enough communications basics have been added — and bugs have been stomped — to bring Moblin's fast boots, innovative interface, and Clutter animation framework to market in time for the holidays.
According to a PC World story that appeared around the Moblin v.2.0 launch, Intel execs revealed that Moblin v2.1 would add "native touchscreen input and gesture support, new user interface features, and support for more hardware drivers." It will also offer support for Intel's upcoming Pine Trail platform for netbooks, said the story. Aside from a few new drivers and "input method support" (see below), there is not much sign of these improvements in the initial beta, but then again, UI enhancements generally come toward the end of the release cycle.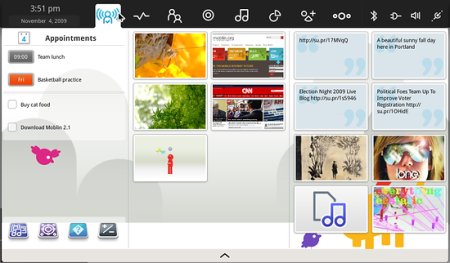 Myzone interface on Moblin v2.1 beta for netbooks and nettops


(Click to enlarge)
At the time — Intel, which still appears to be the prime force behind Moblin despite having
transferred official stewardship
of the open source Linux project to the Linux Foundation in April — also showed off a Moblin v.2.1 for Handhelds. This new "Moorestown" processor-oriented version of what was previously called Moblin v2 for MIDs includes cellular telephony support, and will be "used as the base for future new user experience support for Mobile Internet Devices (MIDs), in-vehicle infotainment (IVI), and embedded devices, such as media phones," Intel said at the time.
The project did not offer a roadmap for the Moblin v2.1 for Handhelds, but Intel has stated that the final version will arrive in the second half of 2010. According to the PCWorld story, the Intel rep was also said to have noted that Moblin v2.1 will come not in two versions, but in three. The current netbook/nettop version is being split into two separate releases, with one broken out for the small-footprint, low-power desktops known as nettops, according to the story.
If true, the split has not happened yet. The Moblin v2.1 beta now being released explicitly supports nettops for the first time, however, supporting a wide range of nettop resolutions, says the project.
According to the Moblin project, the Moblin Linux 2.1 Netbook and Nettop beta includes several hundred bug fixes "and incorporates feedback from users and the developer community." Major new features are said to include:
Browser — A much faster new web browser now adds full support for plugins and add-ons, says the Moblin project.
3G — Moblin now supports its first 3G modem, the Ericsson MBM 3G, with support for additional 3G modems planned for future releases.
Application installer — The now fully integrated Moblin Application Installer connects to the Moblin Garage app repository, providing a categorized list of applications.
Clutter 1.0 — The innovative animation engine that underlies the Moblin experience is being released in a Clutter 1.0 version.
Bluetooth — Moblin has added Bluetooth device discovery and pairing via a new panel in the toolbar, which supports Bluetooth audio devices, input devices, OBEX file transfer, and 3G tethering.
Connection manager — The ConnMan connection manager offers enhanced performance and reliability, and supports Ethernet, WiFi, WiMAX, and 3G, says the Moblin project.
Nettop resolution support — UI scaling is now offered for a wide range of nettop resolutions, including the ability to show more information in the Myzone panel based on available screen space.
Instant Messaging — IM functionality has received improved account setup, integration within ConnMan, and support for a transparent connection to friends in the local network.
Input method support — Input method support is now included across the system.
Localization — Moblin is now localized for English, Brazilian Portuguese, Spanish, French, German, Swedish, Finnish, Korean, Japanese, Chinese Simplified, and Chinese Traditional.
Package updates — New versions of software components include Linux kernel version 2.6.31, Intel Linux graphics driver 2.9, X server 1.6.4, and Mesa 7.6, and updated documentation, sample code, and updates to the Moblin SDK are being offered.
Availability
The Moblin v2.1 beta announcement may be found here, with downloads and release notes available here. Moblin images are said to require an Intel Atom-based netbook or nettop.
---
This article was originally published on LinuxDevices.com and has been donated to the open source community by QuinStreet Inc. Please visit LinuxToday.com for up-to-date news and articles about Linux and open source.