Oct 18, 2010 — by LinuxDevices Staff — from the LinuxDevices Archive — views
Led by the iPad, tablet PCs will sell 19.4 million units in 2010, and soar to 208 million in 2014, according to Gartner. Tablets will pressure sales of mini-notebooks, e-readers, media players, and gaming devices, and perhaps even smartphones — but devices based on Android and other open source OSes will fare better than most against cannibalization, says the study.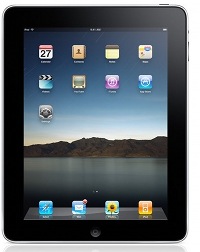 Wordwide media tablet sales will reach 19.4 million units in 2010, according to a new research note from Gartner. That's good news for manufacturers such as Apple, whose bestselling iPad (pictured) is driving much of that growth.
The research note suggests that tablet PC sales will increase from 19.4 million units in 2010 to 54.7 million in 2011, then 103.4 million in 2012, and finally 208 million in 2014. Some 61 percent of those sales in 2010 will come from the North American market, but Gartner expects that percentage to dip to 43 percent by 2014.
However, Gartner also suggests that tablet sales are having a negative impact on other devices such as e-readers and mini-notebooks.
"The all-in-one nature of media tablets will result in the cannibalization of other consumer electronics devices such as e-readers, gaming devices and media players," Carolina Milanesi, research vice president at Gartner, wrote in an Oct. 15 statement. "Mini notebooks will suffer from the strongest cannibalization threat as media tablet average selling prices (ASPs) drop below $300 over the next 2 years."
But the firm expects that low-end consumer notebooks and communication devices based on an open-source operating system will experience lower rates of cannibalization, listing Android, MeeGo, and WebOS as contenders.
The presence of seven-inch tablet PCs could impact the higher-end smartphone market, its Oct. 15 research note adds, although consumers "buying a seven-inch tablet might opt for a lower priced smartphone with a smaller form factor."

The research firm did not publicly break down the figures by operating system, for example showing how Android tablets such as the Samsung Galaxy Tab (pictured) might compete against the iPad.
"As media tablets move from early adopters to mainstream, media tablets will become a family purchase as well as a personal one," reads Gartner's note. "The touch user interface, the applications available on the different operating systems and the simpler setup compared to a full-fledged computer make media tablets ideal for a range of consumers: from power users to techno-phobics."
The firm also sees the cost of tablet PCs gradually declining over the long-term — even as carrier subsidies for the devices increase. "Communication service providers (CSPs) who have so far subsidized mini-notebooks to drive mobile broadband uptake will shift their marketing spend to media tablets," Milanesi wrote. "Such subsidies will help drive adoption among those consumers who see the initial hardware cost as a hurdle."
USB and Morgan Stanley agree that tablets will cut in
Other analysts have suggested that tablets are pressuring the traditional notebook market, although many seem reluctant to use the term "cannibalization."
"Sales of traditional notebooks appear to be feeling pressure from the iPad, causing a scramble by vendors to launch iPad-like tablets," USB analyst Maynard Um wrote in a Sept. 8 research note. "We believe that a majority of this impact is occurring on the lower end of PC sales, as the iPad is priced close enough to this range that it becomes attractive to consumers looking to make purchases within this segment."
Um estimates sales of 28 million iPads in 2011, while Morgan Stanley analyst Katy Huberty predicts the overall tablet market will hit 50 million units.
"We expect tablets to continue to pressure PCs as more vendors launch products (e.g., Dell Streak and Samsung Tab) and Apple expands its iPad distribution," she wrote in a recent research note, as quoted by Fortune Magazine Sept. 17.
A handful of manufacturers, including Samsung and Research In Motion, are expected to introduce tablet PCs onto the market within the next few months. It is also widely expected that Apple will unveil a revamped iPad at some point in the near future.
ABI: Tablets hot, but not yet huge…
A recent eWEEK story reports on an ABI Research study that projects that tablets will slow, but not stunt netbook sales. According to ABI, tablet sales are expected to reach 11 million-plus tablets by the end of the year, says the story. While this is said to represent a very fast growth curve, it's about a quarter of the estimated 43 million netbook units that will ship this year, up from 33.3 million units at the end of 2009, says the story.
…especially compared to cell phones
Another recent eWEEK story reports on a Pew Internet and American Life Project survey that found that some 85 percent of U.S. citizens now own a cell phone, making it the most popular electronic gadget category in the U.S. This leads the second place PC desktop/laptop category (76 percent) where laptop ownership is quickly growing at the expense of desktops PCs, says the story. Tablets, apparently, barely made the list, but are said to be coming on strong, especially among more affluent Americans.
Further information
Gartner's tablet report announcement may be found here.
The eWEEK story on ABI Research's report on netbooks and the impact of tablet sales may be found here.
The eWEEK story on the Pew Internet and American Life Project survey on electronic gadget ownership in the U.S. may be found here.
Nicholas Kolakowski is a writer for our sister site eWEEK.com.
---
This article was originally published on LinuxDevices.com and has been donated to the open source community by QuinStreet Inc. Please visit LinuxToday.com for up-to-date news and articles about Linux and open source.