Jan 19, 2011 — by LinuxDevices Staff — from the LinuxDevices Archive — 4 views
Semiconductor vendor Tilera Corp. has received a new round of $45 million in funding from investors including Cisco and Samsung, intended to further development of its massively multicore "Tile" family of system-on-chips (SoCs). Tilera will use the money in part to launch a new line of 225-core "Stratton" SoCs, due in 2013.
Tilera — among the first in a growing number of processor makers looking to manufacture non-x86 chips for servers in cloud computing and other high-performance environments — is getting more support from a number of capital venture companies and tech vendors, including Cisco Systems and Samsung.
Tilera officials on Jan. 18 announced that the company, which has been selling its Linux-ready, MIPS-like Tile64 processors since 2007, has raised $45 million in another round of funding, a move that brings the total investment in the six-year-old company to $109 million. Tilera makes 36- and 64-core Tile Pro processors, and is on schedule to start delivering a new Tile-Gx family of processors that will scale from 16 to eventually 100 cores.
The funding is an indication that Tilera is onto something, according to Troy Bailey, vice president of marketing at Tilera. "[Investors] see that Tilera has innovative and important technology," Bailey said in an interview with eWEEK.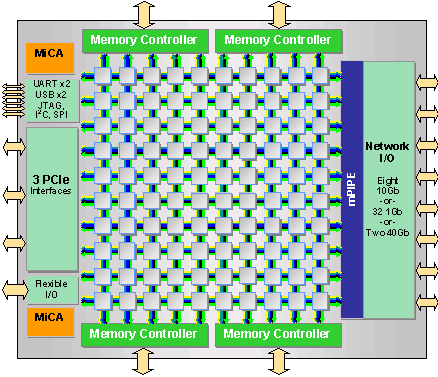 Tile-Gx100 architecture
The funding comes at an already promising time for Tilera. The company has enough business that officials expect to break even this year, Bailey said. In addition, the $45 million is about twice what Tilera was initially shooting for during the latest round of funding, he said. Officials expect this to be the last round of funding.
The latest round of funding — which comes less than a year after Tilera announced a $23 million funding round in March 2010 — is being led by Artis Capital Management, and includes investment from WestSummit Capital Management and Comerica Bank. Also participating is Cisco and Samsung Venture Investment, which join prior tech vendors like Broadcom and Qanta Computer.
Next up: 225-core "Stratton"
Bailey said Tilera will use the latest round of funding for more sales and marketing efforts, as well as more design work, as the company looks to move beyond 100-core chips to the fourth generation of its processors. A 225-core SoC code-named "Stratton" is expected to show up sometime in 2013.
Tilera, like many other chip vendors, is looking to meet the rapidly growing demand for smaller, less expensive, high-performance and energy-efficient systems for such environments as cloud computing and high-performance computing.
Qanta in June 2010 started shipping its SQ2 server, which is powered by Tilera's TilePro64 processors and can hold up to 512 computing cores. SGI officials last year said they will use Tilera processors in SGI's Prism XL — code-named "Project Mojo" — hybrid systems that also will take greater advantage of graphics technologies from the likes of Advanced Micro Devices and Nvidia.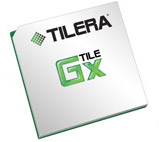 Tilera is gearing up for its third-generation, 64-bit Tile-Gx processors, which will include processors with 16, 32, 64 and 100 cores. Bailey said the 16- and 36-core processors will come out first, due by the end of the year. The 64- and 100-core chips will start sampling later this year, and go into full production in the first half of 2012, he said.
A growing number of chip vendors are looking to push their smaller, more energy-efficient processors into the data center, which has been the domain of x86 processor makers Intel and AMD.
ARM Holdings, whose designs dominate the mobile device market, including smartphones and tablet PCs, wants to move its chip designs into low-power servers. ARM CEO Warren East said in a December interview with Bloomberg News that processors based on ARM designs will challenge Intel's server dominance by 2014.
Samsung, Qualcomm and Texas Instruments are among the vendors using ARM designs, and Marvell has begun demonstrating its quad-core Armada XP chip, which can be used in servers and enterprise-class networking devices. Calxeda — formerly known as Smooth-Stone — also is developing server processors based on ARM designs, with plans to start manufacturing the chips in 2012.
Lyric Semiconductor, meanwhile, is creating what company officials call probability processors, said to work differently than Intel and AMD chips. (The Lyric processors are also unrelated to other major processor platforms, such as MIPS, ARM, or PowerPC.)
Like Tilera, a number of vendors are working on somewhat smiilar MIPS64 multicore designs, led by Cavium with its networking-focused Octeon II, which scales up to 32 cores. Meanwhile, both Intel and AMD are driving down the size and power consumption of their x86 chips.
Tilera continues to offer greater scalability, more cores, and greater energy efficiency than those from Intel and AMD, claims Bailey. In addition, he says that Tilera already has a substantial lead on ARM and its customers, which are said to be a year or two away from being able to offer 64-bit chips.
Jeffrey Burt is a writer for our sister publication eWEEK.
---
This article was originally published on LinuxDevices.com and has been donated to the open source community by QuinStreet Inc. Please visit LinuxToday.com for up-to-date news and articles about Linux and open source.