Oct 26, 2010 — by LinuxDevices Staff — from the LinuxDevices Archive — 4 views
The "Unity" user interface that debuted in Ubuntu 10.10's Netbook Edition will be standard on the next version of the Ubuntu Desktop Edition as well. Ubuntu Desktop 11.04 will replace the Linux distribution's default GNOME desktop environment in favor of the multitouch-enabled Unity interface, says Ubuntu sponsor Canonical.
Making the announcement at a keynote Oct. 25 at Ubuntu Developer Summit in Orlando, Fla., Mark Shuttleworth, Canonical's founder, said Ubuntu Desktop 11.04 will swap out the GNOME user interface in favor of the Unity interface that is now available on the Ubuntu Netbook Edition (UNE).
"We conceived some work a time ago focused on netbooks that we want to bring to desktops," Shuttleworth said.
Canonical introduced Unity, the multitouch interface, this month with Ubuntu 10.10 ("Maverick Meerkat") UNE. Unity gives users 3D graphics support and better touchscreen enablement. The desktop/laptop version of Ubuntu 10.10 still has the long-standing GNOME 2.2 interface by default.
Ubuntu Network Edition 10.10 with Unity interface
GNOME Shell is the latest interface being developed for GNOME 3.0. It was delayed to spring 2011 because it wasn't ready. With Canonical shifting to Unity, GNOME Shell will not be the default when completed. GNOME would continue to be used as Unity's framework; it's just the shell that wouldn't be visible, said Shuttleworth.
"Unity is a shell for GNOME even if it isn't GNOME Shell. We're committed to the principles and values of GNOME," said Shuttleworth.
Canonical has been maintaining two default user interfaces for Ubuntu for a while now. The desktop distribution has the familiar tiled interface reminiscent of Windows, while UNE, formerly called the Netbook Remix, has a more streamlined look.
This shift consolidates the operating system squarely behind one default interface instead of maintaining two different looks. It will likely be more attractive for PC manufacturers considering selling Ubuntu desktops and laptops.
Dell supports this shift, Canonical said. Other OEM manufacturers have expressed interest in Ubuntu, said Canonical, and supporting a single user interface across all hardware platforms is a more attractive option.
The Unity interface has a new application dock and launch bar, multitouch use of applications, and less clutter of the screen space. It will accept input via screen hand, mouse, and trackpad. Unity will be the default desktop experience for "users that have the appropriate software and hardware," Shuttleworth said.
Users interested in Unity will need hardware that is modern enough to handle 3D-based graphics. Users running Ubuntu on older machines will still have to switch to the GNOME interface with its 2D graphics.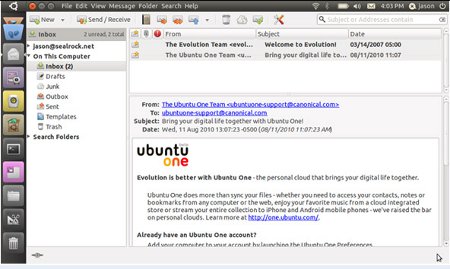 Evolution email client in UNE 10.10 featuring multitouch Unity


Click to enlarge)
The "fairly substantial shift" in the interface "is a significant, risky step. It will throw people's confidence," said Shuttleworth during the keynote. He said it was a necessary move because the current iteration of the GNOME shell did not match Canonical's vision of how applications should be displayed on Ubuntu Desktop.
The team behind GNOME had made some technical decisions in how it used GL graphics and 3D that "we found it difficult aligning to," Shuttleworth said. "We took a divergent view on some key design issues — where the application should appear, how one searches for applications and how the applications should be presented — they weren't embraced by the designs in the GNOME shell," he said.
While the announcement came as a surprise to programmers and users, the prevailing attitude appeared to be wait-and-see, as reflected by an on-going poll on Ubuntu Forums. Asking "GNOME Shell or Unity?" GNOME Shell was in the lead, with 37 percent. It was not a decisive lead, as Unity was preferred by 29 percent, and 27 percent said, "Anything that works."
While some users on various online forums worried about yet another competitor for GNOME, others pointed out that Linux is infinitely customizable and it's just a matter of "apt-get install" to slap on a new interface. There seemed to be a general consensus that GNOME looked outdated compared to KDE and Xfce, which are other popular interfaces. Unity was more modern, in comparison.
In the Ubuntu Forums poll, 6 percent claimed they didn't use GNOME anyway. Some users pointed out that Canonical's goal has always been about delivering a simple and easy to use interface for Linux.
"When GNOME served that purpose, Canonical used it," posted a user on Ubuntu Forums. "When GNOME stops serving that purpose as well as Unity or any other desktop does, the default desktop should be whatever serves that overall purpose: Simplicity and ease of use."
Ubuntu has a lot of work to do around windows management on Unity before it's ready for the desktop, said Shuttleworth. On the netbook, there is only one application in the foreground at a time, but that is not the case on a desktop. Users can set up multiple screens and be able to see all the contents at the same time.
For desktop and laptop users, the new Ubuntu Unity will default multiple windows and a multi-foreground interface. For netbook users, Unity will continue to default to a single window with a single foreground application.
Availability
Unity is expected with the next release of Ubuntu 11.04 desktop, or "Natty Narwhal," in April 2011.
An Oct. 14 Canonical blog by Gerry Carr on Unity and its "uTouch" multitouch technology, with video demonstrations, may be found here.
Fahmida Y. Rashid is a staff writer for our sister publication eWEEK.
---
This article was originally published on LinuxDevices.com and has been donated to the open source community by QuinStreet Inc. Please visit LinuxToday.com for up-to-date news and articles about Linux and open source.