Jan 10, 2012 — by LinuxDevices Staff — from the LinuxDevices Archive — views
Several companies have announced Blu-ray players and media streaming boxes for Google's Android-based Google TV TV platform. Sony has its NSZ-GS7 Network Media Player and NSZ-GP9 Blu-ray disc player, Vizio tipped its VBR430 3D Blu-ray player and VAP430 Stream Player — as well as several Google TV-enabled R Series HDTVs — and E Fun will provide its Nextbox set-top.
Sony, Vizio, and E-Fun introduced Blu-ray disc players and media streaming devices capable of delivering Google TV, Google's embattled, Android-based web TV operating system. Google is aiming to breathe new life into the platform here at the 2012 Consumer Electronics Show in Las Vegas with the help of one old OEM partner — Sony — and several new ones.
Sony showed off the NSZ-GS7 Network Media Player and NSZ-GP9 Blu-ray disc player, while Vizio introduced the VBR430 3D Blu-ray player and the VAP430 Stream Player, both supporting Google TV. Vizio also announced a new line of Google TV-powered R Series HDTVs for 2012. E Fun, meanwhile, announced the E Fun NextBox set-top box (STB) with Google TV support.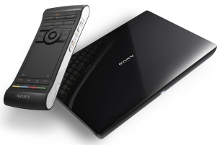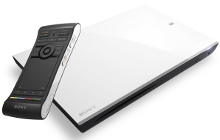 Sony NSZ-GS7 Network Media Player and NSZ-GP9 Blu-ray disc player
(Click on either to enlarge)
Google
unleashed Google TV on devices
from Logitech and Sony in the fall of 2010. Yet like Apple TV and other such web TV services before it, the platform has failed to gain traction. Google hopes to change that, and refreshed the software late last year with a
Google TV 2.0
release featuring Android 3.1 ("Honeycomb"), adding access to the Android Market and more than 150 Google TV-specific applications.
Google Executive Chairman Eric Schmidt recently promised new Google TV devices would proliferate by the summer of 2012. On Jan. 6 Google announced LG, Sony, Vizio, Marvell,and Samsung would support the TV platform.
In addition, last week Google announced it would be switching the platform from the Intel Atom to a new ARMv7 processor from Marvell. The dual-core, 1.2GHz Armada 1500 HD Media system on chip (SoC) — featuring a Qdeo video subsystem capable of processing 3D HD video streams — will be built into Marvell's Foresight Platform reference design for Google TV later this year.
None of the vendors featured here mentioned whether they were moving to the new Armada 1500 platform, or sticking with the Intel Atom CE4100 SoC used in the original generation of Google TV devices. However, as there are no timetables listed here sooner than this summer, we're guessing the new devices are likely ARM-based.
Sony unleashes two new Google TV boxes
Sony claims its new devices (pictured farther above) improve on last year's Blu-ray player and Internet TV for Google TV. The new NSZ-GS7 Network Media Player — which appears to fill the STB gap left by Logitech's discontinued Revue box — and NSZ-GP9 Blu-ray disc player come with a redesigned remote control with a backlit QWERTY keyboard, a touchpad, and a three-axis motion sensor for gaming.
On both, the remote control can also be set up to serve as a universal remote to control TV, STBs, and amplifiers. The NSZ-GP9 Blu-ray player, meanwhile, is said to include voice search capabilities.
Sony says both devices will arrive in North America and Europe in early summer 2012, with distribution planned for other countries and regions. There's no word on pricing yet.
Vizio and E Fun try on Google TV
Vizio demonstrated some Google TV prototype HDTVs at last year's CES show, but they never showed up. Now, the company is trying again with several devices that seem more likely to reach market.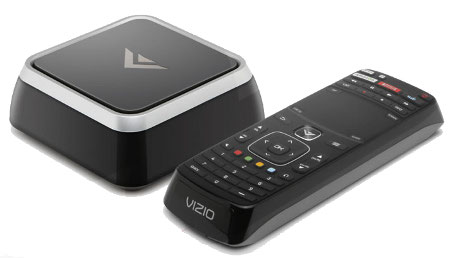 Vizio VAP430 Stream Player
(Click to enlarge)
Like the Sony Google TV devices, Vizio's new VBR430 3D Blu-ray player and VAP430 Stream Player can run thousands of Android apps and offers the Chrome web browser. It also provides its own Vizio Internet Apps Plus (V.I.A. Plus) re-skin of the Google TV platform.
Both Vizio devices feature a touchpad-equipped universal remote with QWERTY keyboard, to control the V.I.A. Plus interface and other functions. The VAP430, meanwhile, offers HDMI-pass-through, enabling a connection with cable or satellite STBs via its built-in HDMI ports.
The Blu-ray player and media streamer will be available in 2012, with specific ship dates, technical details, and pricing to be announced closer to availability.
Vizio's new R-Series HDTVs also feature the company's V.I.A. Plus interface paired with Google TV. The 42-inch R3D420VS, 47-inch R3D470VS, 55-inch R3D550VS, and 65-inch R3D650VS HDTVs all include a dual-sided Bluetooth remote with a QWERTY keyboard on one side and a touchpad on the other, says the company. All four sets run at 1920 x 1080 resolution.
The VBR430 and VBR370 will be available in 2012, with specific ship dates and prices coming later.
Meanwhile, the E Fun Nextbox STB supports all the capabilities of Google TV, including web browsing and channel viewing, says the company known for its Nextbook line of low-cost Android tablets. NextBox is built around the 1GHz, dual-core RK2908 Cortex-A8 processor announced by Rockchip this week. The Nextbox is equipped with 512MB of DDR3 memory, as well as Ethernet, USB 2.0, and Wi-Fi connections.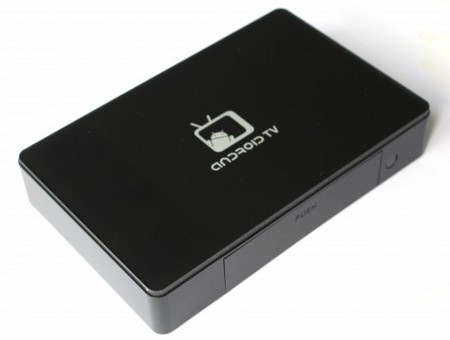 E Fun Nextbox
The Nextbox ships with Android 2.3, so it does not appear to run the latest Google TV build, which moves up to Honeycomb. However, the RK2908 supports Android 4.0, and the Nextbox features over the air (OTA) update capabilities, so there's at least the potential for an upgrade. There were no details on pricing or availability.
Report: Samsung to go Google TV in the fall
TV powerhouse Samsung told the Wall Street Journal it has joined the Google TV alliance, and will launch a Google TV-powered TV set in the second half of this year, starting in the United States. The company had nothing to show off at CES, but said its new device is targeted at high-end consumers.
Yoon Boo-keun, president of Samsung's consumer electronics division, told the Journal that such "smart TVs" could cost $300 to $500 more than regular TV sets.
Samsung appears to be taking its time in evaluating Google TV. A year ago at CES, the company showed off some Google TV prototypes, expected to ship later that year, but they never showed up.
Like Samsung, LG has also just joined the Google TV alliance, and showed off some Google TV products at CES.
Clint Boulton is a writer for eWEEK. Eric Brown also contributed to this report.
---
This article was originally published on LinuxDevices.com and has been donated to the open source community by QuinStreet Inc. Please visit LinuxToday.com for up-to-date news and articles about Linux and open source.