Aug 16, 2011 — by LinuxDevices Staff — from the LinuxDevices Archive — views
Eager as it might be to promote Ultrabooks, Intel has reportedly drawn the line at cutting the price of is Core processors in order to promote the devices. It's the latest in a tug of war between the chipmaker and Taiwanese vendors, according to ongoing DigiTimes reports.
Sean Maloney, Intel executive vice president and the newly appointed head of the chip makers China business, introduced the "Ultrabook" idea during his keynote speech May 31 at the Computex 2011 show in Taiwan. The chip giant has trademarked the name, which it says refers to notebooks that:
are less than 20mm (0.8 inch) thick
use Core processors
start up almost instantly with the aid of SSD (solid state disk) storage
and have "mainstream price points under US$1,000"
Intel stated Aug. 10 that initial Ultrabooks will be available for this year's holiday shopping season, and will be powered by its current "Sandy Bridge" Cores. A next generation using forthcoming, 22nm "Ivy Bridge" Core CPUs will come out in the first half of 2012, the company added.
The third step in the Ultrabook device progression will come in 2013, when products based on "Haswell" Core processors will be released, Intel said. These devices will reduce power consumption to "half of the 'thermal design point' for today's microprocessors," the chip giant promised.
Skepticism and push-back
Apparently, though, Intel has faced considerable skepticism from Taiwan-based computer manufacturers. A July 4 DigiTimes report claimed the chipmaker is "paying handsomely to attract downstream vendors into launching Ultrabooks," but vendors were skeptical that prices could reach as low as $1,000.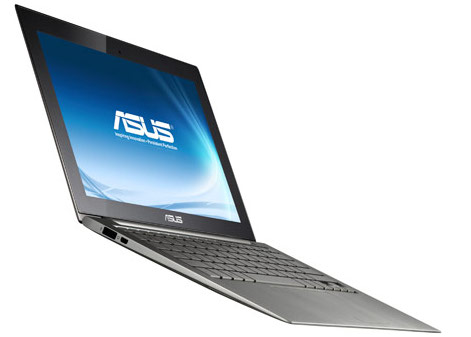 The Asus UX-21
A July 27 followup story claimed "actual production costs render the hope practically infeasible. The 11.6-inch Asus UX21 (above) and a 13.1-inch followup called the UX31 will cost between $1,000 and $1,600 because "yield rates for panels and key components are still lower than originally expected and therefore production costs are relatively high," DigiTimes added.
On Aug. 11, meanwhile, Intel Capital announced a $300 million fund designed to help foster the "Ultrabook" category of portables. The money will be invested over the next three to four years "to create a cycle of innovation and system capabilities for this new and growing category of mobile devices," the company said.
That extra injection of cash seemed to have done the trick, according to another Aug. 12 Digitimes story. That report said Ultrabook product roadmaps were unveiled in Tapei, indicating that Acer, Asus, and Lenovo, "among others," would roll out sub-$1000 Ultrabooks in the fourth quarter of this year.
Yet apparently vendors are still griping — and using the Taiwanese press to help pressure Intel. According to an Aug. 16 DigiTimes followup by Monica Chen and Joseph Tsai, "notebook players" asked that Intel cut the price of its Core processors by 50 percent in order to prime the Ultrabook pump.
Intel draws the line
Intel has refused, the story adds, fearing that such a move would leave it unable to raise pricing later and maintain its desired profit margins. As a result, according to the authors, the entry-level Core CPU relevant to Ultrabooks — the Core i5-2557M (two cores, 1.7GHz base clock speed and 2.7GHz TurboBoost speed, 17-Watt TDP) that Intel announced at the end of June — remains priced at $250.
Widening their net a little, Chen and Tsai suggest that vendors are also griping about the cost of the Atom Z670 CPU ($75) and SM35 chipset ($20) required for "Oak Trail-based tablets. These components account for about 40 percent of the cost of an Intel-based tablet, making the platform less attractive then Nvidia's ARM-based Tegra 2 (about $20).
The only confirmed "Ultrabook" to date is the Asus UX21 pictured earlier in this story, which was shown off at Computex. This device will be just 2/3rds of an inch thick, according to Asus, and it will reportedly use the i5-2557M (two cores, 1.7GHz base clock speed and 2.7GHz TurboBoost speed, 17-Watt TDP).
Meanwhile, as we've pointed out several times, Apple's revamped Macbook Air — launched July 20 — seems to exemplify an Ultrabook, right down to a "Sandy Bridge" Core processor, Intel's Thunderbolt interconnect technology, SSD storage, and a thickness of just 0.68 inches. While Apple doesn't detail CPUs using Intel nomenclature, the 13-inch Air ($1,299) just happens to use the aforementioned Core i5-2557M, according to an iFixit teardown of the device.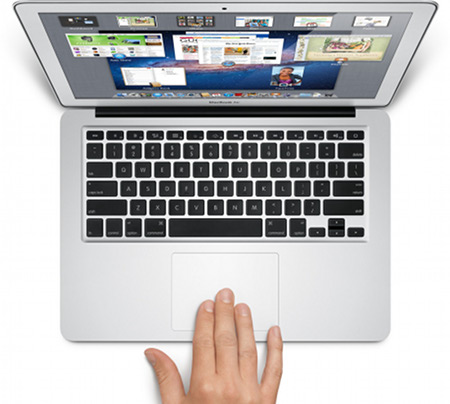 An Ultrabook in all but name: Apple's MacBook Air
Apple's entry-level Air ($999) has a 1.6GHz Core i5 processor, an 11.6-inch display, and a 64GB SSD. Of course, these portables can run Apple's own OS X as well as the Microsoft Windows, making them the equal — and more — of potential Ultrabook competitors.
What do you want to bet Apple isn't paying anywhere near $250 per CPU?

This Intel-produced video promotes Ultrabooks
(click to play)
Jonathan Angel can be reached at [email protected] and followed at www.twitter.com/gadgetsense.
---
This article was originally published on LinuxDevices.com and has been donated to the open source community by QuinStreet Inc. Please visit LinuxToday.com for up-to-date news and articles about Linux and open source.