Sep 12, 2011 — by LinuxDevices Staff — from the LinuxDevices Archive — 2 views
3M has invested in Pixel Qi, a manufacturer of power-saving displays that are viewable in bright sunlight. The deal — whose terms were not disclosed — suggests the unusual transflective screens could finally become widely available, after several years' delay.
Pixel Qi displays, promised since June 2009, operate both in a standard backlit mode and a reflective mode, the latter allowing illumination to be supplied solely by the sun or other ambient lighting. As a result, it's said, Pixel Qi screens can consume 80 percent less power than standard displays.
Unfortunately for sun worshipers, the screens' journey to market has been a protracted one, as we review later in this story. (In brief, the panels have been generally available only to do-it-yourselfers or to purchasers of the Notion Ink Adam tablet.)
Now, though, 3M has invested in Pixel Qi. In a Sept. 12 statement, the companies said:
"The funding led by 3M New Ventures will play a key role in enabling Pixel Qi to develop its product offerings into volume consumer markets as well as digital signage and touch applications. The investment, which successfully concludes Pixel Qi's second (series "B") investment round, will also allow Pixel Qi to build and to strengthen its engineering and sales capabilities."

Mary Lou Jepsen (pictured), co-founder and CEO of Pixel Qi, stated, "Pixel Qi's full-function color screen technology, for the first time, gives consumers an outdoor-readable video display with exceptional battery life, usable anywhere, anytime. It's a first in the industry. In our collaboration with 3M, we have the ability to accelerate this into mass adoption."
Jim Bauman, vice president of 3M's Optical Systems division, stated, "By addressing the energy consumption and sunlight readability challenges in one package, Pixel Qi provides a ground-breaking solution for the next generation of displays. The combination of Pixel Qi's low energy, reflective display technology with 3M's innovative technologies will create exciting products for the mobile, handheld, tablet and other display markets."
Will they actually go on sale this time around?
Pixel Qi (pronounced "Pixel Chee"), which describes itself as a "fabless developer of a new class of screens," was a spinoff from OLPC (One Laptop Per Child), where Jepsen was said to have invented the XO-1 laptop's sunlight-readable display technology. Pictured below, the technology allows a portable computer's screen to be switched from a standard, backlit color mode to a reflective mode, saving power and allowing the device to be used even in direct, strong sunlight.

OLPC's XO-1 in color (left) and monochrome (right) modes
(Click either to enlarge)
Pixel Qi first showed off screens based on an evolved version of this technology at the 2009 Computex show in Taiwan, at which time it claimed the displays would be available in netbooks later in the year. The company also said that production would have reached "hundreds of thousands a month" by early 2010.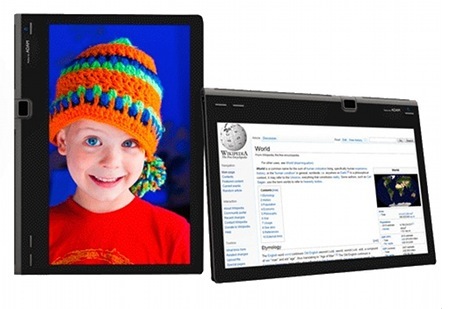 Notion Ink's Adam
None of that transpired, and, as we've noted, the only Pixel Qi-equipped device to achieve any prominence was the Adam, an Android-based tablet from India-based startup Notion Ink. (An early version of the Adam was shown at the January 2010 Consumer Electronics Show, but the device only began shipping at the beginning of this year.)
Pixel Qi says that unlike the electrophorescent displays already offered by E Ink Corporation, or the Mirasol displays mooted by Qualcomm's MEMS (micro-electro-mechanical systems) division, its screens use conventional LCD technology. While this fact limits the power savings the devices can achieve, it was touted as allowing manufacturing partners to ramp up quickly using existing production lines.
Given that, the ongoing delays frustrated even steadfast supporters of Pixel Qi's technology. Jepsen admitted in an April 2010 blog entry that "our initial manufacturing partner did get slowed down in the midst of the economic crisis," but added that Pixel Qi would reward the faithful by releasing kits allowing do-it-yourselfers to install the screens on their netbooks.
In July 2010, the company made a 10-inch screen available to the DIY community through O'Reilly Media's Make magazine and its online DIY store Maker Shed. Replacing a netbook's existing display with a Pixel Qi screen will likely void any warranty and is "a DIY project at your own risk," Jepsen warned. But, she claimed, "changing the screen of your netbook is easy; the process takes about five to ten minutes using a small screwdriver."
According to Maker Shed, the kits were guaranteed to work only with two netbooks, the Samsung N130 and Lenovo S10-2. A Make video showed the PQ 3Qi-01 being installed in an Acer netbook, and described the process as being "only slightly more complicated than changing a light bulb."
Last February, meanwhile, Laguna Nigel, Calif.-based Clover Systems began offering its Sunbook (below), which is a Samsung netbook that the company retrofits with a Pixel Qi sceen for its customers. Thanks to the dual-mode display the netbook can be used anywhere from pitch darkness to the brightest sunlight, the company says.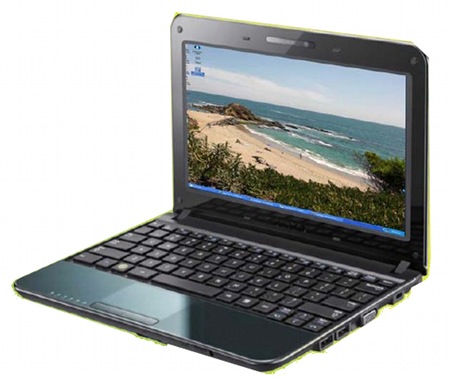 Clover Systems' SunBook
The SunBook display has a 165-nit brightness rating in a dark room, or a 235-nit rating when supplemented by typical room lighting, says Clover. Take the device out into the sunlight and you'll get a brilliant display rated to deliver more than 1000 nits, the company adds.
Clover says that when the SunBook's display backlighting is turned off, as it would be outdoors, battery life is doubled. This means the device is claimed to work for up to 12 hours on a charge.
Its display aside, the SunBook is an entirely standard netbook, with a 1.66GHz Intel Atom N450 processor, 1GB of DDR2 RAM, and a 250GB hard disk drive. Due to limited production and custom manufacture, the device has a $799 price tag.

A video demonstration of the SunBook
Source: Liliputing
Further information
Further information on the Clover Systems netbook may be found on the SunBook product page. A review of the device, with informative background on how Pixel Qi displays work, can be found on the Rugged PC Review website.
Jonathan Angel can be reached at [email protected] and followed at www.twitter.com/gadgetsense.
---
This article was originally published on LinuxDevices.com and has been donated to the open source community by QuinStreet Inc. Please visit LinuxToday.com for up-to-date news and articles about Linux and open source.