Nov 23, 2009 — by Eric Brown — from the LinuxDevices Archive — 1 views
Google co-founder Sergey Brin says that Chrome OS and Android are likely to merge at some point, say reports. Meanwhile, we sample some of the response to Chrome OS from across the Googleverse, and try to determine whether calling the cloud-oriented, Linux-based OS "underwhelming" is a diss or a kiss.
Shortly after last week's unveiling of Chrome OS, Google co-founder Sergey Brin was quoted by CNET as telling reporters in an informal chat after the event that "Android and Chrome will likely converge over time." Brin was also said to have noted that the common Linux and WebKit code present in both platforms suggested that such a merger would be feasible.
The key obstacle to such a merger, aside from differences in screen size and usage scenarios, would appear to be the fact that Android uses native applications that are downloaded and stored locally. By comparison, Chrome OS, which will not run Android apps, is said to support only web-based software. However, Brin appears to believe that Android apps could fairly easily be ported to web-based versions.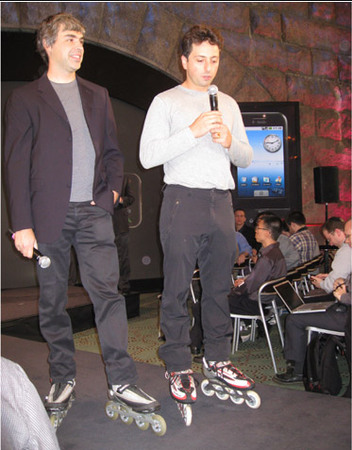 Google founders Larry Page and Sergey Brin (right) skate onto stage at original HTC G1 Android announcement in September 2008
After Google originally announced
Chrome OS
last July, Google execs such as CEO Eric Schmidt and Android chief Andy Rubin tried to downplay any potential overlap between Android and Chrome OS, suggesting that Android might work on smaller netbooks, but that most netbooks, and potentially desktop systems, were better off with Chrome OS.
A few Android netbooks and smartbooks have been announced, although the most notable example, Acer's Aspire One AOD250-1613, uses Android as sort of a glorified fast-boot companion to Windows. Although some predicted at the time that Chrome OS would destroy Android's momentum, Android has continued to storm the smartphone world, and the Linux-based mobile OS is also increasingly seen as a viable option for general embedded devices ranging from e-book readers to industrial equipment displays.
Chrome OS aftermath: Fear, loathing, and the power of "underwhelming"
In recent days, hackers have compiled bootable images of Google's Chrome OS, and today we gave the early code a test spin via VirtualBox, finding Chrome to be several steps beyond vaporware. Meanwhile, technology pundits around the world have let fly about the novel operating system, with most, it seems, taking a skeptical slant.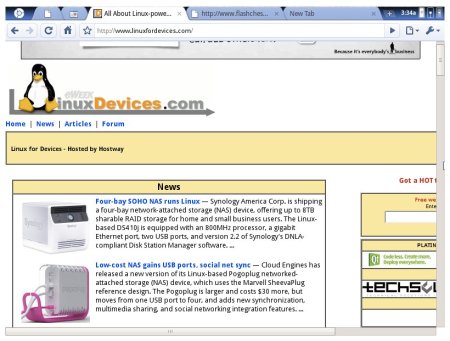 Chrome OS running on VirtualBox
Over at our sister publication,
eWEEK
's Don Reisinger previewed the Chrome OS event last week with a story called "10 Reasons Why Microsoft Should Fear Chrome OS." Some of the reasons why Steve Ballmer might be clutching his sheets include the fact that Chrome OS is backed by fast-rising tech giant Google, a company that dominates the web and "has proven time and again that it understands what consumers really want from software," writes Resinger.
In addition, Google has wisely started off with the hottest segment in computing — netbooks — while preparing to push Chrome OS up into the notebook/desktop space. Meanwhile, computer vendors are actively looking for an alternative to Windows, and although Windows 7 might be an improvement on Windows Vista, it "still suffers from security problems, quirks, and a level of usability that some users don't find appealing enough," adds Reisinger.
After the event, however, Reisinger posted a more skeptical "10 Things Missing From Google Chrome OS." Key omissions are said to include lack of local storage support, "powerful" software, clear-cut security policy, and support for other browsers. He also critiques the OS for its lack of offline capabilities, and the inability to download it to any standard PC hardware.
Also on eWEEK, Clint Boulton followed up on his original coverage of Chrome OS last week with a story quoting IDC analyst Al Hilwa as saying that it will take 10 years before the operating system "begins to see serious enterprise adoption," and even then at only about five percent of the market.
Enterprises will be hesitant to turn over control of software updates entirely to Google, suggests Hilwa. "You'll still have occasionally a [cloud-based] update that comes in and it will screw up something," Hilwa is quoted as saying. "Enterprises don't want to see that kind of thing." Hilwa also says that netbook consumers might balk at the inability to download local (as opposed to web-based) apps. He then appears to suggest that while netbook makers will experiment with Chrome OS, the primary motivation might be to use it as a bargaining chip to gain better terms from Microsoft on Windows installs.
A fatal attraction to Linux?
This critique was mild, however, compared to one from ComputerWorld's Randall Kennedy, entitled: "Opinion: Why Chrome OS will fail — big time." Kennedy starts off by attacking what many observers believe to be one of Chrome OS' strengths: its Linux foundation. Noting that Chrome OS "inherits that platform's many warts, including spotty hardware compatibility," he goes on to state, "From power management to display support, Linux has long been a minefield of buggy code and half-baked device driver implementations."
Kennedy then opines that basing Chrome OS on a web interface is another "fatal flaw," and dismisses Google's admittedly alpha-stage UI by saying that it's "derivative." (Note from the peanut gallery: although we imagine something more imaginative will arrive in the final UI a year from now, perhaps along the lines of Moblin v2.0's social networking-oriented interface, what's wrong with keeping it simple and familiar?)
Kennedy concludes with a more defensible complaint: the platform appears to lack flexibility. In particular, he notes the fact that users are limited to web-based applications, that the platform does not support hard drives, and it will only be available on specific pre-approved netbook designs. (He blames the latter approach on the flakiness of Linux, of course.)
In short, Google Chrome OS "assumes that the world is ready to give up the traditional personal computing paradigm and live full time in the cloud,"writes Kennedy, echoing several other skeptical takes on Chrome OS. "In reality, most users prefer a hybrid existence, with some of their data and applications stored locally, and others — typically the freebies, like Gmail — hosted online."
There were some supporters of the early Chrome OS, however. Most of these seem to come from the open source community, although few such observers seemed willing to fully embrace the Google beast, perhaps fearing another Microsoft in the making.
Over at PCWorld, Robert Strohmeyer wrote one of the more reasonable pro-Chrome assessments, suggesting that Chrome OS critics are missing the point when they call it unimpressive or underwhelming. "For Chrome OS, 'unimpressive' is practically a compliment," he writes. "If you're not impressed with the operating system, that means it's doing what it's supposed to be doing, which is getting out of your way so you can get on with your life."
According to Strohmeyer, having an underwhelming — and undemanding — OS is precisely what most users want today. Strohmeyer harkens back to 1998 when, "I distinctly recall several colleagues scoffing at the simplicity of Google's home page at the time," he writes. "Where were the news articles? The stock tickers? The pictures of celebrities? Why would anyone want a home page consisting of nothing but a search engine? Yet Google's pundit-defying search tool quickly became the home page of choice for millions of users worldwide."
Strohmeyer goes on to argue that cloud services are clearly emerging as the computing model for the future, and that WiFi and 3G wireless access is becoming nearly ubiquitous — both trends that tie into Google's Chrome OS strategy. He also notes that there are fewer and fewer software categories that are not available in competent web-based apps. Even in video editing, he points to contenders like JayCut as offering a suitable toolset for most users.
Strohmeyer suggests that this may not be the last browser-based OS that we'll see. While he expects that traditional OSes will continue to dominate for many years, "this minimal-OS model could very well prove to be a whole new market for them, too, providing useful alternatives to the sluggish, bloated platforms that have dominated the computing world for far too long."
YouTube video of Google's Chrome OS presentation
Availability
The CNET story on Sergey Brin's comments about Chrome OS and Android potentially merging may be found here. The eWEEK story on why Microsoft should fear Chrome OS may be found here, and the follow-up on what's missing from Chrome OS should be here. eWEEK's story on IDC's Chrome OS take may be found here.
The ComputerWorld story on Chrome OS flaws may be found here, and the PCWorld story on its understated charms may be found here.
---
This article was originally published on LinuxDevices.com and has been donated to the open source community by QuinStreet Inc. Please visit LinuxToday.com for up-to-date news and articles about Linux and open source.