Nov 24, 2008 — by Eric Brown — from the LinuxDevices Archive — 33 views

Wyse Technology announced its first Linux thin clients based on Wyse Enhanced SUSE Linux Enterprise and its first mobile thin client to use Linux. It also announced improved virtualization add-ons, and a new release of ThinOS, its BSD-based thin client implementation.
In an interview with LinuxDevices, CMO Jeff McNaught — a 22 year veteran with Wyse — said thin client virtualization has revitalized thin client computing, helping thin clients leave behind their stigma of offering a "second class" user experience, and of requiring a massive initial data center investment. And, he said, it is helping Wyse to grow, despite the tough economic times. "We set a sales record in the first quarter, another in the second quarter, and have now had the best first month of any quarter that we've ever had," McNaught said.
McNaught said Wyse's new "R Class" hardware models offer plenty of power for the typical eight-year lifecycle of thin clients. For instance, with discrete graphics chips, they'll be ready to support Aero graphics when Windows 7 Server arrives, he said.
Wyse's new TCX virtualization software products, meanwhile, aim to make thin client computing more palatable for knowledge workers, rather than just task workers, McNaught explained. To please power users, the software now supports USB peripheral hotplug, dual monitors (with capable hardware), and full-duplex audio, for example to enable VoIP.
As for the new 6.3 version of Wyse Thin OS (WTOS), touted features include:
Microsoft Terminal Server 2008 connectivity
Support for RDP connections with 32 Bit Color & Font Smoothing
Enhanced 802.1x wireless support with more EAP types, including GTC
Government FIPS (140-2) encryption support
Support for latest CPA components (sound, USB, multi-display, and multimedia)
WTOS ships in about half of Wyse's thin clients, McNaught said, in part because it requires about half the resources needed by XP/Embedded or Wyse Enhanced SUSE Linux Enterprise.
New thin client hardware
All of Wyse's new models except the V10L Dual-DVI run the Novell-SUSE-based Wyse Enhanced SUSE Linux Enterprise distribution. Wyse first announced plans to modify SUSE for its thin clients back in August 2007, and then formally unveiled the distro this September. Wyse has offered a "Linux V6" distribution with its thin clients since 2004, with the last major upgrade coming in 2006.
In a September interview with LinuxDevices, Wyse CMO Jeff McNaught said that his company moved to SUSE because it is more "industry standard" than its own implementation, and better fulfills customer demands for a more open Linux implementation. McNaught also stated that by moving to a community- and commercially supported release like SUSE, Wyse would be able to provide "faster software innovation, bug fixes, patches, and time-to-market versus the competition."
Like an unnamed "leading thin-client Linux distribution" — presumably Neoware's NeoLinux — Wyse Enhanced SUSE Linux Enterprise enables the "simple install of open source software through standard packages," McNaught said. HP acquired NeoWare last year, instantly emerging as a major competitor to Wyse in Linux thin clients. See our original indepth coverage from September for more on Wyse Enhanced SUSE Linux Enterprise.
New "R Class" thin clients
Wyse's new thin clients target companies that want to extend their networks to small groups of workers who need more demanding processing and multimedia capabilities. The devices incorporate the Wyse Collaborative Processing Architecture, which "leverages client processing power to reduce server load while displaying rich multimedia applications and content," says Wyse. Offering "intelligent handling of multiple displays, USB peripherals and audio," the new systems target rich media, digital signage, healthcare, and desktop virtualization, says the company.
The top-of-the line Wyse R50LE and more affordable Wyse R50L desktop thin clients are also offered in new R90LE and R90L Windows XPe versions that are said to provide identical specs and sell for $50 to $100 more than the Linux versions, said McNaught in a new interview. The more powerful R50LE is said to target healthcare, financial trading and analysis, training, and rich media applications.
Both the R50LE and R50L are equipped with AMD Sempron 210U processors, with the R50LE model clocked to 1.5GHz and the R50L limited to 1GHz. McNaught describes the chip as a new AMD model "designed for embedded devices, like thin clients." He added, "I've been told that performance is most like the Sempron 2100."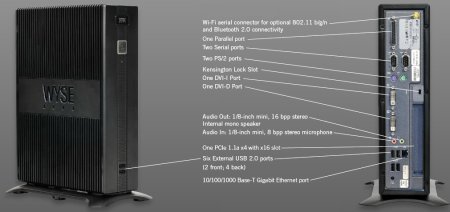 Wyse R Class LE-family I/O and expansion
(Click to enlarge)
Both systems have discrete AMD ATI 690E graphics processors. Other specs for the two models are similar as well, including 1GB RAM and 1GB flash, expandable to 2GB RAM and 4GB flash. I/O for both includes gigabit Ethernet, six USB 2.0 ports, 802.11 b/g/n WiFi, and optional Bluetooth 2.0. The R50LE adds a parallel port and x4 ("by four") PCIe expansion.
Wyse lists specs as follows for the R50L and R50LE:
Processor: 1.5GHz (LE) or 1GHz (L) AMD Sempron 210U
Memory:

Standard: 1G RAM / 1G Flash
Maximum: 2G RAM / 4G Flash

Graphics:

1 x DVI-I Port
1 x DVI-D Port
VESA monitor support with Display Data Control (DDC) for automatic setting of resolution and refresh rate
Resolution:

Single monitor: 2560X1600 32 bits 60Hz
Dual monitor (LE only): 2560X1600 32 bits 60Hz
720P SD and HD video (LE only)

I/O:

10/100/1000 base-T gigabit Ethernet
802.11 b/g/n and Bluetooth 2.0 (optional)
Two PS/2 ports
2 x serial ports
6 x USB 2.0 ports (2 x front; 4 x back)
4 x internal USB pin headers (LE only)
1 x mic In
1 x line out
1 x parallel port (LE only)

Expansion: One PCIe 2.0 x4, with an x16-style slot supporting half-length full-height cards. Installation of hard drive precludes use of slot. (LE only)
Power: Worldwide auto-sensing 100-240 VAC, 50/60 Hz 65W, 19V DC
Power consumption: Average 14.1 W
Dimensions: 12.1 x 8.8 x 3.2 inches (307 x 225 x 82mm)
Mountings: Vertical or Horizontal (optional), VESA mount.
Temperature Range: Horizontal position: 50 to 95 F (10 to 35 C)
Vertical position: 50 to 104 F (10 to 40 C)
Wyse X50L and V10L Dual-DVI
The new X50L appears to be Wyse's first mobile thin client to support Linux, and it, too, offers the new SUSE version. Like the X90L and X90LE laptops announced earlier this year, both of which run Windows XP Embedded, the X50L is equipped with a Via C7-M, clocked at 1.2GHz. It ships with 1GB of RAM and 1GB of flash, with the latter expandable to 2GB.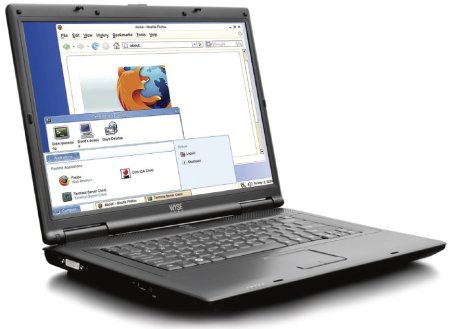 Wyse X50L
(Click to enlarge)
Like the Windows X90 models, the X50L offers a 15.4-inch WXGA TFT LCD display, gigabit Ethernet, four USB ports, and WiFi. Other features include an SD slot, a DVI-D port, a VGA port, audio ports, and a "PCIe-based" Express 34/54 slot. The laptop case appears to be identical, measuring 14.1 x 10.2 x 1.5 inches. No prices were given for any of the new Wyse models, but the Windows-based X90L and X90LE models sold for $730 and $800 respectively when they were first announced.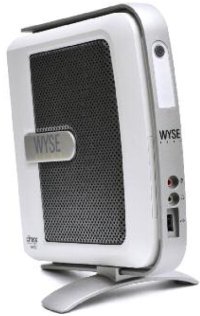 Wyse V10L Dual-DVI
(Click to enlarge)
The V10L Dual-DVI, meanwhile, is the latest in Wyse's simple, compact V-Series thin clients. The new model is designed for dual-display applications, and is optimized for Citrix XenApp, Microsoft RDP (Terminal Services), and VMware VDI environments, says Wyse
The V10L appears to run the old Linux V6 distribution on a Via C7-Eden clocked to 800Mhz, and ships with 256MB RAM and 128MB flash, says the company. The device is claimed to offer double the graphics capability of previous models, plus dual DVI-I connectors for simultaneously connecting to two digital displays or two VGA displays. Other features include Fast Ethernet, three USB 2.0 ports, and a serial port. The device is said to measure 7.9 x 1.8 x 7.1 inches.
Stated Phil Underwood, Senior VP of Worldwide Operations at Wyse, "We realized early on that the client virtualization market will only grow to its potential if knowledge workers requirements are met without requiring larger, more expensive datacenters."
Availability
The Wyse X50L mobile thin client appears to be shipping now at an undisclosed price. No pricing or availability information was provided for the other new models.
---

This article was originally published on LinuxDevices.com and has been donated to the open source community by QuinStreet Inc. Please visit LinuxToday.com for up-to-date news and articles about Linux and open source.