Apr 7, 2011 — by LinuxDevices Staff — from the LinuxDevices Archive — views
Motorola's Android-based Xoom tablet and Atrix smartphone are experiencing slow sales, according to analysts. Differentiating in a crowded tablet market, advises one analyst, will be the key to the success of other Android tablets.
The Xoom, Motorola Mobility's Android answer to the Apple iPad, isn't being snatched off of shelves at the rate expected by industry observers. Neither is the Android-based Atrix 4G, Motorola's smartphone with complementary laptop-slash-dock.

In an April 5 research note, Pacific Crest analyst James Faucette reported that channel checks found sales of the Android 3.0 ("Honeycomb") based Xoom tablet (pictured) and Android 2.2-based, dual-core Atrix phone to be "disappointing."
The Atrix, for example, is said to be losing out to less expensive Android smartphones and the price-slashed iPhone 3G — now only $49. By comparison, the Atrix is priced at $200 with a two-year contract with AT&T. The phone can be paired with an optional dock featuring an 11.6-inch display, full keyboard, touchpad, USB ports, and bigger speakers.
According to Forbes, Faucette lowered his 2011 revenue forecast for Motorola from $13.7 billion to $12.2 billion, and warned that there could be further downside risk to 2011 and 2012 estimates unless Motorola can "quickly adjust and refresh its product portfolio."
Meanwhile, according to AppleInsider yesterday, Xoom sales are now estimated by Deutsche Bank to have reached just 100,000 units, a figure far lower than initial projections of failure from Morgan Stanley and RBC.
Evidence for slow Xoom sales began to appear by mid March when Global Equities analyst Trip Chowdry and Jefferies and Co. analyst Peter Misek both released reports saying that Xoom sales had been weak. Chowdry suggested the biggest problem was not only the Xoom's high price and lack of optimized apps — both which had been expected to be the tablet's biggest hurdles — but Honeycomb itself, which he described as being buggy, "extremely complicated and confusing."
Later, Google's Android chief Andy Rubin seemed to suggest as much when he told Bloomberg Businessweek late last month that Google would be indefinitely delaying the open source release of Android 3.0 code. Speaking of the Xoom, Rubin was quoted as saying, "To make our schedule to ship the tablet, we made some design tradeoffs."
The differentiation challenge
Motorola Mobility will need to "substantially differentiate themselves from the rest of the pack" with its next set of products, Faucette noted in this week's note. Otherwise, "shareholders may be looking at another meaningful step down."
Smartphones and tablets indeed run in crowded packs these days — at the Consumer Electronics Show in January, nearly 100 tablets were on display — making differentiation no easy feat. HTC, for example, is trying to make its Flyer tablet stand out by equipping it with a stylus and the yet-to-arrive Android 2.4.
Most of the other major Android tablets that have been announced to date appear to be almost identical to the Xoom, right down to the 10.1-inch displays, dual-core Nvidia Tegra 2 processor, and Android 3.0 ("Honeycomb") software. Yet, the Xoom would seem to have differentiated itself by at least being the first of the Honeycomb crew to reach market.
The Xoom's purported flaws seem to have eluded most of the tablet's early — and mostly favorable — reviews. In eWEEK Labs testing, for example, the Xoom came out on top, with reviewer Clint Boulton describing himself as "smitten" after two days of testing.
"As far as pure web-surfing experiences go, the Motorola Xoom Android 3.0 'Honeycomb' tablet is an absolute joy to use," wrote Boulton. "It satisfies a craving users have had to enjoy the power of their laptops with the portability of their smartphones."
Reacting to Apple's March 2 introduction of the Apple iPad 2, analyst Ken Hyers of Technology Business Research, twice mentioned the Xoom, telling eWEEK that the iPad 2 — the market leader by a long shot — failed to match the Xoom's screen resolution and cameras. And from an ecosystem perspective, he added, "For hardware developers, it's straightforward to build whatever device they want using Android. Look at the Xoom."
Again responding to the iPad 2, analyst Jack Gold, with J. Gold Associates, also pointed to the Motorola tablet. "I don't see [the iPad 2] as heads above the competition — especially the Xoom — right now," Gold wrote in a March 2 research note.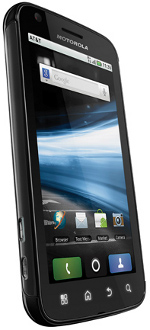 Reviews of the Atrix 4G were also enthusiastic, including a review by eWEEK. In the Wall Street Journal, Walter S. Mossberg called the Atrix "one of the nicest smartphones I've tested," while the New York Times' David Pogue called it a "beautiful, loaded, screamingly fast Android phone."
However, criticisms in the reviews may explain a bit of the phone's modest sales. Pogue found watching Flash video to be "jerky" on the Atrix laptop, and Mossberg complained that the apps weren't as polished or powerful as typical PC apps, and that there were clumsy aspects to using the phone clicked in to the dock. Pogue concluded that Motorola had a "really, really brilliant idea," but looked forward to its next version of the Atrix setup, which presumably would be over its present hiccups.
In the case of the AT&T-sold Atrix anyway, the real culprit may be AT&T's expanding device portfolio, which has been beefed up over recent quarters in anticipation of the carrier's loss of its exclusive rights to the Apple iPhone. In addition to the iPhone 3GS, Faucette added in his research note, the Android-based HTC Inspire was keeping Atrix sales "well below forecast."
Motorola will announce the results of the first quarter of fiscal 2011 April 28.
Michelle Maisto is a writer for our sister publication eWEEK.
---
This article was originally published on LinuxDevices.com and has been donated to the open source community by QuinStreet Inc. Please visit LinuxToday.com for up-to-date news and articles about Linux and open source.