Jun 22, 2009 — by Eric Brown — from the LinuxDevices Archive — 24 views

Synology America is shipping a four-bay network-attached storage (NAS) device for small to medium-sized (SMB) businesses, supporting up to 8TB of storage capacity. The DS409 is equipped with Marvell's new 1.2GHz 88F6281 "Kirkwood" system-on-chip with 256MB RAM, and draws under 43 Watts, the company claims.
The DS409 supports hard drives of up to 2TB capacity in each of its four bays, enabling up to 8TB of storage capacity, with RAID 0 or JBOD configurations, says Synology. Other features include support for both 3.5-inch and 2.5-inch HDDs, a gigabit LAN port, two USB 2.0 ports, and an eSATA port. The NAS is billed as a more affordable version of its existing four-bay DS409+ NAS device, selling for about $400 instead of $600 for the "+" version.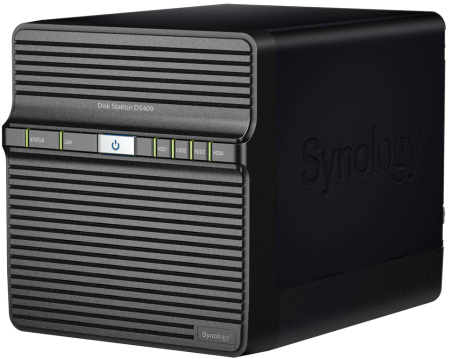 Synology DS409
(Click to enlarge)
The DS409 switches from the earlier version's PowerPC-based Freescale MPC8533 system-on-chip (SoC), which was clocked at 1GHz, to a 1.2GHz 88F6281 SoC from Marvell's new "Kirkwood" family of processors. Earlier
Synology models
, all of which are based on embedded Linux, used Freescale MPC8241 PowerQUICC III SoCs, or for the high-end models, the Marvell 5281 "Orion" SoCs based on the Feroceon architecture.
The Kirkwood 88F6000 family is built around a "Sheeva" core that combines elements of Marvell's earlier ARM-derived Feroceon and XScale architectures. The 88F6281 model is clockable to 2GHz, while consuming under two Watts, Marvell claims. (See farther below for more on the Kirkwood SoCs.)


Synology DS409 (front and back, detail)
(Click to enlarge)
Synology laboratory test show 34 MB/sec upload speeds and 47 MB/sec download speeds for the DS-409 when configured in RAID 5 and connected to a Windows-based PC, says the company. Thanks in large part to the low-power 88F6281 SoC, power consumption for the DS409 is only about 42.9 Watts, claims Synology.
Further power savings are said to be found using the DS409's hard disk drive (HDD) hibernation feature and ability to schedule the device to be turned on and off. In addition, the system automatically turns the fan off when 2.5-inch drives are deployed, only spinning up as needed, resulting in reduced power consumption and vibration, says the company.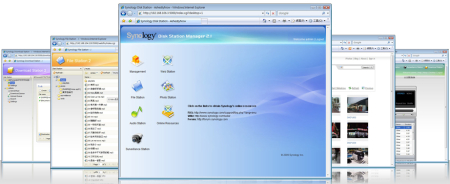 Disk Station Manager 2.1 screens
(Click to enlarge)
The DS-409 runs version 2.1 of the company's AJAX-enhanced, browser-based
Disk Station Manager
(DSM) software, which is said to provide cross platform data sharing and Windows ADS integration. Other touted features include an FTP server, business mail server, a storage management system, and a "corporate surveillance" function.
Backup alternatives are said to include encrypted network backup, local backup, desktop backup, and RAID 1/5/6 options. The DS409 supports UPnP media sharing, as well as Windows ADS domain integration, among other features (see spec sheet below).
A Disk Station Manager 2.2 release is scheduled for beta release in July, and a final version is due in September. The new release is said to add security and backup features, including a built-in firewall with customizable security rules. Specifications listed for the DS-409 include:
Processor — Marvell 88F6281 @ 1.2GHz ([email protected])
Memory — 256MB
Storage — supports up to 4 x internal SATA II HDDs (not included) at up to 2TB each (3.5-inch or 2.5-inch) for 8TB total
RAID support — Basic, JBOD, RAID 0, RAID 1, RAID 5, RAID 5+Spare, RAID 6
Storage expansion — 1 x eSATA port (plus USB port storage expansion)
USB — 2 x USB 2.0 ports
Networking — 1 x gigabit Ethernet port
IP camera support — up to 5 x networked cameras
Fan — 2 x fans (3.1 x 3.1 inches; 80 x 80mm)
Networking protocols — CIFS, AFP (3.1), FTP, NFS, Telnet/SSH
Applications:

Surveillance Station 2
Photo Station 3
File Station 2
Audio Station
Web Station
PHP/MySQL
Download Station 2
iTunes Server

Backup — Network, local, desktop, or third-party options
Security:

"FTP over SSL (explicit) or TLS (explicit)"
FTP Auto-block
Encrypted network backup
Encrypted rsync
HTTPS connection

Other features:

UPnP
Windows ADS domain integration
AJAX-based management UI
BitTorrent port range setup and DHT support
Email alerts and notifications
Corporate surveillance support

Power supply — 100V to 240V AC input voltage; 50Hz to 60Hz frequency, single phase
Power consumption — Under 42.9 Watts in normal conditions; 16 W in hibernation mode
Operating temperature — 40 to 95 deg. F (5 to 35 deg. C)
Dimensions — 9.1 x 6.6 x 7.2 inches (230 x 168 x 184mm)
Weight — 2.23kg
Operating system — embedded Linux; supports Linux, Windows 2000 onward, or Mac OS X 10.3 onward desktop clients
Here comes Kirkwood
The Marvell "Kirkwood" 88F6281 SoC used in the DS409 has most notably appeared in Marvell's own SheevaPlug Plug Computer design, which is being used in the PogoPlug device, among others. The SoC is based on the new 88F6000 family, which is built on a Sheeva core that is in turn based on Marvell's Feroceon and XScale architectures. Like these earlier architectures, the Sheeva implements ARM Ltd.'s ARMv5 architecture, similar to ARM Ltd.'s own "ARM9" cores.
The Marvell 88F6000 SoCs are offered in three progressively more powerful versions: the 88F6180, 88F6192, and the 88F6281 model used in the Synology DS409. Each of the SoCs comes with I/O including two SATA ports, a USB port, a PCI Express (PCIe) port, and an SDIO port.
The Marvell 88F6000 SoCs can act as either main processors or as co-processors, says Marvell. Although primarily intended for home gateways, media servers, and other home networking appliances, the SoC can also be incorporated into PCs, turning them into NAS appliances, says Marvell. This configuration enables PCs operating in stand-by mode to download large files, or back themselves up to other network storage devices while minimizing power consumption, says the company.
For several years, Orion SoCs based on Feroceon have been the leading processor choice for Linux-based NAS devices. However, a number of NAS device vendors are likely to move to the Kirkwood platform while others are already switching to the Intel Atom. In March, Debian hacker Martin Michlmayr announced he was working on a port of Debian 5.0 to two systems running the Kirkwood 88F6281: Qnap Systems' TS-219 Pro NAS device, and Marvell's SheevaPlug.
Stated Doug Self, product specialists at Synology America, "We are committed to delivering products that minimize environmental impact and our DS409 follows that commitment."
Availability
The DS409 is available now in the U.S. for about $440, depending on the retailer, says Synology. The DS409 ships with Disk Station Manager (DSM) 2.1, but can be easily upgraded to DSM 2.2, which is scheduled for beta release in July, and a final version in September, says the company. More information may be found here.
---

This article was originally published on LinuxDevices.com and has been donated to the open source community by QuinStreet Inc. Please visit LinuxToday.com for up-to-date news and articles about Linux and open source.