Mar 16, 2009 — by Eric Brown — from the LinuxDevices Archive — 157 views

Debian hacker Martin Michlmayr plans to port Debian 5.0 to a new Qnap Systems TS-219 Pro (pictured) network-attached storage (NAS) device, as well as to Marvell's SheevaPlug Plug Computer reference design. Both of these Linux devices feature Marvell's new Kirkwood 88F6281 SoC clocked to 1.2GHz.
(Click for larger view of Qnap TS-219 — source: Martin Michlmayr)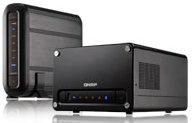 Official portrait: TS-119 Pro
(left) and TS-219 Pro
Qnap pre-announced the single-bay TS-119 Pro and two-bay TS-219 Pro at CeBIT earlier this month, but offered limited information, and only one photograph (pictured at right). Now, Michlmayr has hacked a serial port onto a pre-release version of the TS-219 Pro, and has shared photographs that he has posted on his blog (see at top and below).
The former Debian project leader also offered some photographs and insights on Marvell Semiconductor's new SheevaPlug Plug Computer $100 reference design, which incorporates the same ARM/Feroceon/XScale-based Kirkwood system-on-chip (SoC). He concludes that it is "a killer replacement for the NSLU2." (See farther below.)
The new Qnap devices both integrate a 1.2GHz Kirkwood SoC, and are intended as upgrades to the popular TS-109 and TS-209, respectively. These earlier devices were based on Marvell Orion 5182 processors clocked at 500MHz.
Earlier this month, Qnap Systems announced Debian 5.0 (Lenny) support for these older storage devices, as well as the four-bay, SMB-oriented TS-409 Pro Turbo and TS-409U. All of these devices come pre-installed with Qnap's own Linux implementation, but can be easily switched to Debian, thanks to Michlmayr-supplied patches merged into Lenny's installer.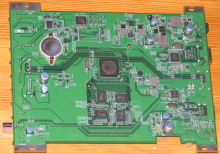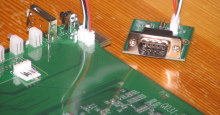 Qnap TS-219 Pro system board (left) and adding a serial console (right) (Source: Martin Michlmayr)
(Click on either to enlarge)
According to Qnap's brief announcement, the TS-119 Pro and TS-219 Pro both offer a new "shiny black diamond" design, along with 512MB DDRII RAM, up from 128-256MB on the earlier models. Additional features include iSCSI target service, automatic policy-based IP blocking, instant SMS alert, schedule power on/off, import SSL certificates, and support for dual IP cameras for network surveillance, says Qnap. Other features are said to include a UPnP/DLNA media server, high speed BT/FTP/HTTP download, and software expansion via Qnap's new QPKG platform.
Aside from these differences, and a doubling of flash capacity to 16MB, the devices are pretty much the same as their older counterparts, says Michlmayr. After giving the device a test run, he was impressed, saying that preliminary performance figures show "a very significant performance boost" compared to the TS-209 Pro. Writing on his blog, he adds, "My only complaint is that QNAP didn't export the second Ethernet port the Kirkwood chip offers, but I suspect this is because they wanted to stay as close to the original design of the TS-209 as possible."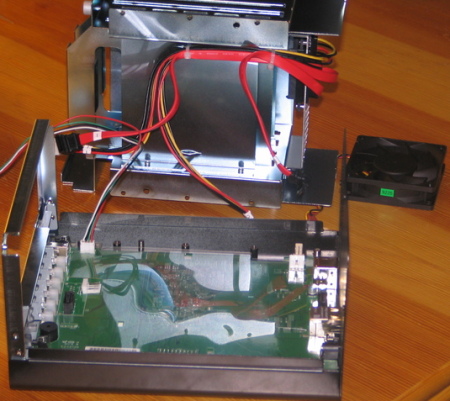 Inside the TS-219 Pro (Source: Martin Michlmayr)
(Click to enlarge)
According to Michlmayr, the process of porting to Debian should be fairly straightforward now that he has already ported Debian to the TS-209. The process will involve getting the mainline kernel to run on the device, as well as adding a kernel for Kirkwood to the archive, which will also help for future ports of Debian to other Kirkwood-based devices.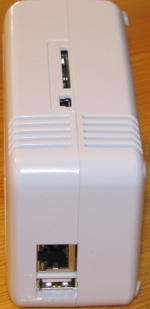 SheevaPlug Plug Computer
(Source: Martin Michlmayr)
(Click to enlarge)
SheevaPlug unleashed
Michlmayr also plans to port Debian to Marvell's tiny embedded SheevaPlug computers, which were announced last week. The devices are equipped with Kirkwood SoCs that offer a Sheeva core that combines elements of Marvell's earlier Feroceon and XScale architectures. Both of these architecture implement ARM Ltd.'s ARMv5 architecture, similar to ARM Ltd.'s own "ARM9" cores.
The SheevaPlug Plug Computer (pictured) is further equipped with 512MB of DRAM and 512MB of flash. The tiny embedded PC also includes gigabit Ethernet and USB 2.0 ports. Plugging directly into a standard wall socket, the Plug Computer draws less than five watts under normal operation, compared to 25-100 watts for a PC being used as a home server, claims Marvell. The company did not release precise dimensions for the platform, but one early product based on the design is listed as measuring 4.0 x 2.5 x 2.0 inches.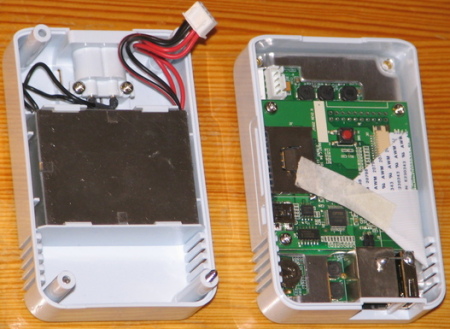 Inside the SheevaPlug
(Click to enlarge)
Compared to the much-hacked Linksys NSLU2, the SheevaPlug "is being offered at the same price range but offers considerably more," writes Michlmayr. The SheevaPlug is much smaller and offers much faster speed than the NSLU2 (which today lives up to its nickname, the "SLUG,"). The SheevaPlug uses the 1.2GHz Kirkwood compared to the NSLU2's Intel IXP4xx clocked at 266MHz. The SheevaPlug also offers faster networking, and adds a mini-USB port with serial console and JTAG, says Michlmayr.
Three Debian installation variants are planned for the SheevaPlug, says Michlmayr. He plans to port Debian to an external USB drive or stick, to an SD card, and the most challenging port, to the device's flash memory.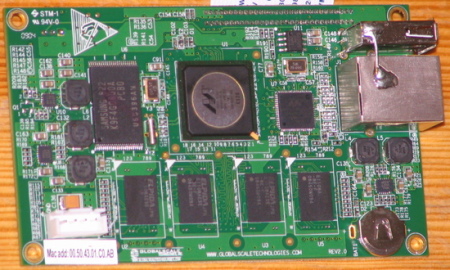 SheevaPlug system board
(Click to enlarge)
Availability
Michlmayr's blog posting on the Qnap TS-219 Pro, with links to additional photos, may be found here, and the blog on the SheevaPlug, with additional photos, may be found here.
---

This article was originally published on LinuxDevices.com and has been donated to the open source community by QuinStreet Inc. Please visit LinuxToday.com for up-to-date news and articles about Linux and open source.