Jul 18, 2006 — by LinuxDevices Staff — from the LinuxDevices Archive — views
[Updated 2:30 P.M.] — AMD will close its Geode embedded processor design center in Longmont, Colo., according to Forbes and other sources. About 75 jobs will be cut, while another 75 will move to Ft. Collins, Colo., where the company plans to set up an office close to Hewlett Packard, sources say.
AMD acquired the Longmont facility three years ago, when it purchased its Geode line of x86-compatible embedded chips from National Semiconductor. Since then, the Geode team has produced a new high-end, low-power Geode LX embedded chip, along with related development boards and reference designs.
The Longmont plant closure represents AMD's second move away from the embedded market this summer. The company in mid-June sold its Alchemy line of MIPS-based embedded processors to Raza Microelectronics. Compared to Alchemy processors, Geode chips are slightly more powerful, and cost slightly more.
Notwithstanding, AMD remains "committed to the embedded market," AMD spokesperson Lindsey Tishgart told LinuxDevices. "AMD will continue to support the large number of customers currently designing with AMD Geode GX, AMD Geode LX and AMD Geode NX processors," she said, adding, "New designs with AMD Geode GX, AMD Geode LX and AMD64 Embedded products are being actively promoted."
Another AMD spokesperson, Jennifer Rogenalt, reportedly admitted to Forbes that several planned Geode designs were scuttled, however.
Not a product line decision
Erik Salo, director of marketing for AMD's embedded processor division, told LinuxDevices that the decision to close the Longmont facility was "a design focus decision, rather than a decision about product lines."
Asked if AMD might sell off its Geode business, Salo declined to comment, noting simply that AMD is very committed to x86, and adding, "We are very focused on getting current customers into product, and also getting new customers."
Salo underscores AMD's commitment to existing and future embedded customers by noting that Longmont workers in "customer-facing" roles such as sales and support will be offered jobs at the new Ft. Collins facility. This group includes engineers working on development boards and reference designs, he said. Additionally, AMD hopes to retain enough chip design staff "to meet our objectives going forward," Salo said.
Salo declined to discuss AMD's specific objectives for its Geode line, however, because the company is currently working with customers to finalize its future product roadmap. He confirmed that "more than a handful" of potential customers are evaluating Geode processors for UMPCs (ultra-mobile PCs) and other handheld, mobile designs.
Salo did not rule out the possibility that AMD might create additional low-powered x86 designs in the future. However, he hinted high-powered embedded products may be an increasing focus for the company. "We have more and more embedded customers interested in processors based on the Opteron 64-bit instruction set," he said. "There is a lot of opportunity there."
Geode's embedded popularity
Geode chips have long ranked among the most popular x86-compatible embedded processors. The low-power chips have been designed into many thousands of products, ranging from network and server appliances to set-top boxes, thin clients, industrial controllers, PLCs, web tablets, human-machine interfaces, vending machines, storage devices, third-world PCs, handheld organizers, battery-powered, self-launching gliders, machine vision systems, and on and on and on.
Additionally, single-board computers based on Geode processors are available in myriad form-factors, from legion vendors. Geode has proven especially popular in boards based on the new EPIC SBC (single-board computer) form-factor, as well as on PC/104 CPU modules.
Despite the long-term success of the Geode line, AMD's current price war with cash-rich Intel may be forcing it to consolidate around high-margin markets, such as single- and multi-core 32/64-bit processors for desktops and servers. Both AMD and Intel have moved away from the embedded processor market this summer.
Half of all computers sold at retail in the U.S. use AMD processors, along with a quarter of all computers sold worldwide, according to AMD spokesperson Drew Prairie, as quoted by the LongmontFYI. However, AMD reported paying $23M of loan interest in its most recently reported quarter, down $1M year-over-year.
AMD's Geode Line
Within the embedded x86-compatible chip market, the bulk of AMD's Geode line falls on the low-end, low-powered side. Geode chips are more powerful than x86-based SoCs such as the ZFx86 and RDC's R3210, but are lower-powered than Via's C3 and C7 chips, and much lower-powered than other embedded x86 offerings from Intel and AMD.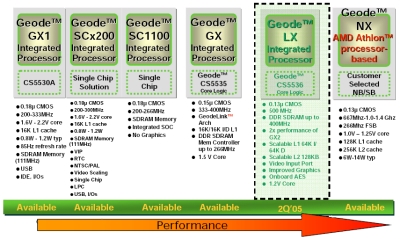 AMD's Geode line, as of May 2005
(Click to enlarge)
Within the last several years, AMD has increasingly offered embedded versions of its standard laptop and server chips, a strategy also
followed by Via
and
Intel
. For example, AMD rolled its Athlon mobile processor into a
Geode NX
embedded processor offering in May of 2004. And, in March of last year, it
added Opteron server chips
to its embedded lifecycle assurance program, which guarantees five years of availability from volume ship date, along with a year's notice prior to last run.
---

This article was originally published on LinuxDevices.com and has been donated to the open source community by QuinStreet Inc. Please visit LinuxToday.com for up-to-date news and articles about Linux and open source.