Dec 21, 2010 — by Eric Brown — from the LinuxDevices Archive — 4 views
NEC announced a few details about Android-based products it plans to show at CES 2011 on Jan. 5-9, including a notebook as well as single and dual-screen "Cloud Communicator Tablet." Meanwhile, Staples has already pulled ViewSonic's new 10.1-inch, Android-based G-Tablet due to problems the manufacturer blames on Android, says a report.
NEC will demonstrate dual- and single-screen versions of its Cloud Communicator Tablet at CES, as well as an Android-powered notebook, and a new "Andronavi" Android marketplace website.
NEC has yet to post photos of the devices, but will show them at the Pepcom Digital Experience in Las Vegas on Jan. 5, as well as throughout CES 2011 from Jan, 6-9, says the company. The event will represent the first unveiling of the dual-screen version of its seven-inch, single-screen LifeTouch Cloud Communicator Tablet (pictured below), which went on sale recently in Japan.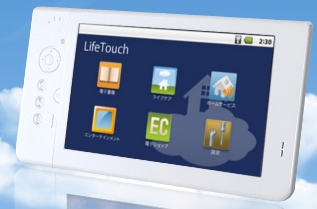 NEC Cloud Communicator Tablet (single screen version)
A version of the single-screen tablet, which will first be seen on U.S. soil at CES, was initially
unveiled back in June
as the "LifeTouch." The LifeTouch name was not mentioned in today's announcement, however.
The single-screen Cloud Communicator is based on an unnamed ARM Cortex-A8-based processor, and includes 256MB of RAM, NEC said in November when it announced the Japanese availability for the tablet. At the time, the Cloud Communicator was said to run Android 2.1, and offer a resistive, seven-inch touchscreen with 800 x 480 resolution.
Other LifeTouch features were said to include an SDHC slot, 802.11b/g, Bluetooth 2.1, and GPS, as well as USB 2.0 host and device ports. A three-megapixel camera is also supplied, said the company at the time. Whereas the tablet was pitched as a consumer device back in June, the marketing focus seemed to shift more to the business world in the November announcement.
The NEC Dual Screen Cloud Communicator Tablet, meanwhile, will feature Wi-Fi, Blueooth, and dual seven-inch touchscreens, the company now says. A stylus pen is said to be provided, suggesting that the device shares the single-screen version's resistive technology.
NEC says that the tablet will offer multitasking capabilities that enable users to run different programs on each LCD screen, claimed to be "an industry first."
NEC will also show off a new Android powered "NEC Personal Products' Mobile Notebook," which we imagine is more like a netbook. It will be interesting to see if this uses Android as the sole operating system, or as is typical in several of the handful of Android netbooks now available, employs it as a fast-boot companion to Windows.
In addition, NEC will show its new "Biglobes" Andronavi Android application marketplace. Andronavi features Japanese content including Manga, as well as "Japan related photography, etc. ," says the company.
Finally, NEC will demonstrate a "Home Gateway Solution" designed for cloud access from home. The gateway, which we imagine runs embedded Linux, offers ADSL2+, 802.11n, USB2.0, and DECT technologies, as well as IGMPv2 proxy and snooping, plus VoIP support.
Additional touted features are said to include media control and serving, as well as printer and file-sharing. The gateway also supports the TR069 and Java-based OSGi frameworks to "enable services and configurations to be carried out remotely," says the company.
Meanwhile, a number of companies, including Motorola, are expected to show tablets at CES that run the upcoming "Honeycomb" release of Android, said to be optimized for tablets.
ViewSonic retools G-Tablet after Staples pulls product
This weekend, Staples announced it was halting sales of ViewSonic's 10.1-inch, Android 2.2 based G-Tablet due to a "manufacturing defect." Now, however, ViewSonic is blaming the tablet's high return rate not on hardware, but on an Android-related "user experience issue" that it promises to fix, according to an Engadget story yesterday.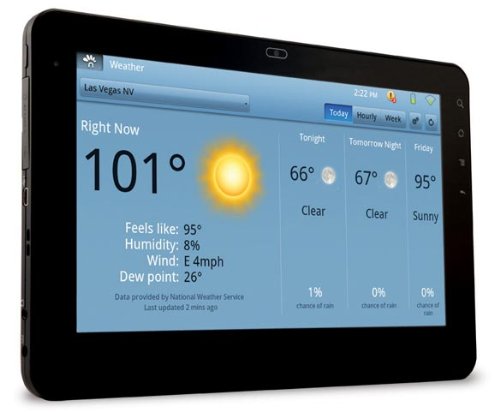 ViewSonic G-Tablet
The G-Tablet recently went on sale at Staples, Amazon.com and elsewhere, starting at $430, along with ViewSonic's seven-inch ViewPad 7 Android tablet. The G-Tablet looks good on paper, offering a dual-core 1Hz Nvidia Tegra 2 processor that helped it
blow away the Samsung Galaxy Tab
and other Android devices in benchmarks published by
AndroidPolice
.
Apparently, something went wrong on the way to market. ViewSonic released a press release yesterday blaming the user experience issues on the preloaded Tap and Tap Android layers. Other issues were said to be caused by the lack of Flash, which Adobe has yet to certify for the Tegra 2.
G-Tablet owners will receive a software upgrade by Dec. 24 that aims to solve the Tap problems, and Flash certification is expected by the end of January, according to the ViewSonic release. In the meantime, users can download and install a beta version of the Tegra-supporting Flash from ViewSonic's support page, says the company.
After discussing the matter further with ViewSonic, Engadget's Joanna Stern raps the company on its collective knuckles. "It sort of sounds like Viewsonic is trying to blame Google, Adobe, and NVIDIA for its own half-finished and laggy software," writes Stern. "Either way, we've now seen more than enough terrible 'user experience' issues on the early crop of Android tablets — Honeycomb, where are you?"
Meanwhile, Amazon.com continues to sell the G-Tablet, now available for $419.
Further information
The products mentioned above will be exhibited at Pepcom Digital Experience on Jan. 5 and CES 2011 from Jan. 6-9 in Las Vegas (South Hall 4, booth 36268) says NEC. The company's Andronavi site is available now.
---
This article was originally published on LinuxDevices.com and has been donated to the open source community by QuinStreet Inc. Please visit LinuxToday.com for up-to-date news and articles about Linux and open source.