Apr 2, 2010 — by Eric Brown — from the LinuxDevices Archive — views
Faced with disappointing sales, HP and Dell are scaling back investments in 10-inch netbooks, with HP possibly quitting the format entirely, according to DigiTimes. Other motivators were said to include expectations for re-invigorated sales of larger, more expensive notebooks fueled by a recovering economy.
Quoting unnamed sources from netbook manufacturers, DigiTimes reported yesterday that HP and Dell — the world's number one and number three PC manufacturers — are scaling back production due to disappointing sales of new netbooks powered by Intel's new Atom N450 "Pineview" processor. (The story was posted on April 1, but the pretty-much-all-business DigiTimes has never been known for its practical jokes.)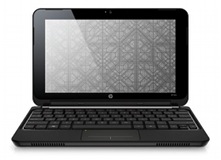 Despite the improved battery life of the N450 over the earlier N270, sales of the new netbooks have been lackluster, according to the story. HP is even considering dumping its 10-inch netbooks (pictured) altogether in favor of pushing 11.6-inch systems powered by AMD processors, says DigiTimes.
In January, HP announced two 10-inch "Mini" netbooks incorporating the Atom N450: the almost identical Mini 210 and the Mini 2102. (The Mini 210 is pictured above, at right) In December, Dell introduced an N450 version of its Inspiron Mini 10 10-inch netbook, following up in February with an a "Performance Plus" version with a Broadcom "Crystal HD" media accelerator (pictured below). Unlike many Atom-based netbook models these days, all of the above run Linux as well as Windows 7.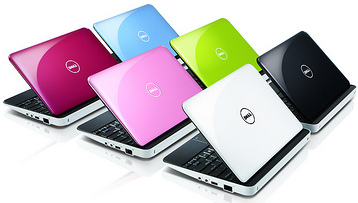 Dell Inspiron Mini 10 in all its colors
The story goes on to state that other top-tier netbook makers will continue investing in netbooks, including number two PC manufacturer Acer, as well as Asus and Samsung. However, second-tier netbook vendors and white-box makers are said to be quitting the market, after top-tier OEMs cut prices in the second half of 2009 to boost holiday sales. It is unclear, however, whether
DigiTimes
is referring to all netbooks, including 11-inch models, or only the 10-inch models.
Will improving economy kill netbooks?
As an eWEEK story on the DigiTimes report by Jeffrey Burt notes, netbooks almost single-handedly kept the PC industry afloat during the recession years of 2008 and 2009. The story cites an IDC report from December stating that netbooks were a big reason the PC market grew 2.4 percent growth in the third quarter of 2009.
Sales of netbooks grew 37 percent over the second quarter, says the story. eWEEK's Burt also cites a Gartner study in January saying PC shipments in the fourth quarter of 2009 grew 22.1 percent over the same period in 2008.
However, PC manufacturers never really liked the netbook market, especially the low-margin business available with the cheaper models. For many consumers, meanwhile, the choice of a netbook has a lot more to do with price than portability.
With the economy picking up, at least according to today's job numbers, and also with the arrival of Windows 7, buyers are expected to increase their PC shopping budgets to embrace pricier systems, says eWEEK. As a result, sales of cheaper netbooks may be starting to fade.
The 10-inch netbook was once considered to be on the high-end of the market, but for many manufacturers it is now the low-end, at least for Atom-based netbooks aimed at the U.S. By all accounts, netbook sales continue apace in the developing world where Linux-ready, ARM-based models with smaller screens are starting to make an impact.
Good news or bad news for smartbooks?
If netbook sales tank, DigiTimes suggests that some vendors may rethink their smartbook launches, as well. However, eWEEK's Burt suggests the opposite, noting that both HP and Dell have demonstrated slate products, sometimes also given the "smartbook" moniker. He argues that the companies may decide to focus their low-end sales on these keyboard-free devices instead of netbooks.
Indeed, HP is working on its Slate tablet, and Dell is prepping its Streak, although with its five-inch display, the latter is really more of a MID than a tablet. Meanwhile, Apple's iPad will be available in stores tomorrow. Its widely predicted success could affect Linux-, Android-, and Windows-based tablet launches either way: either validating the segment for other vendors or limiting sales of any tablet without the Apple brand.
Availability
The DigiTimes report on the netbook plans of HP and Dell may be found here. The eWEEK story on the report should be here.
---
This article was originally published on LinuxDevices.com and has been donated to the open source community by QuinStreet Inc. Please visit LinuxToday.com for up-to-date news and articles about Linux and open source.