Apr 12, 2010 — by Eric Brown — from the LinuxDevices Archive — 2 views
Google appears to be prepping an Android-based tablet device, says The New York Times. Meanwhile, a study by IMS Research predicts that at year's end, Apple's iPad will own 51 percent of the $3.6 billion tablet PC market, with Android taking 24 percent.
Yesterday's story in The New York Times was based on an account from an undisclosed source. The source revealed to the publication that Google CEO Eric Schmidt told friends at a recent party in Los Angeles about a new Google tablet device that would exclusively run Android. The source reportedly told the Times that Google had been experimenting in "stealth mode" with a few publishers to explore the delivery of books, magazines, and other content to the tablet.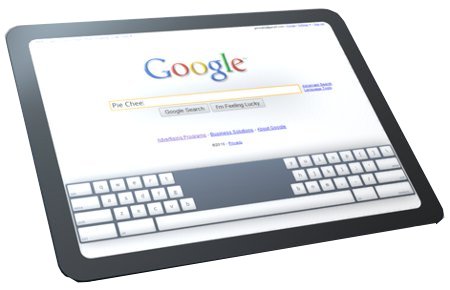 Google's prototype for a Chrome OS tablet
Despite a fairly bumpy arrival for Google's first branded hardware device, the
Nexus One
, the company has already indicated it plans to ship another self-branded Android phone, so a Google Android tablet is none too surprising. In fact, shortly before Apple's January iPad announcement, Google showed off a
prototype tablet device
(pictured above) that runs the company's other emerging mobile operating system: the Linux-based Chrome OS. The company did not offer any firm plans for a roll-out, however, nor did it mention whether it might be a reference design or a commercial product.
Study sees major role for Android in tablets
IMS Research has released a study showing that the Apple iPad is expected to own just over half (51 percent) of the tablet market by the end of 2010, with Android taking almost a quarter (24 percent), according to a Clint Boulton story in eWEEK. In third place will come Windows 7, from Microsoft, with 10 percent, says the story. The remaining 15 percent is projected to be split between Linux and proprietary operating systems.
Until the iPad arrived this month, Windows had dominated the tablet market, primarily selling large-screen slates to corporate customers, according to the aforementioned Times article. However, most of these tablets, as well as a number of Linux tablets, were aimed at business or vertical markets. Now, however, the Times story — as well as our sister publication WindowsForDevices — has noted that Microsoft appears to be preparing its own branded dual-display tablet for the home market, code-named the Courier.
Other manufacturers planning to get into the tablet market include HP with its Slate and Dell with its Mini 5. Nokia, meanwhile, is widely expected to offer an updated version of its Linux-based N8xx Internet Tablet, which may run the Linux-based MeeGo, Windows 7, or both.
Boulton also mentions the Archos 5 Internet Tablet as being a "strong seller in Europe." It would seem, then that the IMS Research study is defining the tablet segment broadly enough to include products with smaller, five-inch screens that only a year ago would have been described as mobile Internet devices (MIDs). The tablet market will hit $3.6 billion by year's end, says the study, although it is unclear whether this refers only to consumer tablets or also to corporate and industrial tablets.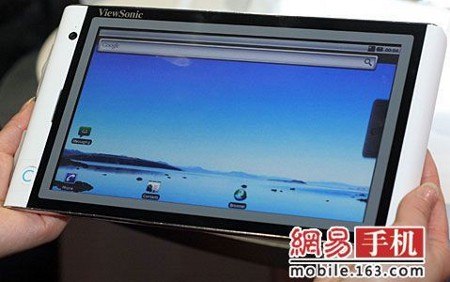 ViewSonic's VTablet 101
Source: Mobile.163
eWEEK
also notes that ViewSonic, which has been a leader in Windows-based tablets, is prepping an Android-based VTablet 101 for the Chinese market. The device is pictured above in a shot from a
Mobile.163
story on the tablet posted back in January.
According to Mobile.163, the VTablet 101 will run Android on a 1GHz ARM Cortex-A9 Nvidia Tegra 250 processor, and offer a 8.9-inch, 1024 x 800 touchscreen. The VTablet 101 is also said to offer 4GB of flash storage, WiFi, and Bluetooth, and sport a pricetag of 3,000 Yuan ($440).
Other Tegra-

based tablets that are expected to ship with Android this year include Notion Ink's Adam, and the Ultra and Gemini (pictured) from Innovative Converged Devices (ICD). Linux tablet contenders include a Tegra-based tablet coming from Foxconn, and the Intel Atom-based JooJoo from Fusion Garage.
eWEEK'sBoulton quotes IMS analyst Anna Hunt as saying that while the iPad is king of the day, having sold more than 450,000 units in its first five days alone, Android has a strong shot at the market. In part, this is because the iPad currently lacks features such as multitasking or Adobe Flash support, but also because iPad apps are more expensive than those on the iPhone.
"Suppliers are realizing the importance of content and service and many are turning to the Android ecosystem to be able to offer the complete user experience and compete with Apple's offering," Hunt is quoted as saying.
Hunt also noted that many of the Android tablets will be considerably cheaper than the $500-and-up iPad, offering yet another advantage, says the story. "What we'll see this year is a lot of these tablets in a smaller form factor that will not try to emulate the typical notebook computer experience, but have more of a smaller personal media player experience," Hunt was said to have told eWEEK. "We'll see those run on Android instead of Windows 7, for example."
Hunted added that by 2012, over half of the tablets sold each year will be distributed via mobile and fixed carriers, says eWEEK. According to the study, major carriers are expected to offer home-based tablets this year as "control palettes" for users' computing, VOD, VOIP, and IPTV needs. Top tablet players are said to include Sagem in France, T-Mobile in the U.K., and Verizon Wireless and AT&T in the U.S, says the story.
Availability
The story on Google's Android tablet plans in The New York Times may be found here.
The eWEEK story on the IMS Research report on tablets may be found here, and IMS Research itself may be found here.
---
This article was originally published on LinuxDevices.com and has been donated to the open source community by QuinStreet Inc. Please visit LinuxToday.com for up-to-date news and articles about Linux and open source.