Jan 5, 2011 — by Eric Brown — from the LinuxDevices Archive — views
AT&T announced three 4G Android 2.2 smartphones supporting its HSPA+ network, led by Motorola's four-inch Atrix 4G, based on Nvidia's dual-core Tegra 2, which ships with 1GHz RAM and a docking laptop option with an 11.6-inch screen. The other phones are HTC's 4.3-inch, Snapdragon-based Inspire 4G, and a 4.5-inch Samsung Infuse 4G phone.
The new "4G" phones support AT&T's almost complete HSPA+ network, which is generally considered to offer 3.5G speeds. However, AT&T says that its HSPA+ is 4G due to faster speeds when combined with Ethernet or fiber backhaul, currently available only in limited areas.
This sounds more or less like the T-Mobile 4G argument for its HSPA+ network. Sprint's WiMAX and Verizon's LTE are believed by many observers to be faster, however.
AT&T also said it is accelerating development of its 4G LTE network so that it will be "largely complete" by year-end 2013. AT&T plans to begin offering LTE service in mid 2011, and launch several LTE devices in 2Q 2011. The carrier recently bought spectrum from Qualcomm, which it hopes to apply to LTE.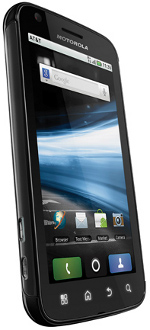 Including the three HSPA+ Android phones announced today, such as the Motorola Atrix 4G shown at right, the carrier plans to introduce 20 "4G" devices for HSPA+ and LTE in 2011. AT&T also said it would launch two 4G tablets by mid-summer, including one LTE model, and will introduce more LTE tablets in second half of the year.
The company also says it plans to introduce 12 new Android devices this year. In addition, AT&T announced some developer outreach programs (see farther below).
Among the current crop of phones, the Motorola Atrix 4G and HTC Inspire 4G will be available in the first quarter. The Samsung Infuse, for which less information is available, will ship in the second quarter, says AT&T.
Motorola Atrix 4G
Motorola's Atrix 4G is not the world's first dual-core smartphone — that honor goes to LG Electronics' similarly Nvidia Tegra 2-based Optimus 2X, which is set to go on sale this month in Korea. However, it may well be the first to reach the U.S.
The Atrix 4G is Motorola's first 4G phone, however (although Verizon Wireless may well soon announce another Mot Android phone destined for its 4G LTE network).
The Atrix 4G would appear to be the same as the one that was misleadingly tipped in June as being a "2GHz" phone. By September, various reports had amended this to suggest it would instead be a phone running a Tegra 2 with dual 1GHz ARM Cortex-A9 cores. Benchmarks have shown the Tegra 2 far outshining single-core 1GHz processors such as the Snapdragon, but that's not quite the same as being twice as fast.
Motorola — or rather "Motorola Mobility" after yesterday's final split with the enterprise half of the company — showed off the Atrix 4G today at CES, wowing the audience with a super-thin laptop dock somewhat similar to that of the Palm Foleo.
Information on the dock appears to be limited as of yet, but judging from the video on the AT&T site, as well as a Gizmodo story about the launch event, the dock is an accessory that looks and acts like a super-thin (13.9mm) netbook with an 11.6-inch screen. However, it requires the Atrix phone to be plugged in the back to function.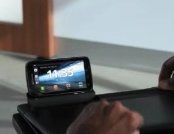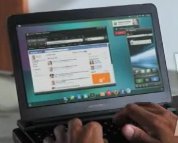 Atrix 4G plugged into Laptop Dock
The dock offers both its own version of Firefox and a "Webtop" app that displays the Atrix 4G's output on the larger screen. Judging from the videos, the switch from phone to docking station views takes about a second. The docking station supports mouse input, but that appears to be about it in terms of I/O.
The Atrix 4G also ships with a Motorola HD Dock, which offers "HDMI video output capabilities and processing power to enable a revolutionary browsing, application and media experience," says AT&T. There are few details except for a video showing the Atrix 4G plugged into the dock next to a TV, and then a user interacting with the TV's Atrix-driven content with a remote control device.
On its own, the Atrix 4G helps out its Tegra 2 processor with a whopping 1GB of RAM — twice the normal high-end Android phone allotment — as well as 16GB internal flash memory. A microSD card slot supports up to 32GB more, for a possible 48GB of flash.
The four-inch touchscreen is said to offer 24-bit graphics and QHD resolution. This sent us to the web where we found both 640 x 380 to 3840 x 2160 pixel resolutions cited. Neither of those sounded right, but we figure Information Week got it right when it says QHD means a quarter of the resolution of HD or 960 x 540 pixels, similar to the iPhone's retina display.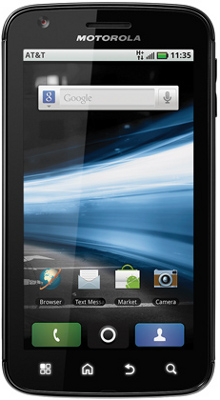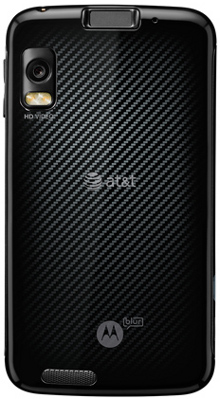 Atrix 4G, front and back
The Atrix 4G supports AT&Ts HSPA+ network with claimed downloads of up to 14.4Mbps, and also provides 802.11b/g/n and Bluetooth 2.1, says AT&T. Oddly, GPS is not listed, but AT&T may not be providing the full spec as of yet.
The phone provides both a five-megapixel autofocus camera with LED flash, as well a VGA front-facing camera, says AT&T. The Atrix 4G is said to measure 2.5 × 4.6 × 0.4 inches, weigh 4.8 ounces, and provide up to nine hours talk time and 10.4 days of standby thanks to its huge 1930 mAh battery. Yet another unusual feature listed is a fingerprint recognition reader.
The Android 2.2 software is said to ship with HTML5 support and the MotoBlur UI layer. (This is likely the more muted version available on the Droid phones.) The Atrix 4G also supplies Google Apps, including Voice Search, as well as Android Market and other apps. Instead of Google Maps Navigation, however, you get AT&T Navigator.
HTC Inspire 4G
Announced next to the interesting Atrix 4G, HTC's Inspire 4G is less, er, inspiring than it probably deserves to be. While the 1GHz Snapdragon is fairly standard issue, the phone offers a solid 4GB of internal flash memory and an 8GB microSD card. (RAM details were not mentioned.)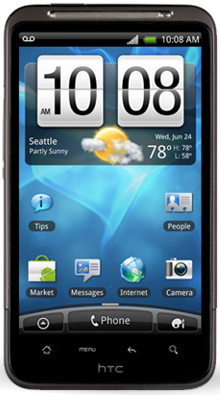 HTC Inspire 4G
The Inspire 4G provides a generous 4.3-inch, 800 x 480 "super LCD" display, and a top-of-the-line eight-megapixel autofocus camera with dual LED flash, face detection, geotagging, and HD video recording. There does not appear to be a separate front-facing videocam, however.
Equipped with the same HSPA+ support as the Atrix 4G, the phone provides 802.11b/g/n and Bluetooth 2.1 wireless capabilities, says AT&T. Other features are said to include a 3.5mm stereo audio jack, micro-USB port, G-sensor, digital compass, proximity sensor, and ambient light sensor.
Once again, GPS is not mentioned. It's ironic that navigation in phones has become such a standard feature that even a micro-USB port is given great emphasis.
The Inspire 4G is touted for its "premium, aluminum unibody design." It measures 4.84 x 2.68 x 0.46 inches, weighs 5.78 ounces, and allows up to six hours of talk time and 15.5 days of standby on its 1230mAh battery.
As for options, there are no docking stations as far as we can see, but the Inspire 4G includes Mobile Hotspot support for up to five Wi-Fi-enabled devices when used with the DataPro with Tethering plan, says AT&T.
The Inspire 4G ships with Android 2.2 and is said to be the first phone in North America to offer the new version 2.0 of the HTC Sense UI layer. Sense 2.0 is said to support enhanced social networking, navigation, and integration with connected "cloud" services from HTCsense.com. Sense can "pinpoint on a map a lost phone, send a command to sound an alert on the handset, and remotely wipe the phone's data with a single command," says AT&T.
The phone also provides the usual full range of Google Apps and Android Market, including Google Maps with Navigation.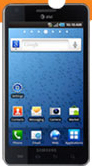 Samsung Infuse 4G
AT&T did not appear to have many technical details on the Samsung Infuse 4G, which will ship in the second quarter. The Infuse 4G (pictured) will run Android 2.2 on a 1.2GHz processor, says AT&T. (By 2Q, why not Android 2.3?)
The Infuse 4G will also be the thinnest Android phone and offer the largest screen — 4.5 inches — in AT&T's smartphone lineup, says the carrier. The 4.5-inch screen will offer Samsung's next-generation Super AMOLED Plus technology, with 50 percent more sub-pixels for better contrast and outdoor readability, says AT&T.
AT&T reaches out to developers
AT&T announced a major outreach program for the mobile developer community at CES, including investing $70 million to build three innovation centers in Dallas, Silicon Valley, and Tel Aviv.
Other development efforts include a "renewed commitment to providing more 'Apps for All'' by utilizing Brew Mobile Platform," as well as a new Alpha Program for developing apps for AT&T's U-verse TV interactive TV technology.
In addition, AT&T will launch a Beta program for an HTML5 development toolkit for AT&T devices. Finally, the company will deliver open APIs for the Open Feint social gaming platform for mobile devices, initially supporting Android.
Stated Randall Stephenson, AT&T chairman and CEO, "Recent tax law incentives, along with other policy developments, have allowed us to accelerate the capital investment — beginning in 2011 — to largely complete our LTE network build by the end of 2013."
Availability
More information on the Motorola phone, which ships later this quarter, may be found at AT&T's Atrix 4G page.
More on the HTC phone, which ships later this quarter, may be found at AT&T's Inspire 4G page.
No further information on the Samsung Infuse 4G appears to be available at this time except that it will ship in the second quarter.
---
This article was originally published on LinuxDevices.com and has been donated to the open source community by QuinStreet Inc. Please visit LinuxToday.com for up-to-date news and articles about Linux and open source.