Jul 22, 2010 — by Eric Brown — from the LinuxDevices Archive — 1 views
Barnes & Noble released a Nook for Android application, competing with a similar Android app released for the Kindle, and Amazon announced that its Kindle e-books are outselling its hardcover books by almost two to one. Meanwhile, Entourage Systems, which makes the Entourage Edge dual-screen Android e-reader, announced several e-book content partnerships.
The Nook for Android app (pictured at right) follows Amazon's late June release of a somewhat similar Kindle for Android app.
Before releasing its Android app, Amazon had previously introduced Kindle apps for Apple's iPhone, iPod touch, and RIM's BlackBerry. However, Barnes & Noble is employing Android for the first mobile app offering access to its eBookstore. In the coming months, however, versions for the Apple iPhone and iPad, among other platforms, the bookseller says.
As one would expect, the Nook for Android app offers an interface similar to Barnes & Noble's Android-based Nook e-reader device (pictured below, left), which was recently released in separate 3G and Wi-Fi-only versions. Nook for Android supports devices running Android 1.6 and higher, offering Nook-like access to Barnes & Noble's eBookstore of more than one million e-books.
The Nook app is said to include a Nook-like navigation bar, font style and size customization, landscape and portrait mode reading, and graphical page turns. The app also supports Barnes & Noble's LendMe technology, letting customers share "eligible"e-books for up to 14 days with friends.
In addition, Nook for Android provides content sync between libraries located on the app, on a Nook device, or with other eBookstore-enabled devices, says the book retailing giant.
One third-party e-reader device that offers access to B&N's eBookstore is the Android-based Pandigital Novel color e-reader. The Nook itself, meanwhile, is a hybrid device that combines the Linux-based Kindle's monochrome E Ink display with a color screen, such as found on the Apple iPad or Android tablets like the Pandigital Novel.

The Nook apps appears to be part of a major branding effort by the bookseller, which is using the Nook name across its eBookstore related products in much the same way that Amazon uses the Kindle name to brand a variety of e-book related services. B&N recently announced a NookStudy online study platform and software solution for higher education, says the company.
Amazon says e-books outselling hardcovers
Threatened by the massive success of the Apple iPad, which is touted for its e-reader capabilities among general multimedia and web browsing tasks, both Amazon and Barnes & Noble have dropped the prices of their e-readers in recent months. To some observers, the release of mobile apps is a sign that both vendors will primarily focus on e-book sales, rather than competing aggressively in the hardware arena with the iPad (and a host of similarly advanced Android tablets heading for market this fall).
So far, the discounting strategy appears to be w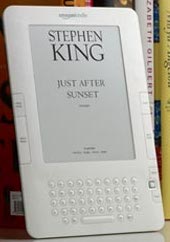 orking for Amazon, which released a press statement, noting that sales of its Kindle (pictured at right) have been soaring since it lowered the price from $259 to $189. (This followed a Nook price drop on June 21 from $259 to $199, at which time the company also introduced its $149 Wi-Fi-only version.)
Meanwhile, Amazon says its Kindle e-books are outselling hardcover books at an accelerating rate. Over the past month, some 180 Kindle e-books have been sold for every 100 hardcover books, and three times as many e-books have been sold in the first half of 2010 as in the first half of 2009, claims Amazon.
Stated Amazon CEO Jeff Bezos, "Amazon.com customers now purchase more Kindle books than hardcover books — astonishing when you consider that we've been selling hardcover books for 15 years, and Kindle books for 33 months."
Entourage announces partnerships
This week, Entourage Systems, which offers an education-focused Entourage Edge Android e-reader (pictured below), announced partnerships agreements related to content for the device with Cengage Learning, The University of Chicago Press, and O'Reilly Media.
The dual-screen e-reader device, which went on sale in January, opens up like a book, with the lefthand panel devoted to a 9.7-inch E Ink display, and the righthand panel offering a 10.1-inch color touchscreen for web browsing and media playback via Wi-Fi (or optional 3G). The company's e-book store for the device is now said to include over 200,000 trade titles, e-textbooks, major magazines, newspapers, and periodicals, as well as over one million free public domain books digitized by Google.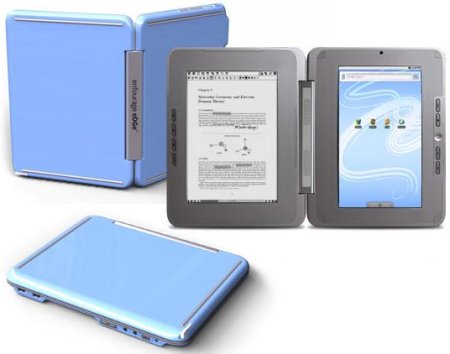 Entourage Edge
The Entourage content announcements are summarized as follows:
Cengage Learning will provide its catalog of digital books to students and educators through the Entourage Edge for the coming fall semester, says Entourage Systems. Stated William Rieders, executive vice president, New Media, Cengage Learning, "We look forward to working with Entourage to create superior learning experiences that will engage students."
The University of Chicago Press will integrate additional educational titles into the Entourage e-book store, including over 1,000 digital titles in the sciences, humanities, and social sciences. Stated Asghar Mostafa, CEO of Entourage Edge, "By working with The University of Chicago Press, Entourage Systems is able to offer an even greater variety to our academic-focused consumers."
O'Reilly Media will offer its full ePUB catalog of over 1,000 technology-focused titles to the Entourage e-book store. Stated Pascal Honscher, general manager of Digital Distribution at O'Reilly Media, "Our titles are often regarded as the definitive books on a particular topic, and digital tools like the Entourage Edge help our customers engage and interact with content in ways they couldn't before."
Availability
The free Nook for Android app is now available, at B&N, here, says the company. The Amazon press release on its Kindle sales should be here.
More information on the Entourage Edge may be found at the Entourage Systems website, here.
---
This article was originally published on LinuxDevices.com and has been donated to the open source community by QuinStreet Inc. Please visit LinuxToday.com for up-to-date news and articles about Linux and open source.